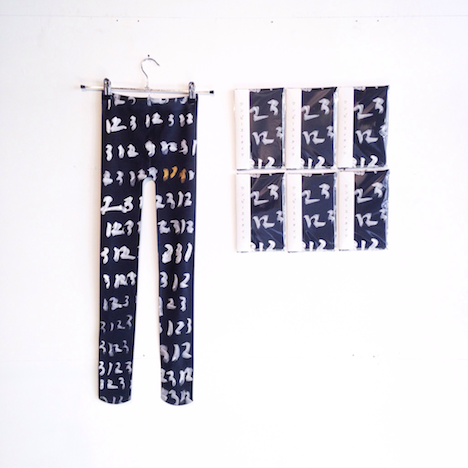 Tomohito Saito "123 tights", Dress and Tights
In token of this exhibition, "123 tights" collaborated with "Dress and Tights" are released and we can actually wear your works. Also, you made a new music of "123".
I like it. If I were a woman, I want the tights in different colors. I tried to pull the sample over my head. I also want a bedspread and a seat cover of a toilet. And, a place mat.
About music, I know a beat maker, Steeezo "Eee", who makes many short sounds by the latest instruments and we decided to collaborate because I was attracted by his works. I decided a concept and other things which were decided pretty straightforwardly. Originally, we are raised by street culture and personally, I'm glad to finally form the connection with my past experience.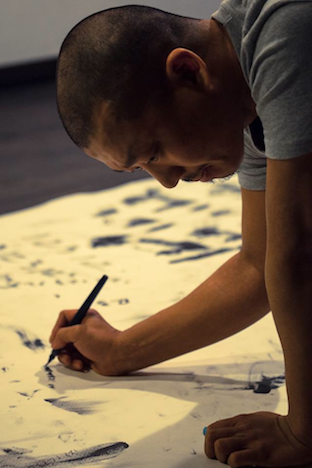 "123 & BUTOH & VOICE" Kamokamodo, Sapporo, 2016 © Tomohito Saito, Photo: Jpeg Takeshi Oda
What is the performance of drawing "123" at Conte Sapporo? Do you usually perform with other performers more than a solo performance?
Since I decide to go with "123", not dance, I haven't performed for a while. But, I thought probably this was the time and resumed it at the first exhibition. I do with impromptu players many times and also with a Butoh performer. In the case of the performance, viewers see the process of the establishment rather than what is already established on the paper. Due to my experience of dance, I like performance, so I'm going to pursue more.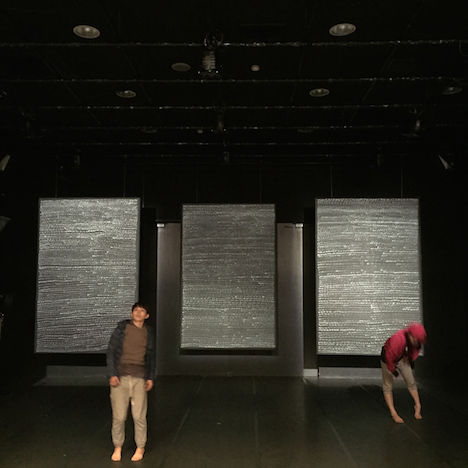 "Mapping" Sendai Theatrical Studio 10-BOX, Sendai, 2016
Tell me about your recent stage direction and choreography.
This year, I made a stage "Mapping" with a Tokyo-based dancer, Naoya Aoki as a project of "Sendai Theatrical Studio 10-BOX" (Sendai Engeki Koubou 10-Box) in Sendai. I participated in performance and stage art where I established a focus on the stage rather than the content.
What do you do when you are not drawing"123″? What are you interested in besides "123"?
Usually, I watch videos of Downtown (a Japanese comedian) online. If I'm tired of it, I do reading or listen to Rakugo. I like cats, and I like dogs.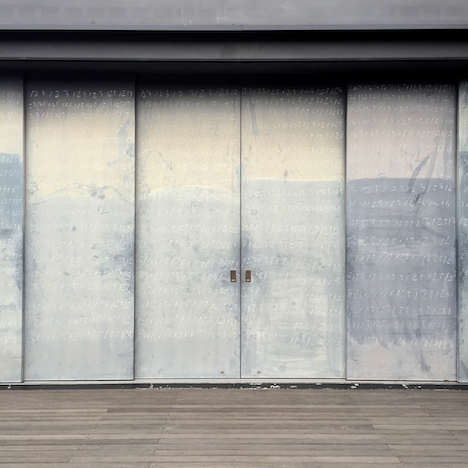 "Mapping" Sendai Theatrical Studio 10-BOX, Sendai, 2016
Tell me your future goal.
I want to hold exhibitions in all places where people wait for "123". And, I want to draw a huge "123" on the wall of a building.
Finally, tell me your future plan.
I'm going to join in a group exhibition in New York this May for the first time. On the way, I'm going for a short trip. Except that, I'm planning to draw "123" at home every day.
Tomohito Saito Exhibition "123" Chapter 2: A Man Continues Drawing
Date: April 2nd – 30th, 2016
Opening hours: 11:00 – 19:00 (Closed on Monday and the 3rd Tuesday)
Place: Clark Gallery + SHIFT
Address: 2F MUSEUM, South 3 East 2, Chuo-ku, Sapporo
Tel: +81(0)11 596 7752
http://www.clarkgallery.co.jp
Text: Ayumi Yakura
Translation: Hanae Kawai

[Help wanted]
Inviting volunteer staff / pro bono for contribution and translation. Please
e-mail
to us.