I met a man who is confronting the numbers "1, 2, and 3" the most in the world. Aged 31, he is an artist who keeps drawing "123". Also a stage director/choreographer, until a few years ago, he was a Butoh performer as well.
He displayed tons of "123" that even he cannot count at the "123" exhibition held this April. His style is very sensitive and stoic, influenced by his Zen experience, and meanwhile, it reveals his idea, sense, and humor, which were cultivated in the impromptu dance. I asked some questions to this man who creates one-and-only expressions with the numbers which anyone can write.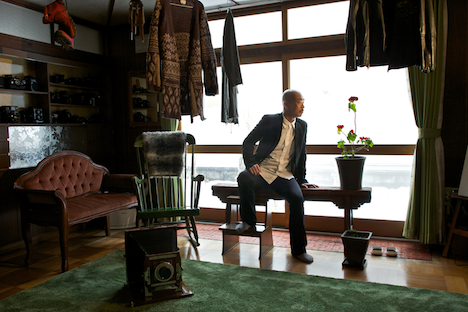 Photo: Jpeg Takeshi Oda
First, please introduce yourself.
Hi, I'm a man who draws "123" the most in the world. Nice to meet you.
I guess you put your experience of dance to good use for the "123" pieces. When and how did you start dancing?
I first started street dance. It was when I was in the first grade of high school. One day, a senior student did a back spin on the hallway. I remember it was pretty impressive for me. I didn't know it was a technique of street dance, though. The student had permed hair, a nose ring, had darkish skin, and wore a pair of Adidas Superstars instead of normal shoes for high school students. Well, that was so cool for me because he was totally different from the others. Then, I started to learn dance from him and performed in clubs and shows. Of course, at that time, I didn't think about body expression. But through dance, I absolutely got different skills of body expression than others (who don't do dance).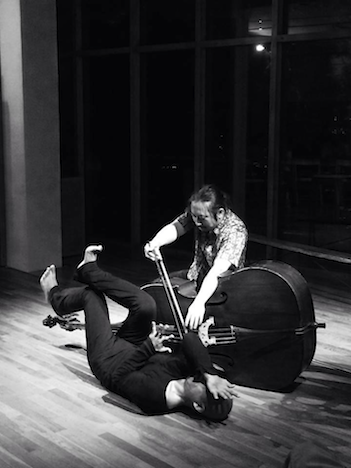 "Tomohito Saito × Takashi Seo" Okui Migaku Gallery, Sapporo, 2014
Why did you start Butoh? Did you have a theme which you wanted to express with Butoh?
Personally, I really sought the possibility of street dance and challenged with multiple directions. So, one time, I just felt bored. But, I still had a desire to express, in other words, a desire to be seen and praised by someone and I searched different things which could achieve this desire. Then, I found a book with a photo of a creepy white skinhead group and I was shocked by that. It's named "Butoh". It is a dance, born in Japan, and popular overseas too. The discovery actually encouraged me to try it – like a push on my back.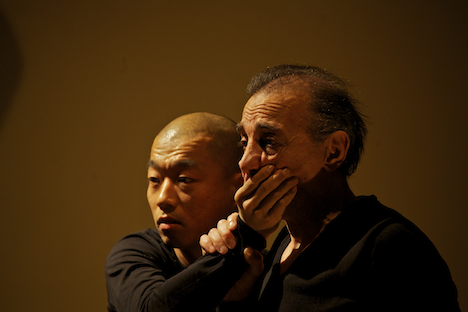 "JEAN SASPORTES/TETSU SAITOH 2DAYS at RED BERRY STUDIO" Sapporo, 2014, Photo: Jpeg Takeshi Oda
I didn't have a concrete idea of what I want to express with Butoh. I think I just approached to self-consciousness more closely. I didn't paint white on me because my skin was weak. Even though the first trigger to start it was the appearance, I guess rather its spirituality influenced me.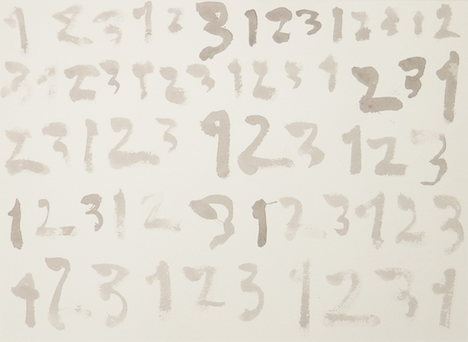 "123 Su…Ⅱ" Tomohito Saito, 2014, 660 x 850 mm, Indian ink on paper
Today, while you direct a stage and choreograph, you work as an artist. Why did you start to draw "123"?
Deciding to draw "123" is like entering "shukke" (in accordance with Buddism, one who leaves the world and becomes a priest). There might be various possibilities. But, I decided that. I didn't have any meaning to make it. Rather many meanings were raised by deciding to draw "123".
Read more ...
[Help wanted]
Inviting volunteer staff / pro bono for contribution and translation. Please
e-mail
to us.