Promote Hokkaido under the keyword "CREATIVE".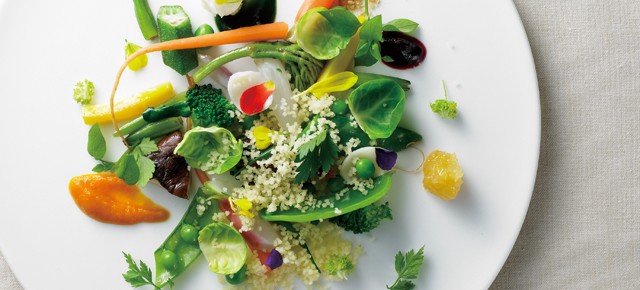 There were many design-related events held throughout Hong Kong Design Year 2012. The final event was Creative Hokkaido Meets Hong Kong, by Creative Hokkaido, a project to promote creative culture in Hokkaido, which was held from 30th November until 16th December.
This promotion was a continuation of the 2011 project held in Shanghai. Under the keyword "Creative," it promoted a new appreciation of Hokkaido to draw visitors from in and outside Japan. As Clark Gallery+SHIFT, SHIFT was responsible for the creative direction of the entire project.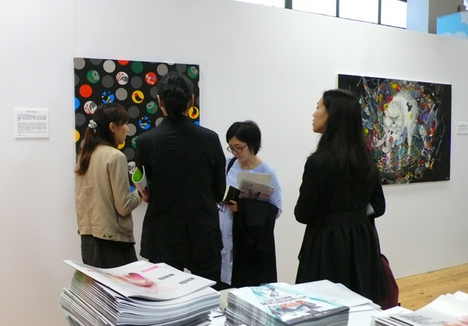 Photo: Masayuki Yajima
The promotion tied up with DETOUR, a design event launched in Hong Kong in 2006 to introduce Hong Kong and Asian creativity through exhibitions, talks, and other events. This time, as part of DETOUR's official program, Creative Hokkaido Meets Hong Kong included art exhibitions, talk shows, workshops, and dinners, so making it accessible to a wide range of Hong Kong residents, as well as artists, and the media.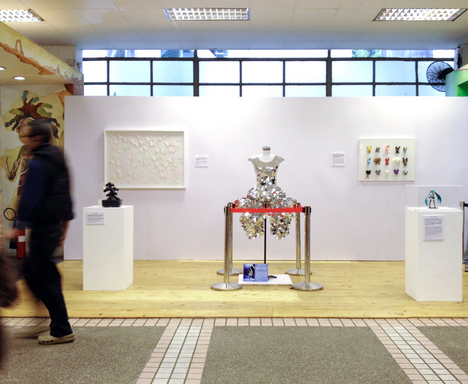 Photo: Courtesy of Clark Gallery+ SHIFT
From 30 November 2012, the exhibition was held at the DETOUR satellite venue, Central Oasis Gallery. On average, about 8,000 people pass through the public walkway daily.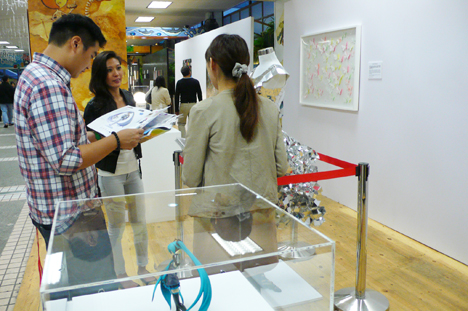 Photo: Masayuki Yajima
The area of Central Oasis Gallery between Hong Kong Central Station and the shopping mall was converted into a gallery during the exhibition. Among the Creative Hokkaido works on display were Mirror Dress by Yoshikawa Daisuke, which became a hot topic after being worn by Lady Gaga. In addition, artworks by Ribbonesia who held an installation at the large-scale Harbour City shopping mall at the same time, Shuun, Chisato Shinya, and Toshihiko Shibuya, also Wabisabi's Air Bonsai and doll figures of vocaloid idol Miku Hatsune represented Creative Hokkaido and drew the attention of crowds of passers-by.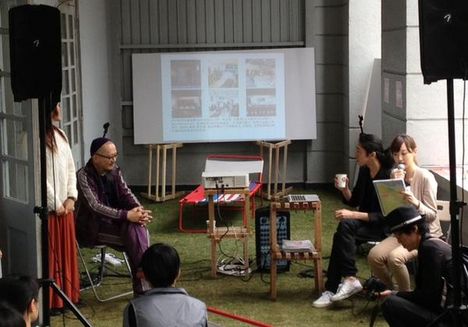 Photo: Hirokazu Ishii
On 2 December 2012, at DETOUR's main venue at the site of the former Wan Chai Police Station, there was a talk show with the Art Director of Wabisabi+SHIFT, and an appearance by artist Toshihiko Shibuya. Wabisabi+SHIFT mainly talked about the local art scene in Sapporo, including the Machinaka Art Project they did together. Shibuya talked about his world-renowned artwork "Snow Palette" and the relation of art and nature, which is behind all his creative work.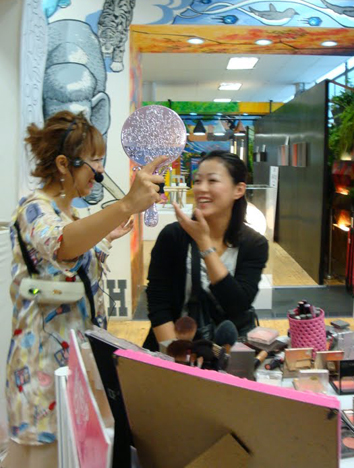 Photo: Takumi Yamamoto
Also on the same day, at the Central Oasis Gallery, make-up artist Miwa Yokoyama created a street make up event "Make up Tour in Hong Kong." Offering a street make-up service as she had done back in the days when she was starting out, the event turned out to be a big success, drawing a big crowd of smiling visitors. Yokoyama's performance in Mongkok, one of the most fashionable areas in Hong Kong, was broadcast on local media and drew a great deal of public interest.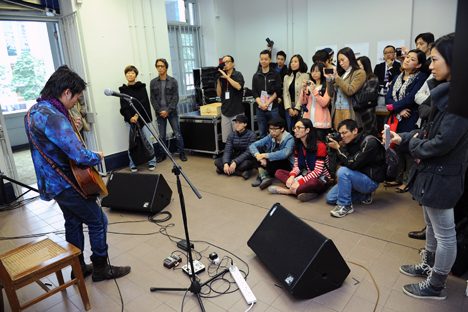 Photo: DETOUR
On 4 December, Shohei Yamaki, who won the Grand Prix at Sapporo City Jazz, an annual music contest in Sapporo, gave an acoustic live performance at the main venue. The crowd responded enthusiastically to the unknown artist and gave him an extended ovation at the end of his encore. When the applause finally died down, Yamaki talked and had his picture taken with his new fans.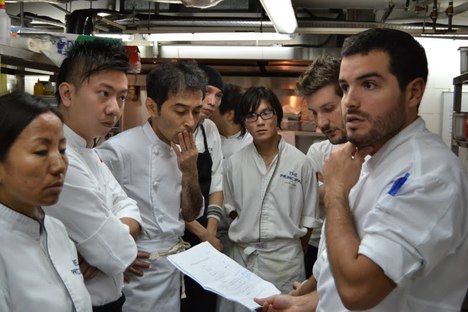 Photo: Takumi Yamamoto
As a unique highlight of this project, a dinner event was also held under the double name of "DETOUR Kitchen/ Creative Hokkaido Dining." The meal was a collaboration between the chef of Moliere, a Michelin-starred French restaurant in Sapporo and a Hong Kong chef, using ingredients from Hokkaido to create a full course menu of superb quality for 80 guests, with background music by Ainu musician, OKI.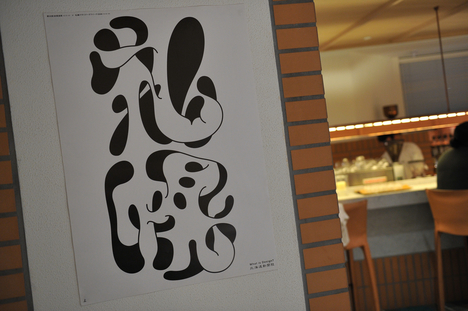 Photo: DETOUR
All the artworks, like WABISABI's "Sapporo", "Ezo-bag " by Kiriko Takase, and "Seppi" by Miki Ogasawara, and the live music by Shohei Yamaki added a special accent to the Hong Kong event. There were lots of comments like, "That fabulous dinner made me really interested in Hokkaido" and "I could feel Hokkaido through the music – it made me want to go there!" Such responses were an indication of the progress made through the promotion of local art and culture and its potential to draw attention.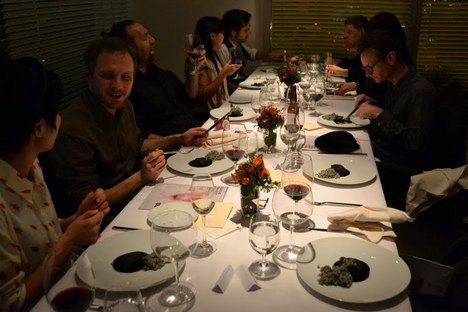 Photo: Takumi Yamamoto
As the financial, economic, and entertainment center at the heart of Asia, Hong Kong made the creative director of Creative Hokkaido worry about how the events would be received, but as they were all a big success. Especially I felt that having food culture was an advantage and would like to confirm its potential in another event.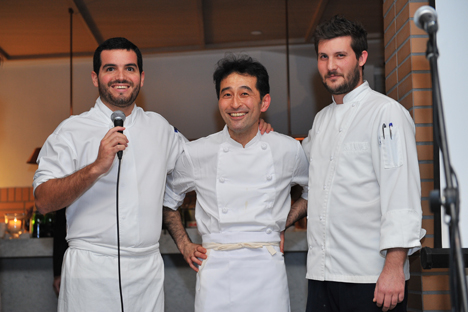 Photo: DETOUR
This creative project took place the same year as the publishing of the Michelin Guide to Hokkaido. We call 2012 the "creative dawn" for Hokkaido and have begun to promote various aspects of Hokkaido and local cultures outside Hokkaido while also maintaining those cultures inside. The project looks ahead to the next 100 years; it has just begun but I would like to watch it unfold.
Also as part of the project, Creative Hokkaido has selected goods for the Yamato Ogasawara Syouten at New Chitose Airport. Toshihiko Shibuya is also showing his latest work for "Snow pallet IV at North Snow Land in Chitose, and the promotion, " Creative Hokkaido Exhibition in Sapporo", is going to be held at the Cross Hotel Sapporo from 21 December 2012 until 31 March 2013.
Creative Hokkaido Meets Hong Kong
Date: November 30th – December 16th, 2012
Place: Central Oasis Gallery, Former Wan Chai Police Station and Testaurant Principal
Creative direction: Clark Gallery + SHIFT
Support : City of Sapporo, the District Transport Bureau of Sapporo, Special Food Organization, Hokkaido Shinbun Press, Cross Hotel Sapporo, Hilton Niseko Village, Yamato Ogasawara Shoten, The North Country Club
Creative Hokkaido Exhibition in Sapporo
Date: December 21st, 2012 – March 31st, 2013
Place: Cross Hotel Sapporo
Address: North 2 West 2, Chuo-ku, Sapporo
Tel: 011-272-0051
Organized by Cross Hotel Sapporo
Co-organized by Asia Sapporo Creative Meeting
Curated by Clark Gallery + SHIFT
Supported by Machinaka Art, Shoubunsha
Creative Hokkaido Popup Souvenir Shop
Date: December 1st, 2012 – March 31st, 2013
Opening Hours: 10:00-18:00
Place: Yamato Ogasawara Shouten
Address: 2F Arrival Floor, New Chitose Airport International Tarminal
Tel: 0123-46-2255
Curated by Clark Gallery + SHIFT
Supported by Yamato Ogasawara Shouten, Hokkaido Shinbun Press
Toshihiko Shibuya Installation "Snow Palette 4″
Date: January 25th – February 17th, 2013
Opening Hours: 9:00-16:00 (depend on the weather and snow)
Place: North Snowland in Chitose
Address: The North Country Golf Club, 26 Rankoshi, Chitose
Tel: 0123-27-2121
Curated by Clark Gallery + SHIFT
Supported by North Country Golf Club, Hokkaido Shinbun Press
Text: Taketo Oguchi
Translation: Andry Adolphe

[Help wanted]
Inviting volunteer staff / pro bono for contribution and translation. Please
e-mail
to us.