"MAKE UP" Ayami Nishimura by Rankin 
One of the most famous British fashion photographers, who are also the founder of Dazed & Confused, Rankin released the collaboration works with the UK-based make-up artist Ayami Nishimura at the DIESEL ART GALLERY in Shibuya, Tokyo. This exhibition from art books by Rankin and Ayami Nishimura is the second version of a visual make-up book followed by collaboration with Alex box and Rankin. It is exhibited the video of works of both artists and 20 photos chosen from among more than 100. We had interview to Ayami Nishimura from London who came to Japan in accordance with the exhibition.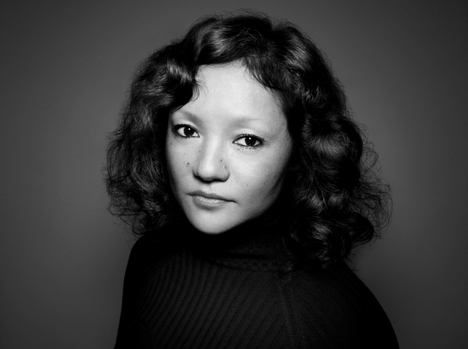 I heard that "Cyber" is the concept of this exhibition. Why did you choose the theme?
When Rankin has issued a visual book with the make-up artist Alex box two and half years ago, he liked to collaborate with make-up artists, and wants to make book series. Then, he asked me to work on this project, so I said "Yes! With my pleasure". The idea of "Cyber" came up at that time. Actually, I am interested in cyber fashion itself, like fetish, sharp club fashion in the first place. I don't wear it but I like it; therefore, I decided to work on this theme.
To create this photo book took over two and a half years because it was very difficult to arrange about shooting schedule. Firstly, Rankin can allow very limited time. Secondly, we wanted to ask to work with specific people. Finally, it took two years for shooting and half year for retouching, layout and printing but I am satisfied with the result.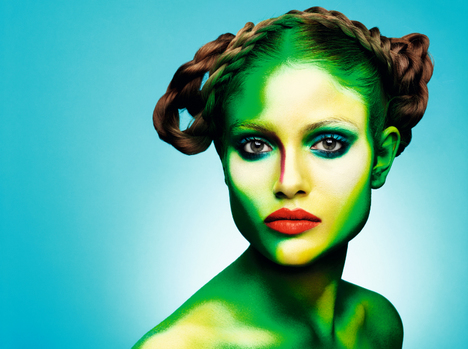 © Rankin
What does "cyber" mean for you? It seems that your work includes African ethnic and chic style…
Theme is cyber but I wanted to do "cyber with something completely different". The source image of African-like work is not ethnic style but Aboriginal art an African art such as photos and wooden-mask; for instance, African art inspired me to draw a dot on the model's face or put a colorful sticker. As it such an example, I try to find something interesting. It should be looked a beautiful-no meaning to be ugly.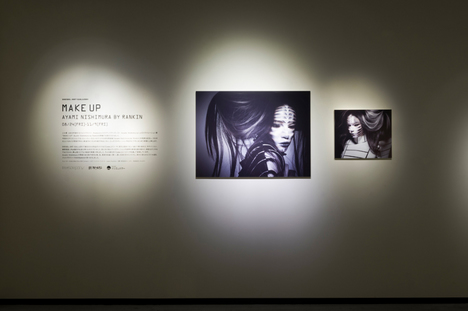 Photo: Ken Kato
The color is very distinctive. How do you come up with thoughts on color?
I like bright beautiful colors, and I also like to combine a variety of colors. Colors have a feeling, for example, red is passion, blue is cool etc. The combinations of various feelings create new feelings. I am interesting in the process of changing with the feelings. Those colors which I like, such as shocking pink, turquoise blue, emerald green, and yellow are repeatedly is used.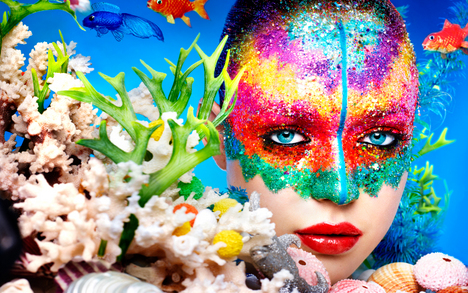 © Rankin
What are the most important things to create your work? to be a beautiful?
It is important to be eye-catching like "Wow! What a beautiful!" because this is fashion work.
I am glad if someone is inspired by my work to imitate for himself. I worked for a beauty page at Italian Vogue which African art style is partly used. It may be too much if it is putted over the face but it works just for eyes; this is depending on how to be created.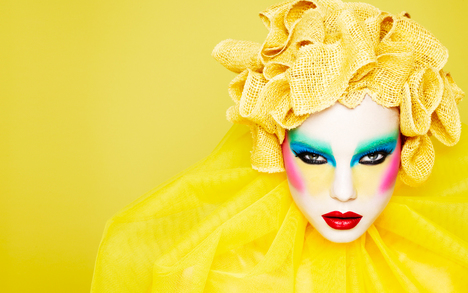 © Rankin
In the first place, what bring you to be a makeup artist?
After about 10 years in Japan working as a hairdresser, I moved to London. I did not have a chance to get to know fashion crowd in Japan but sometimes people asked me to work with at their test shooting in London, then I had gradually been meeting people in fashion. At the test shooting, nobody was in charge of make-up so I started doing it, then I found it very interesting. Therefore, I decided to concentrate working make-up. There are many people in Japan, who work both hair and makeup but in other country, hair and makeup artists are responsible for each other. I went to London in 1993, and then now I have been living there around 20 years. While I was in Japan, I did not know about makeup at all. I was not working at the well-known fashionable hair salon at the central Tokyo as well.
Firstly, I was working all by myself. A few years later, when I have started working in the Paris Collection, there are many things that I have become anxious because I did not learn make-up at a school. I decided to work as an assistant for Stephen Murray when he worked for fashion show about four times a year. At that time, he was in charge of the most of grand maison including Chanel, Lanvin, Jean-Paul Gaultier, and every top model in time were there. I strongly got the feeling, "I must work for Paris Collection on my own like Stephen someday". Through the experience of working with Stephen, I learned many things.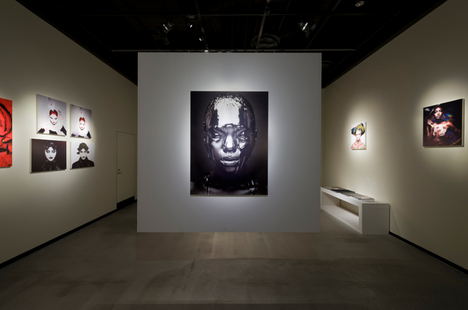 Photo: Ken Kato
How do you make your works?
To begin with actually trying ideas come up to mind rather than just thinking. Trying it in the assistant's face, or change, or stop, I will do trial and error. When the idea has been finalized, I start thinking about hair and stage setting. Instruction to indicate my idea for other artist is created depending on projects to share idea easily and surely because there is no wasting time at the shooting as we work as effective as possible. I want to prepare it perfectly in advance, especially when working with Rankin because he really does not have time. We just exchanged idea over e-mails before shooting. I even don't know his phone number.
I like to follow my initial inspiration rather than thinking it too much because it would be better result at the most of times.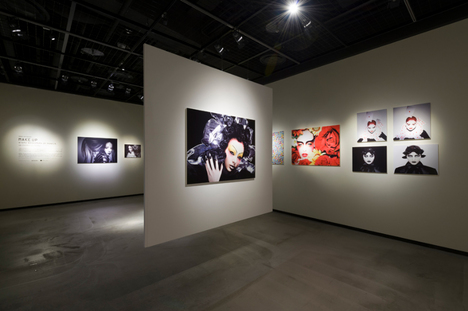 Photo: Ken Kato
-Who is the ideal woman for you?
That is a confident, sharp and sexy woman. At the time of shooting, I often say to models "More Strong looks!". If I give you a name, it is like Madonna and Catherine Deneuve.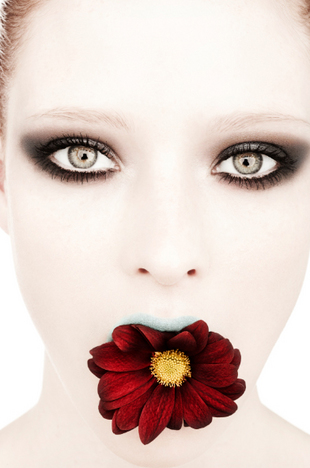 © Rankin
What is the make-up for you?
Make-up is everyday things same as wearing clothes or washing face for me. I can't go out without make-up. Even a little make-up, it makes people's feeling change, which is very important. I think people, even don't know how to do make-up, can simply try it; they can always take this off if they don't like it.
On the other hand, my works for exhibition or magazine are the art using make-up. I believe that my works tell people my idea and feelings in order to cheer people up like magic.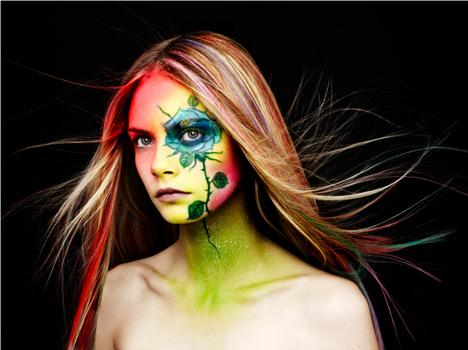 © Rankin
Please tell us about your future plan.
I am consulting a new American cosmetic brand calls "MAKE" to launch only online in September. I am also interested in the development of skin care line and own cosmetic label in the future.
"MAKE UP" Ayami Nishimura by Rankin
Date: August 24th – November 9th, 2012
Opening Hours: 11:30 – 21:00 (Non-regular holiday)
Place: DIESEL ART GALLERY (DIESEL SHIBUYA)
Address: Cocoti B1F, 1-23-16, Shibuya, Shibuya-ku, Tokyo
Tel: +81 03 6427 5955
Curator: Kimiko Mitani Woo / MW Company
UK artist coordinator: Ayako Terashima
Supported by: frame-man / SunM Color Co.,Ltd.
http://www.diesel.co.jp/art/
Text: Wakana Kawahito

[Help wanted]
Inviting volunteer staff / pro bono for contribution and translation. Please
e-mail
to us.