"Art is something that happens to you", Kalil says with a convinced tone. "One of my first memories is making collages with a friend at the age of 3. I still remember the happiness I felt while doing it"He who talks is the artist Kalil Llamazares; an eclectic and curious man who believes that hazard is the key every time you get to work. Right now, Kalil is participating at Fall Edition of Affordable Art Fair New York.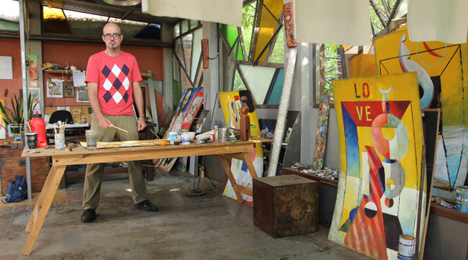 Photo: David Sisso
How was the beginning of your career?
I always had the need to express myself, either through drawing or music. I practiced both disciplines. I studied Graphic Design because, to me, it was a domesticated version of art. It was more like a traditional college career. Right now, drawing and design go together, but back then it wasn't so. Nowadays everyone is an illustrator at Design College. Soon I began working in advertising next to illustrators Hugo Horita and Fernando Glionna, and right then I knew that was The Truth. So I began to draw, everyday, at anytime, no matter what. But I discovered that the illustration as a process was not natural for me. I like working on shapes, colors, and textures, not concepts.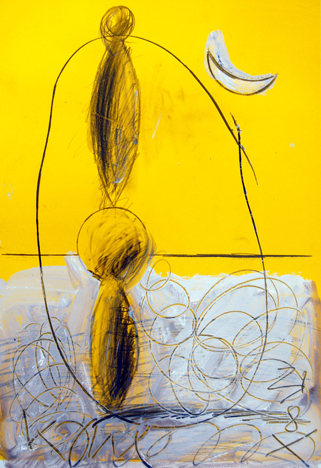 What do you like doing the most?
Well, I have a lot of interests: music, painting, design, book making, magazines, teaching and so on…For me, art is a very good excuse to enjoy life. Both life and art have rhythms, and if you can flow with them, that's a good thing.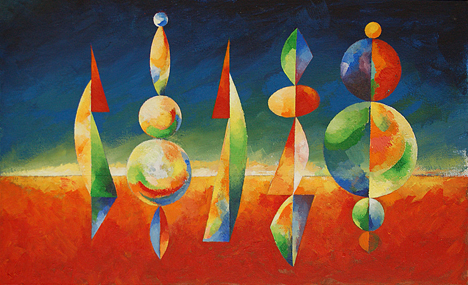 What are you doing at the moment?
Many things at the same time, as always. The good thing is that I have a lot of space in my atelier. Also, I'm working on Bacanales Lupanar, this event that I created in 2006. I always wanted to work with a live model, and a group of people drawing her. The idea was to reunite with friends and experience collective work. The place we do it is called Pacha Mama. I also work as Art and Design Director of La Mujer de mi Vida, a literary local magazine. I have a lot of freedom there, I call illustrators to draw the whole magazine, and each issue we invite a different one. I don't expect anything so when I receive the drawings they surprise me, I'm happy just to play that game.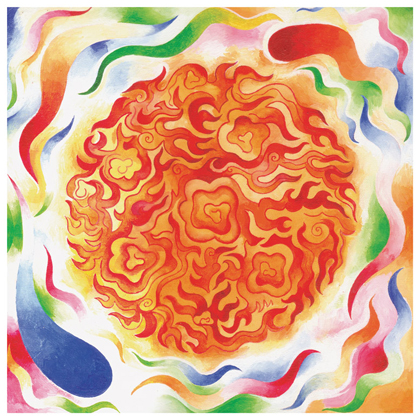 What inspires you?
My life changed when I met Horita and Glionna. They were my mentors. I also admire Picasso, Matisse and Cezanne. And I really like the first 1920s.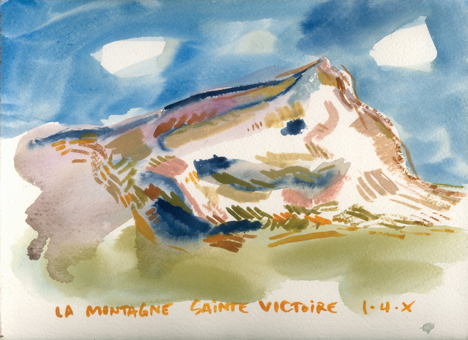 Which are the most important moments in your career so far?
In 2006, I showed my work at Centro Cultural Recoleta. For the first time, I didn't care about the result. There were many styles and techniques, as if it was a collective exhibition, but it was just I! Last year I participated in an exhibition in Paris, I got to travel there and it was like a second honeymoon with my wife. Also I had my sketchbook with me, I love to draw and paint in landscapes. I'd love to do more of that.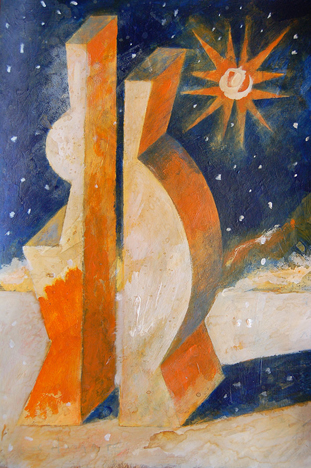 What would you like to do that you haven't done so far?
I'd like to do big sculptures in public spaces. I made one at my front door. Right now I still lack of technical skills, but I like the idea of an offer to space. Sometimes I wonder what's the purpose of doing art…for me, the fact that there is a group of people in the world that makes nice staff is like a planetary resistance. It helps the world to keep turning around. The experience of art culminates in a simple yet powerful idea: art and life are the same thing, "everything is a miracle", Picasso said. What's important is not to find the meaning of life, but to find those things that make us feel alive. Art is one of those.
Text: Gisella Lifchitz

[Help wanted]
Inviting volunteer staff / pro bono for contribution and translation. Please
e-mail
to us.