I found Verónica Blejman´s drawings surfing the net, like many other times I have surfed the web looking for something new and surprising.
This time, it really surprised me because there was a familiar feeling to it. I discovered someone who was talking to me through one, two, dozens of illustrations. All of them have something in common: the simplicity, the body gesture, the anonymous faces and the text that, in some crooked way, supports the images.
So here I am, trying to unravel the plot behind these drawings.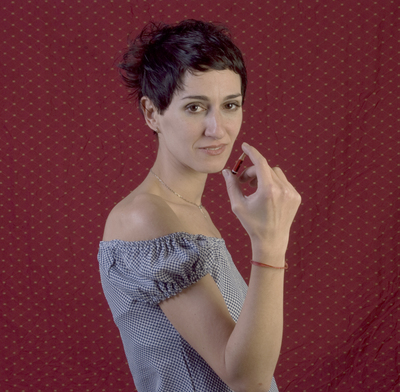 Photo: © Lucila Bodelón
When did you start drawing?
For me, it was always easy to draw, since I was little. I began studying Fine Arts and my works were paintings. I started drawing recently, around 5 years ago. My last drawings were born in Barcelona, while I was babysitting a girl. Both of us liked to draw at the same time. So I found myself drawing her. After that, I experimented with the moleskine notebooks, while my painting was getting more and more arid.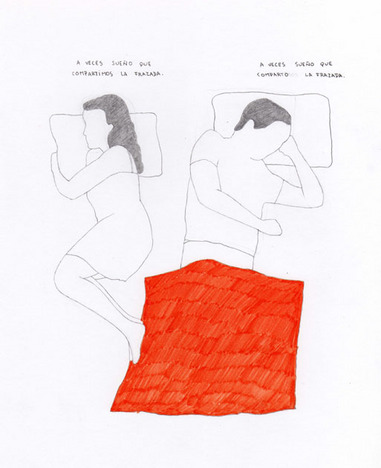 Did you believe your career was right for you from the beginning?
Not at all. First I studied Interior Design, and then I was about to study Graphic Design, but I gave up in the queue for the inscription: it was too long! When it comes to Fine Arts, I studied the whole career but at the beginning I began to ask myself some questions about the materials, the textures and the kind of images I wanted to explore. At the same time I exhibited my work at some places and quickly I sold some works. I even worked with a gallery. It was a very good moment for me, I had my painting studio and my works were selling ok.
But at that exact time you left for Spain! Why?
Because I always wanted to live in another country and I felt it was the right time to have that experience. My life changed completely. I was kind of afraid my inspiration would lack, and it happened for real. I spent 9 months out of painting. Then I painted again, but differently. It was never the same. Then came my drawing. I always say that you have to hold on when you don't know what to do. You always work from that ignorance.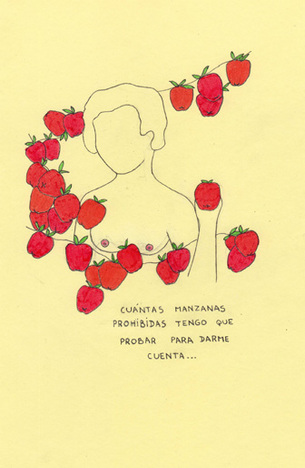 What are your sources of inspiration?
Everything. I'm pretty self-referential. Everybody notices that. Also, I listen to people around me and write sentences in little papers everywhere. Then I rephrase them to fit my drawings. Before, the illustrations were more from our everyday life, things that happen to all of us without noticing them. What I do I play stop and capture them on paper. And then I put humor on them. I believe I'm getting deeper with time. In my drawings, both the image and the text play an important part. They complement each other. Right now, my illustrations reflect my feelings and other people's as well.
Do you think people relate more now?
Yes, absolutely. There's lot of feedback now with the help of the web. I like it when say "it happened to me too!"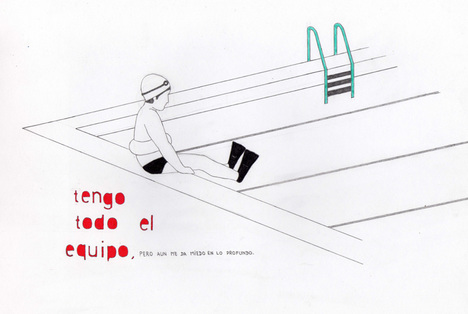 Describe your drawings please.
They are very minimal; I wanted it with no ornaments, a face with no traces. People can imagine the expressions. I like the different tools: pencil, marker, and many papers. The style refers to images from the sixties. I like that the mixture of a contemporary drawing with things that happen to us today but have visual reminiscences of another time. I like to watch old photographs and the way they were taken. The poses of characters in the pictures fascinated me.
Yes, there's a feeling in all of your drawings. The combination of both text and image and the inner and outer pose of the characters show something very unique. There's identification between the viewer of your drawings and the character strongly based on a position in the world. This role is both psychological and physical. And the identification is unconscious.
You know, when I finish a drawing I look at it and feel it's not mine anymore. I find this very funny. Some people like the drawings, but the pose of the character is something that acts in a deeper layer. There's a strange feeling to it, a kind of estrangement that works fine. I'm glad you're telling me this because I understand how it all makes sense from every angle. You can see it in Hopper's work: how he can stop time in every painting. I believe my work has something like that too.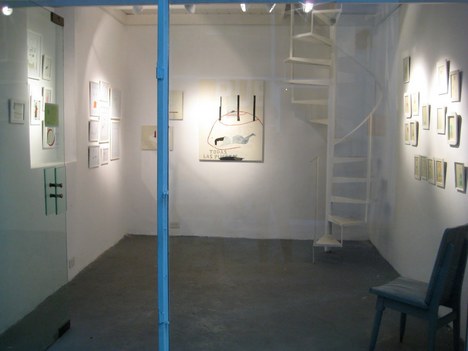 Tell me about your personalized books.
They came just before my illustrations. I made them as presents for friends. I tried to give them what they liked and need. I like to play with different materials in them.
You also do custom artwork, right?
Yes, of course. It's complicated to do that. I need to be very real in what I do, so I take my time in appropriating the other's idea, then I start to work and suddenly it happens. The idea becomes mine.
Tell me about the best moments you had in your career.
Today it's a great moment for me. I feel very happy with what I do. I closed the exhibition at Oz Gallery some weeks ago and it was a success. The reaction in the public was very pleasing and I'm very glad about it. Also there are many changes in my life happening at the same time. I believe every artist should be real, but I sublimate all the time! My drawings help me to heal my deepest structures.
You showed your work in Barcelona, right?
Yes, in many places, traditional and alternative. I believe my work was more comfortable in alternative galleries. I also connected with different artists with who I did collective exhibitions.
Which are your projects?
One of my big projects is my own illustration book. I want my illustrations to become more massive, more popular. Maybe in a performance, I don't know. I'm open to new things!
Verónica says goodbye with her big smile and nostalgic eyes. And I find myself wandering the streets once again, filled with images of strange people who keep staring at me with no eyes. People that whisper with no voice. Unknown but yet familiar, that keep looking, feeling and loving in this parallel universe of pen and paper.
Text: Gisella Lifchitz
Photos: Lucila Bodelón

[Help wanted]
Inviting volunteer staff / pro bono for contribution and translation. Please
e-mail
to us.