An artist who photographs entropy of the metabolizing city.
Taisuke Koyama makes photographic works by capturing organic phenomenon from the continuously changing city, an inorganic being. He started his career as a photographer in 2003, Koyama has released several photo series, including "entropix" in 2006 which looked at the urban city as an organism. These days Koyama is known as one of the young photographers who have gained attention worldwide. With the SHIFT August cover, we introduce his past works and what's in his mind for the current and future creation.
Please introduce yourself.
Taisuke Koyama. Born in 1978. I am a photographer living in Tokyo. I make works with interest in the process of how things change and the natural phenomenon of the city.
How did you start working on photography?
I initially majored in environmental studies at school, but started to seriously make photographic pieces in October 2003. The biggest reason was because I got a digital camera. It made it possible for me to make my portfolio and books easier and print at home.
You have made several series of photographic works such as "entropix", a series of photography capturing the city as an organism, "Rainbow Form", "Starry" and the latest work "Melting Rainbows". Could you introduce each work?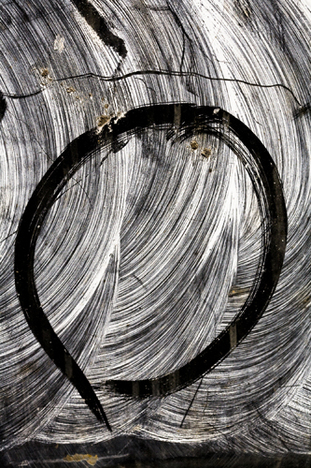 Untitled (O) / 2007 / From the series of "entropix"
"entropix" (2006-) is a series of close-up photography of various artificial surfaces and phenomena that was happening while I walked around in Tokyo. Through construction, demolition, land-readjustment, and redevelopment, the city 'Tokyo' has continuously been changed. And I regard Tokyo as a metabolizing organism, blending the city and nature together. The title "entropix" is coinage of 'entropy', 'picture' and 'pixel', with a meaning of photographing entropy of the urban city.
At that time when I was shooting, there were many huge shopping malls and commercial multi-complex buildings had just been completed such as Tokyo Midtown, The National Art Center, Tokyo, Lalaport Toyosu, and Lazona Kawasaki. I often walked around the construction site of Tokyo Midtown.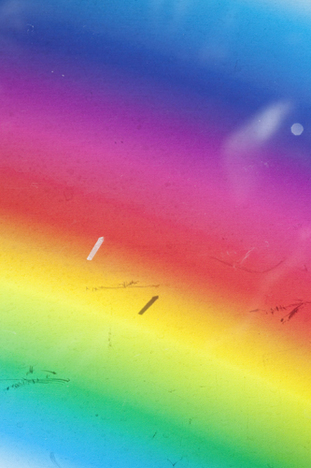 Untitled (Rainbow Form 2) / 2009 / From the series of "Rainbow Form"
"Rainbow Form" (2009) is a close-up photo series of a rainbow graphic that was used for an advertising poster. I focused on shooting it, because I found the fact that the rainbow as a light phenomenon was posted around the town as an advertising image, and I saw the printed rainbow exposed to sunlight in a sunny day as if it was a real rainbow as a natural phenomenon which can be seen in the city.
Like "entropix", I shot these photos while I was walking around town. Each photo reveals various conditions and phenomena, showing a scrap of sticker sticking on the surface, scratches, those shadows and dewdrops that magnify halftone dots of the rainbow print.
This series is a continuation of "entropix" as well as a work of that light, phenomena, and things are photographed.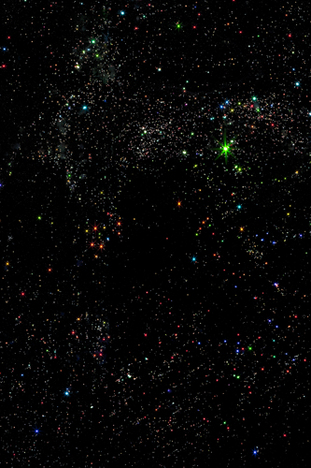 Untitled (Starry 10) / 2009 / From the series of "Starry"
"Starry" (2009) is a commission work made to be installed at the entrance hall in a residential building. Since the work will be installed there almost permanently, I decided to make something that relates to the location and something that creates communications for the residents. After I researched it, I remembered there was an old astronomical observatory at the edge of town. At the same time, I remembered there was a piece from the photography book "entropix" released in 2008, shooting the front fender of an abandoned scooter that looked like shining stars.
I referred to the photo, and made material that shines with sunlight, and shot it with sunlight on a sunny day to create a photo that looks like stars'. On "Starry" it seems that many colorful stars are shining, but all of those are actually luminous light reflecting the day light sun.
In this project I was thinking it'd be nice if the residents would think about stars, start commencing amongst their family and might visit an observatory. So it was important that the 'picture isn't showing real stars, but looks like them'.
Through the process of making the work, I started to take a deeper interest in the relationship between photography, the perception of people who see it and the difference between straight photography and setup photography. Someone saw "Starry" and asked me if the piece was showing the Southern Cross. As I heard it, I thought that sense and imagery that came up when one is confronted by photography might be more important than the people that try to look at photography as real and that if photography was shot naturally or made for those people who look at it.
At the same time, I realized once again that the photography I have shot so far as nature in the city wasn't just a natural phenomenon. It was something that derived from the relationship between nature and city, where it is influenced by the time I wasn't present and someone's existence or behavior that I haven't met.

Untitled (Melt 01 / No Smoking) / 2006 / From the series of "entropix"
As seen on "Untitled (Melt 01 / No Smoking)" which was included in the book "entropix", I have been shooting a natural phenomenon found in the city, such as dissolving ink of a poster posted in the town. But I rediscovered such phenomenon is happening not only because of the natural force like rain and light, but also because there was someone's existence that has brought the poster printed and posted.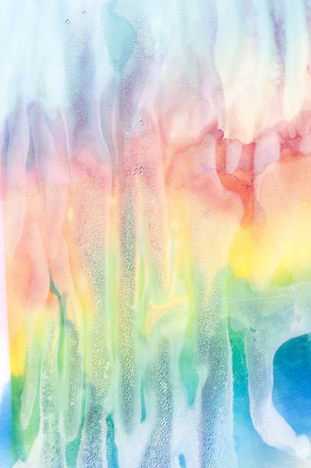 Untitled (Melting Rainbows 36) / 2010 / From the series of "Melting Rainbows"
The latest work "Melting Rainbows" (2010) was created through such interest. In this work, to observe thoroughly a phenomenon that can only be seen when shooting from a far, I placed an inkjet printed "Rainbow Form" piece on the balcony, like a poster. And I shot how it changed due to rain and snow. I took part in it as a person who printed and posted the poster in the town, while rain and snow helped to change the print. As I was thinking that it was important that the work wasn't shot naturally or observational scientific photography, I shot listening to my physical sense like intuition and reflexes, similar to what I did when shooting in the town.
Since the release of the "entropix" series in 2006, you still keep working on it. How did you come up with the idea "to capture a city as an organism"? How do you decide subjects?
Since junior-high-school, I started to climb mountains and go camping. At the technical school, I studied environmental science. When I was 17 years old, I visited India and since then, I started backpacking around Asian countries. As a result of these experiences, I already have a perspective that the city and nature are equally metabolizing, which I think is more of my senses through my eyes and skin than a kind of idea.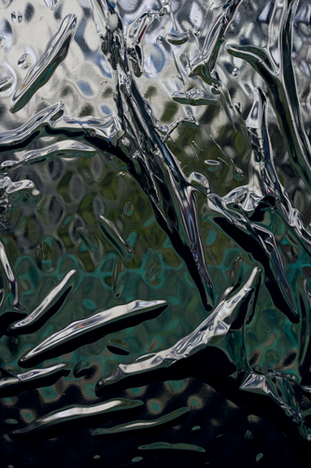 Untitled (Shading Vinyl) / 2007 / From the series of "entropix"
I shot photos both consciously and unconsciously. As I look for more dynamic color, texture, and vividness, I limit myself to shoot only during the sunny daytime. Not to portray shots of reality, I want each viewer to experience a leap of his/her imagination through my photography. Consequently I often shoot abstract photography.
As the book "entropix" showcases my basic approach to photography, I think I will continue to work on my shooting method and perspective of "entropix" in the future as well.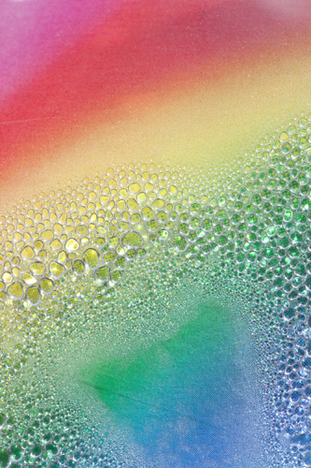 Untitled (Rainbow Form 11) / 2009 / From the series of "Rainbow Form"
Why did you focus on 'rainbows', as seen on "Rainbow Form" and "Melting Rainbows?
The Rainbow is a phenomenon of light and is posted as a printed object around the town. I felt it was very photogenic. For "Rainbow Form", I didn't shoot something that looked like a rainbow, but looked for something that showed unusual conditions of the rainbow. I shot one rainbow image for "Rainbow Form", but I have shot in various places.
How do you view the City?
It is a place that flows on various scales and is in the process of constantly changing.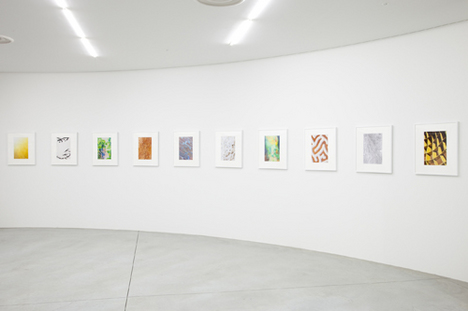 Solo Exhibition "Artworks from AN10", Museum of Contemporary Art Tokyo, Foyer, Tokyo, 2010
Do you make other photographic works besides the ones capturing the close-up city? Do you take photographs of people?
Walking in the town was my basis before, but I recently started to work with a different approach like "Starry" and "Melting Rainbows".
I still shoot for the "Artworks" series, in which I shot works of contemporary artists. The photographs I shot for the catalog of the exhibition "AN10 MOT ANNUAL 2010" at Museum of Contemporary Art Tokyo in April 2010 were shown during the exhibit as "Artworks from AN10". It originally started from the photographs I shot artworks of an artist Teppei Kaneuji for a magazine feature. With the perspective that what artists create is something happening in the modern world as the same as the city and architecture, it was a project to shoot artworks with the same sense I have when shooting on the street.
"High Speed Slide Show" is another piece I have kept updating since 2006. It is a film work projecting 6000 photographs with 10 pieces per second.
As for figure photography, I have commissions to shoot portrait and interview photographs, but not for my personal work. As I have been interested in it, I want to shoot as soon as I come up with a good idea.
You have gained international attention as well. Do you feel you have received different feedback at home and abroad?
No, I don't feel the difference that much. No matter where they are from, Japan or abroad, everyone has different taste and perspectives. But it's true that there are a great number of quality artworks, which you can see on a daily basis abroad. I want to work and exhibit my pieces in such environments.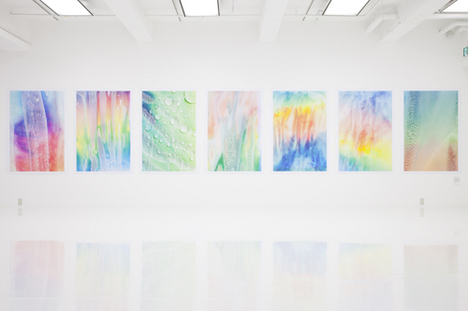 "Melting Rainbows" Installation View from Group Exhibition "3331
Presents TOKYO", 3331 Arts Chiyoda, Tokyo, 2010
What's your inspiration when you work on photography?
Recently, I often think about 'ambiguous boundary'. I have been interested in natural things found in the city so far, but I am more concerned about conditions that you can regard as both 'city' and 'nature' or you cannot determine it as one or the other; I am not interested in things that you could separate 'city' and 'nature'. It is easy to separate in words such as 'city' and 'body', 'inorganic' and 'organic', and 'conscious' and 'unconscious'. But we actually live in the context where those things are blended ambiguously. I am interested in those kinds of things.
Please give us names of your favorite artists and musicians.
First, photographer Daido Moriyama. When I was a student, I liked TOMATO/Underworld very much. As for artists, I like Olafur Eliasson. While I work on my project, I often listen to the latest 2 albums of Autechre, Cornelius, Growing, Steve Reich, and Nico Muhly.
What would you like to explore in the future?
I am thinking of trying an approach that explores more of what I am interested in since "entropix", like "Starry" and "Melting Rainbows" as well as walking in the town again, and also another series of "entropix". I also want to try other things, such as collaborating with artists, site-specific projects, and photo shooting in the fashion and architectural fields. I also want to make another book, because I have many photographs made after "entropix" that are waiting to be put together. I want to look for a sponsor, as making a photography book is expensive.
Text: Mariko Takei

[Help wanted]
Inviting volunteer staff / pro bono for contribution and translation. Please
e-mail
to us.