ffiXXed is a collaborative art and design project formed by Australian artists/designers duo launched in Berlin, 2008. Although one of their focus lies in the fashion design, ffiXXed never limit their possibilities, exploring their approach to various fields in art and design realm. After experienced working in several cities worldwide including Berlin, Hong Kong, and New York, ffiXXed is currently fixed their base in Shenzhen China where they have newly established a multifunctional in-house production studio.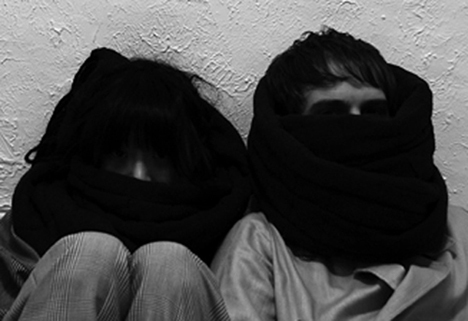 Please introduce yourself.
We are Fiona and Kain of the fashion/art project ffiXXed!
When, where, and how did you start ffiXXed?
We started working together as ffiXXed in Berlin, around 2007 /2008. The prospect of combining our personal, creative and work lives together seemed much more sustainable than keeping them separate.
ffiXXed was a way to really integrate these things together. But in the beginning we didn't really want to do a bi-seasonal label. Instead we made more sculptural works and limited edition pieces. Eventually we found that presenting full collections is a really productive structure to have. It keeps things moving and helps us to develop new ideas within a designated framework. We just worked from one idea to the next and this is where we are now.
You started in Berlin and moved to Shenzhen China. Why?
We moved to Berlin to make a change and living there allowed us to imagine doing something like this. But the production capabilities to produce the collections we wanted to just weren't accessible to us. We also felt that we needed to keep moving, to find another change of pace. The idea of working in Asia was really exciting and Fiona has most of her family in Hong Kong. We knew that a lot labels were working in China, even for more high-end production so it seemed an obvious choice for us to investigate things there. But we didn't want to simply outsource our production, we really wanted to understand the whole cultural and social context and develop a relationship through the production and make that more part of our process.
Initially we were based in Hong Kong but we needed to have more engagement with our production. Also living in Hong Kong was getting a bit too intense for us, we wanted more feedom. We visited Shenzhen regularly and liked the vibe there. So we moved to New York briefly and together with our friend and partner in Melbourne and a friend in China we developed a plan for an in-house production studio to be based in Shenzhen. We relocated here in about February this year. It may seem a little crazy to do this, but at the same time it's been a very natural progression.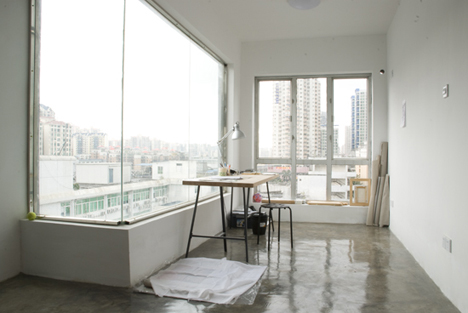 ffiXXed studio in Shenzhen
Could you introduce your new studio in Shenzhen? How do you spend your time at your studio?
We wanted to develop our own working model for how an office/ studio/ factory could function. Aside from our office/studio we have a small production setup where we can sample and fully produce the collections. It also incorporates our living and leisure space. So it's a real experiment in integrated living and working.
A lot our time is spent writing emails and more administrative stuff, and running errands to and from Hong Kong. But this setup allows us much more freedom with developing new ideas and approaches. It can be quite hectic having all the production taking place in the room next door, but it really helps us to understand more about the processes and people involved. It's like a small family here at the moment. It's very nice!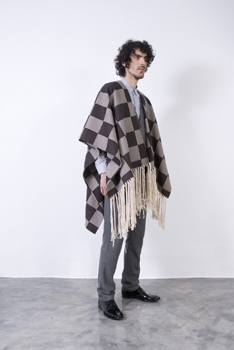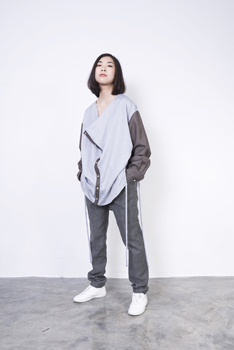 "We are Building a Civilised Space Here" ffiXXed AW 2010 Collection
Could you introduce your AW 2010 collection "We Are Building A Civilised Space Here"? What's the main idea for the collection?
We wanted to produce a range of garments that responded to the unfolding of our daily lives, in the home/ office/ apartment/ studio and elsewhere. The collection was developed between New York, Hong Kong and Shenzhen, so draws from a range of aesthetic, formal and cultural influences. Central to the collection is a digital print by artist and ffiXXed collaborator James Deutsher from his exhibition 'We Are Building A Civilised Space here' shown at Y3K gallery in Melbourne.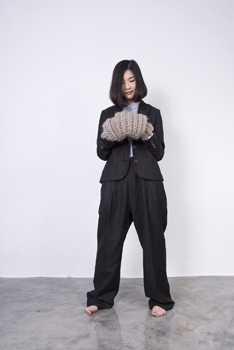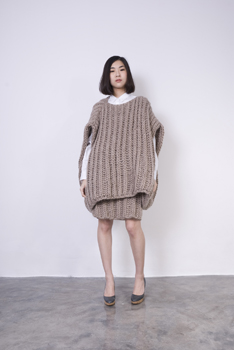 "We are Building a Civilised Space Here" ffiXXed AW 2010 Collection
We elaborated on a series of everyday basics using natural fibres such as wools, wool/silks and wool/linens, together with hand knitted Peruvian wools and amazing Alpaca/Angora blends! Our aim is to address, transcend and stimulate a variety of social and domestic situations.
Do each of you have your own role in ffiXXed? How do you work together when working on a new collection?
We don't really follow such defined roles when it comes to designing the collections. Nether of us have very fixed methods when it comes to our own creative process anyway. It's usually quite spontaneous, the result of much ongoing discussion. We sit together at a giant table and always work on several things at once. We're often surprised when a real product emerges from that. And for sure we allocate specific tasks when it's time to get things developed and sampled etc. But nothing happens unless it between the both of us.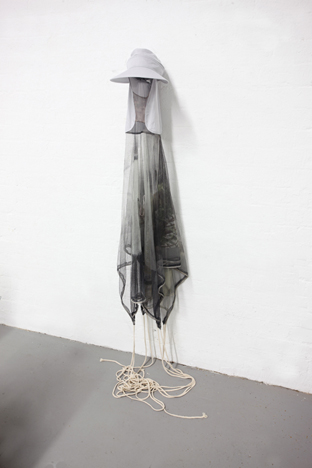 ffiXXed Mosquito Net Hat for the "Too Much of Everything" Show
What is your main focus for designing clothing?
In general we aim to produce clothing that can respond to, stimulate and transcend a range of different social and domestic situations.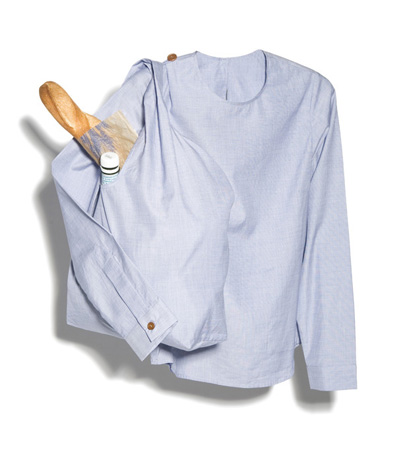 BLESS advanced Shopperbag
Do you collaborate with other artists and designers?
From the beginning we wanted ffiXXed to be an inclusive project. Our first properly produced ffiXXed product was the BLESS advanced Shopperbag top with Bless. More recently we have worked with Condiment magazine and artist James Deutsher. Currently we're working with New York based artist Ester Partegàs for our new collection. Collaborating helps us discover new creative and social possibilities for ffiXXed products.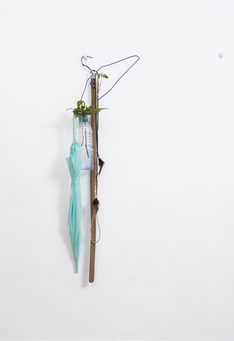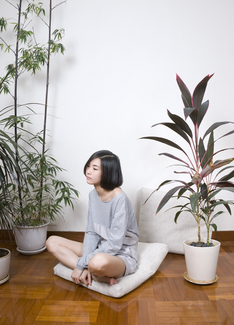 "unseen utopias" ffiXXed SS 2010 Collection
What is your inspiration sources?
We draw on the fairly eclectic mix of cultural activities that produce our day-to-day reality.
How do you find yourself interested in living and working in China?
China is super interesting. Shenzhen as a city is only 25 years old but has a population of about 15,000,000. It's one of the first Special Economic Zones in China, it also borders with Hong Kong, making it quite unique in terms of its social and economic position within China. So there are interesting things here, the architecture firm URBANUS has an office here and has undertaken some really amazing projects. Galleries like the OCAT are also doing interesting things. But we're also interested in the social fabric, how industry and culture connect. We're always learning more about Chinese life and this keeps us interested.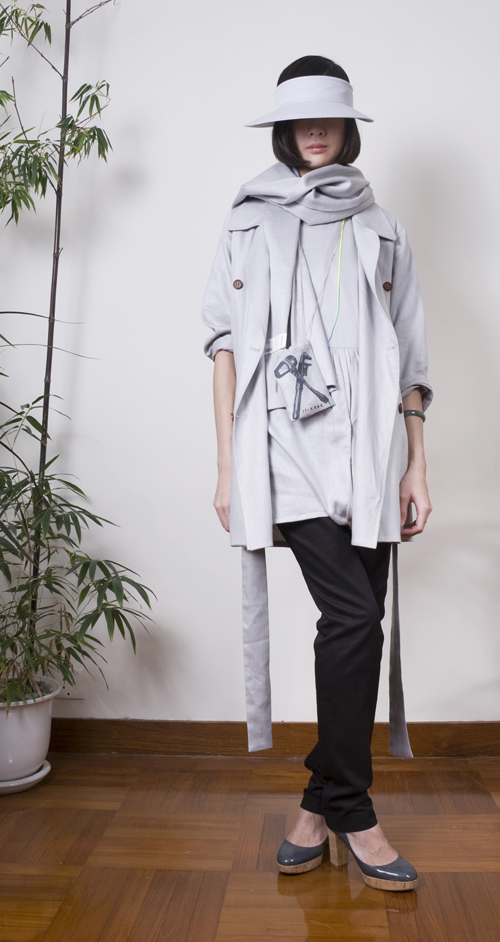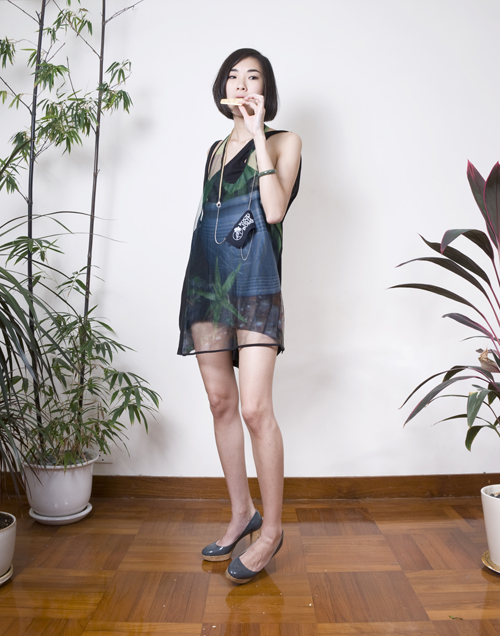 "unseen utopias" ffiXXed SS 2010 Collection
What is advantage and disadvantage living and working there, compare to Australia or Berlin?
An obvious advantage is the access to industry here, but then there are other limitations, some social socially limitations for example. Our lifestyle is very different here compared to Australia or Germany. Both Berlin and Melbourne are really amazing cities, very small and livable. They both have strong creative and social scenes and part of what we're doing comes from our connections there. But sometimes it's nice to not be part of a scene so much. This can be a distraction and in some ways a little limiting. Shenzhen is a very neutral place for us, quite outside our usual comfort zones, we able to make our own space here to do whatever we like.
What would you like to explore in the future?
Weaving, bamboo, dinnerware, leather, kung fu, more knitting, more travel, more dancing, etc.
Text: Mariko Takei

[Help wanted]
Inviting volunteer staff / pro bono for contribution and translation. Please
e-mail
to us.