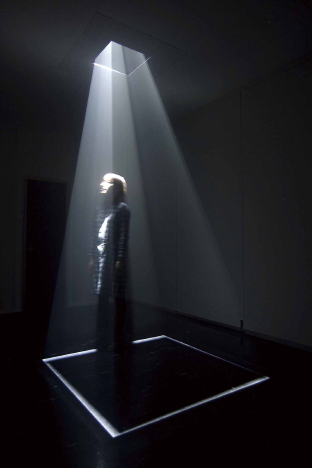 My House 2 / 2006 / FIX MIX MAX! at Hokkaido Museum of Modern Art (Sapporo)
Ikuko Imamura is an artist who uses light, shadows, and darkness to showcase a tiny bit of unforgettable everyday happenings that rest at the edge of her memory. Born and raised in Sapporo, the artist has been exhibiting her new solo exhibition "Curtain" since May 17th at CAI02 in Sapporo. Imamura showcases her latest work 4 years after her last solo exhibition "My House" held in 2006.
Could you briefly introduce your work?
I make experience-based installations. One of the examples from my past works is a solo exhibition "My House held at CAI, in which you could actually enter inside the piece. I make such large-scale hands-on installations.
How did you start your career as an artist?
Originally I wanted to become a designer. As a high school student, I vaguely wanted to become a designer who does jacket designs for CDs as I liked music. At that time, I was into the sub genre of Japanese music such as Flipper's Guitar, Cornelius, and also Fishmans. And I decided to become a designer, took an exam for an art school, but failed. While I was lost regarding which path I should take, I came across Recent Art School, the former CAI, which became the direct reason for how I started to pursue my career as an artist.
At the beginning I was not so interested in art, because I didn't know about contemporary art at all. But I met Mr Hata of CAI, learned so many things and discovered my interest in art.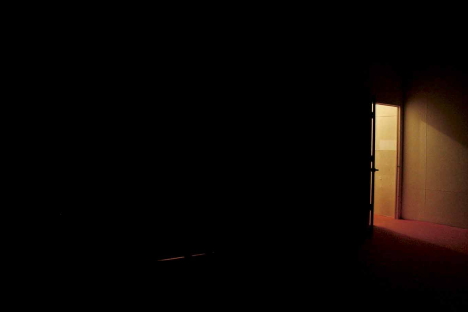 Solo Exhibition "My House" / 2006 / CAI (Sapporo)
How long did you go to the school?
I went for 2 years. Currently there are only night classes at the school, but when I was a student there I could take my favorite classes from Monday to Friday, from morning till night. One of the best things at the school was that there was a system that you could use an atelier for 24 hours. With a small number of students, we had a nice place to get together and talk with artist friends while working on own pieces. At school I met Fumiki Bando, which resulted in good training for me to explore my work after having many conversations with him.
And then you started to pursue your career as an artist after the school.
Well, not yet. I was still wondering what I should do after school, and tried art direction work as I was interested in planning. During those days, I continued to work on art activities, and had an opportunity to hold my first solo exhibition "My House" in 2006. After that, I went to Mexico for a month as I was granted the internationally exchange program coordinated by S-AIR, who runs the artist-in-residence programs in Hokkaido. I also participated in FIX MIX MAX!2 (2008) held in Miyanomori Art Museum, and in the Essence of the Snow Country exhibition held at M50 art district in Shanghai.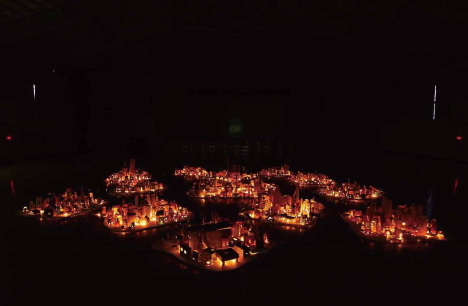 Otodoke Art / 2009 / Tonden Elementary School (Sapporo)
Otodoke Art is your latest activity in Japan?
Yes. It was an art project in collaboration with elementary school students. I stayed and worked in the elementary school for 2 weeks, where we worked on making small houses together. Each of the 390 students made his/her own house, which were displayed and lit inside to produce a dreamy village. This project was a mixture of what I had in mind, that I wanted to deliver experience-based art to kids, to make houses, and to use lighting which I was originally interested in.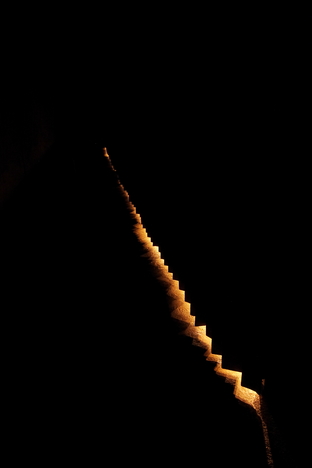 "Curtain" / 2010 / CAI02 (Sapporo) Photo: Yoshisato Komaki
Could you introduce your new exhibition "Curtain" which has been held at CAI02?
It is an installation piece which shows light coming in through a gap in the curtains which are installed in a dark space. I usually make art pieces using ideas inspired from tiny things happening everyday such as light coming in through a gap in doors and windows. For example, I recreate things in a moment like light that can bee seen in the gap of doors; a beam of sunlight which appears on the curtain, and a curl of smoke with light.
The reason why I am intrigued by the everyday things is that there you can find a number of things that beautifully fertilize our ordinary everyday lives. When I was busy, there is a moment when I was fascinated with such things. In such a moment, I feel I can return to myself.
Regarding the image of light coming through a gap in curtains, is it based on a specific memory?
One of the memories, for example is a memory of my childhood which was a based on my 2006 piece "My House". As a kid, I had to got to bed alone, and was fascinated by seeing light coming in through the bottom edge of the door in a dark room. I had such a strong memory of the ambient light as my parents walked around over the door, and the distance over the door. My artwork is incorporated with a pile of such memories I have in my mind.
Who is your favorite artists at the moment?
I love Olafur Eliasson. I actually visited his exhibition which was held at the 21st Century Museum of Contemporary Art, Kanazawa. I am into light and also just wanted to experience it as a visitor. Recently I am interested in Chim↑Pom.

"My House 5" / 2008 / FIX MIX MAX! at Miyanomori Art Museum (Sapporo)
What else are your inspirations?
I think it is the most important how you live everyday. It includes having conversations with people, seeing things, listening and eating. My own feelings which change everyday is also important. I believe in being curious and to questioning things which leads to my inspirations. I am curious about things like what is true myself and such uncertain feelings are linked to my artwork. For me, I think good works are the ones which unfold the ideas of the artist and his/her way of life.
What do you think about the art scene in Sapporo?
I have desire to meet many artists, as there are very few installation artists. I feel it is great if the art scene in Sapporo will become more exciting after building up and embracing art. I also feel a kind of urgency that I have more chances because of being in this small place, although I feel I am happy to be here as I have more opportunities if I do things a little different from others.
You were born and raised in Sapporo and also based in Sapporo. Would you like to go other places?
I would like to live in Shanghai, which is a very exciting city.
What would you like to explore in the future?
I would like to show my artwork to as many people as possible. My art work is huge and experience-based, and I would like people to visit and experience it. I would like to find a way to show more people.Also, after participating in the Otodoke Art project, I got interested in collaborating with other people. Regarding a place to show works, I also would like to consider exhibiting works somewhere besides white cubes.
Ikuko Imamura Solo Exhibition "Curtain"
Date: May 17th – June 5th, 2010
Open: 13:00-23:00
Closed on Sundays and holidays
Place: CAI02
Address: B2F Showa bld. Odori West 5, Chuo-ku, Sapporo
Tel: 011-802-6438
Admission: Free
Organized by CAI
http://www.cai-net.jp
Text: Mariko Takei

[Help wanted]
Inviting volunteer staff / pro bono for contribution and translation. Please
e-mail
to us.