NEULAND
Actar has released "NEULAND: The Future of German Graphic Design" a design book featuring about 50 graphic designers from Germany. The recent graphic design in Germany has drastically changed with a new focus on young graphic designers and design students. In addition to their well-trained techniques gained at school or even self-taught, the young generation has ideas free from traditional forms and cultures while taking in a contemporary and unique style.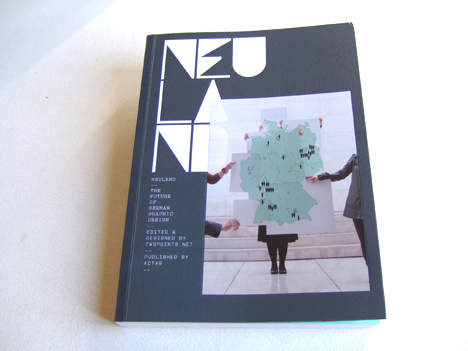 This book is full of such German graphic designs using about 8 pages per designer, including an interview, portrait, portfolio, pictures of their work place and "something utterly German". Some unique designers offer distinctive portrait photos on top of each designer's page, and you will fully enjoy the interviews which introducing answers to 6 questions about Germany, the purpose of their work, favorite spots in Germany, etc. Here is an introduction to some of the featured 50 designers.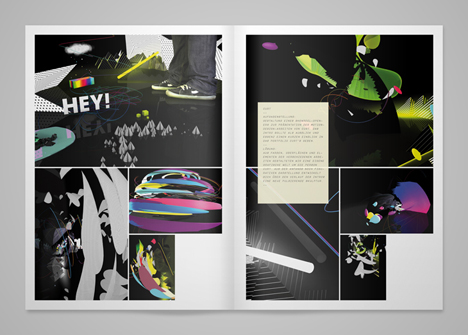 Colors And The Kids
A group formed by 3 members who met at the Bauhaus University in Weimar, Colors And The Kids graphic works are characterized by sharp and cool, yet playful tastes. The rhythmical colored surfaces and flashy lines scattered in the black and white space remind us of rhythm of youth music. Stimulated by the rhythm of colors and a touch of comical story with a figure, I found myself enjoying it as if music was playing in my head.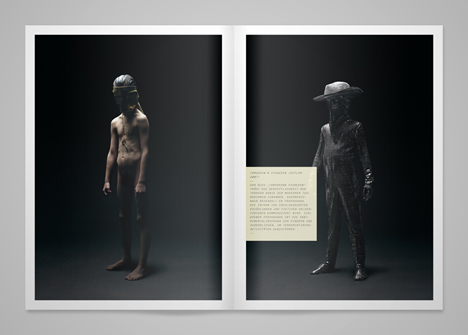 STUDIOHEYHEY
STUDIOHEYHEY consists of Gina Monch and John Russo, who met each other at the Hochschule Darmstadt/Mathildenhöhe. They introduced photographic works from their book about terror "Tomorrow's Pioneers", featuring mysterious people like a man with a fabric-covered face, a naked man wearing a key around his neck, a black wrapped man with rat ears and a red man. With uncertainty and curiosity, you will be compelled to look into their graphic world. As expected, their work place photo looks a gloomy and shady place. With very short interview answers, the duo are very mysterious designers.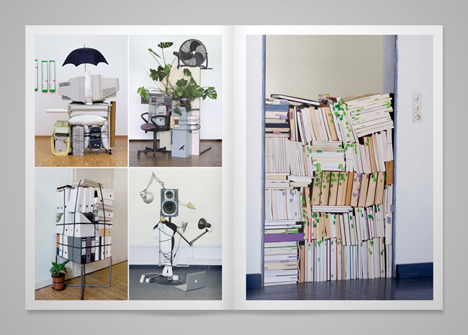 Katrin Schacke
Katrin Schacke has studied communication design in Offenbach and Zurich. Defining the German design as "vernacular, sensible, sometimes a bit chilly", she creates something serene and distinctive like still images. You will be intrigued by her sensitive and dynamic graphic works including a number of darts flying, piles of books with a lot of stickies, a number of balls flying into a hole and furniture tied with a string. You can also feel the same atmosphere in her studio srroundings as in her graphical expression, which recalls a vernacular connection to the designer.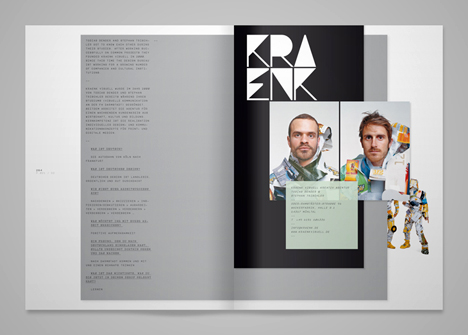 Kraenk Visuell KreativAgentur
Kraenk Visuell KreativAgentur was founded by Tobias Bender and Stephan Trischler during their study at FH Darmstadt. First, you will fix your eyes on their portrait photo, which could be one of their design works; 2 designers wearing wrapping paper and magazines. Their workplace photo is a funny one too. It looks as if designers are standing or sitting on the rotated office space. If you would like to see them lying down on the floor or even on the window rim, you just need to incline your head 90 degrees to the right or just rotate the book. One of their graphic works is a poster made for Darmstadt Technical University, featuring workers who often work in the background at the university. It aimed to depict something you don't usually visualize. Their works with full of ideas that inspire my imagination.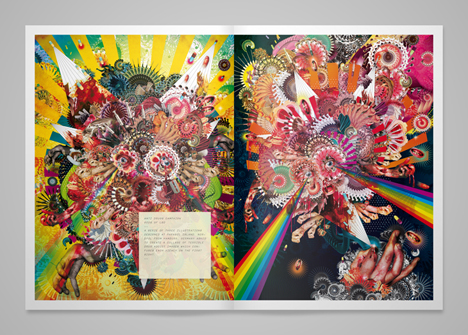 Sebastian Onufszak
Born in Poland in 1976, Sebastian Onufszak is a visual artist who currently lives and works in Rosenheim Germany. She created an eccentric collage work with an array of vivid depictions of drug-abused arms, teeth and eyes and pills and needles. This graphic work was made for the anti-drug campaign. It includes a strong visual message about the danger of drugs. An array of eccentric visual elements stands out very much.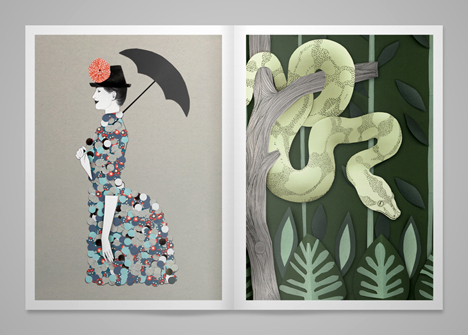 Silja Goetz
Born in Germany, Silja Goetz currently lives in Spain working as an illustrator. She has studied communication design in Nuremberg and worked as a graphic designer for 2 years in Hamburg. Her simple design comforts us with feminine and exquisite curves. The collage work reveals that she has an aesthetic sense of fashion. Her workplace also looks feminine and comfortable.
I was intrigued by these young graphic designers from Germany. As the design scene in Germany has started to change lately, we should keep our eyes on more possibilities of the forthcoming German graphic design. It is worth taking an in-depth look at the well-introduced book, if you are interested in German young graphic designers.

NEULAND: The Future of German Graphic Design
Publisher: Actar (Spain)
Editor: TwoPoints.Net
Size: 17 x 24 cm
Language: English/German
ISBN (English): 978-84-96954-56-4
ISBN (German): 978-84-96954-07-6
Price: International 34.00 €, USA 39.95 $
http://www.actar.com
Text: Asami Miyamura
Translation: Mariko Takei