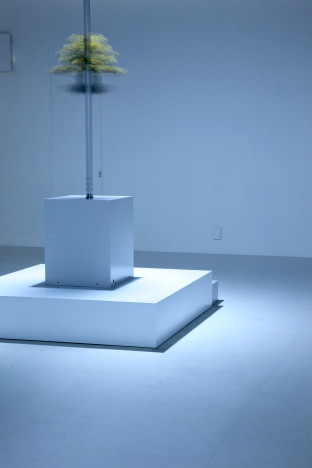 "ROLLING" Solo Exhibition "AMPG vol.25" Mitsubishi Jisho Artium / Fukuoka / 2009
I guess humor is very important. I'm not interested in the art which "know-it-all kind of people looking at seriously". I think "art" is something like "wastes" that artists create, and we are like eating them. Knowing it, I want to see art and I want to be inspired from art. I think the same thing can be said about music.
Another distinctive feature of your works is the combination of music and plants, which can be seen in your work "Distortion x Flowers".
Music and plants play a major role in my work and are one of the big themes. I think there is definitely a common feature between the 2. It could be something that people can sense or some kind independence of its own. It's like you can hear a certain sound from a certain flower. In addition to visualizing colors, I also sense sound when I select, look and represent plants.
Are you going to continue working on the next edition for the Shiki series as a part of your upcoming plans?
I think it will be it (laughs). The series gained a good reputation for the exhibition at NRW Forum. Even getting many offers for exhibitions from other countries in Europe, I think the series has been completed inside of me.
I want to get more into rolling plants. It might be a real eco activity in a way. You will concentrate to look at the rolling pine tree, but you won't go gazing over a pine tree to the beach. I have such an idea behind all my artwork.
I create artwork by depriving plants of its life. What I want to convey from it is to plant such an idea in people's mind, by catching a moment of beauty to create unusual forms of art.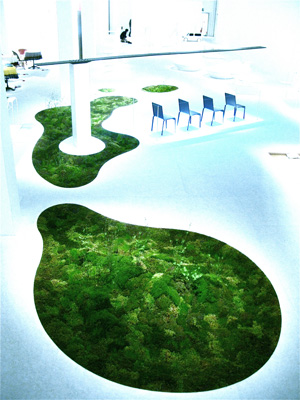 "Time of moss" Exhibition "TOKYO FIBER '09 SENSEWARE" Triennial art museum / Milano / 2009
What is your main concern for creating your work?
Ultimately I have respect for plants. Plants can't lead me, and vice versa. I believe I should be at the same place in the same direction as plants are. Also I've been managing a field for glowing seasonal flowers and plants for 4 years. I think it's very important to grow plants. Of course I do create works using the plants I grow. I think a great deal about the distance between plants and myself. I want to accept plants and want plants to accept me. So I've been farming as a spiritual place to train myself.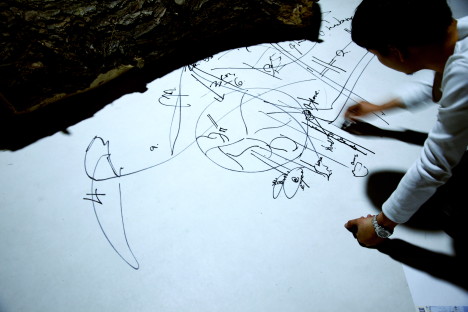 What would you like to do the next?
As I manage a flower shop, I can't be away for a long time. An eternal theme for me is to keep myself as a florist and I want to work with flowers until I die. Unless I keep such desire, it's impossible to create flower art.
The other day I visited to the Cactus Herb Garden in Miyazaki, which was closed 4 years ago. I've been asked to do something there from the person who is managing the untouched garden. I'd really like to do something at the garden at any moment (laughs), but as I said earlier it's not possible since I want to do the flower shop for the rest of my life. There are many cactuses left at the garden and they keep growing strong. It's the best place! We took many pictures of the garden, so I'm planning to release the book. I have ambition to reproduce the place even taking a decade in the future.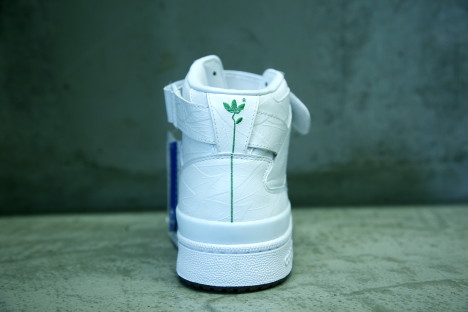 Adidas / 2009
You will release shoes collaborated with Adidas.
Yes, the Adidas shoes will be out in November! There are 5 different variations and I also did a sweat suit, which is based around the 60's style using organic cotton. Shoes are designed with an artificial grass sole.
I will be participating to do an installation in the exhibition for the next edition of Six Scents, which will be kicked off in New York in September and touring for 2 months in Paris, London, Tokyo, Hong Kong and Seoul.
Jardins des Fleurs
Address: B1F 4-15-43 Minamiaoyama, Minato-ku, Tokyo
Tel: 03-5414-5824
http://www.jardinsdesfleurs.com
Text: Mariko Takei

[Help wanted]
Inviting volunteer staff / pro bono for contribution and translation. Please
e-mail
to us.