The art magazine "MUTE", which features young and mid-career artists who are drawn attention in the frontier scene of contemporary art, was published from "Tanin. Inc" in Tokyo in August, 2008. It is the bi-annual magazine and a high-profile design group "Enlightenment" initiated by Hiro Sugiyama is in charge of design.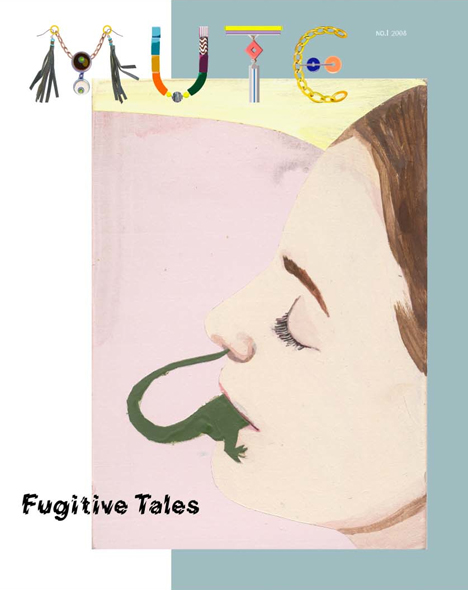 The magazine explains the title 'MUTE' as "Mute the other voice, listen to the inner voice.", which is soon to be clear when you start reading. Each page contains only artworks and text is added for a few pages in the front and back. It is an attractive way of presentation because readers can concentrate the artworks without redundant information as in an exhibition.
The theme of the current first issue is "Fugitive Tales" and collected artworks containing narrative aspects from distinctive 29 artists. The magazine explains them by classifying those 29 works into "Transcendent", "Dense landscape", "Fragment", "Spontaneous" and "Poetic". Here I would like to introduce the magazine along with these 5 themes.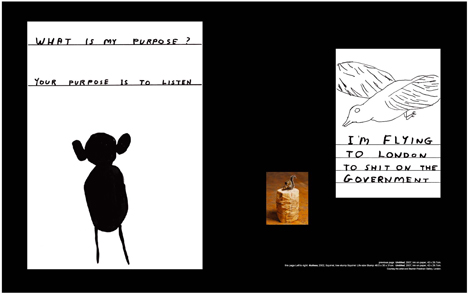 David Shrigley from "Transcendent". His disarmingly simple work is a drawing with a felt-tip pen. But, contrary to the simplicity of the work, his drawing and characters contain thought provoking aspects and remind viewers social messages. There are many fans of his works.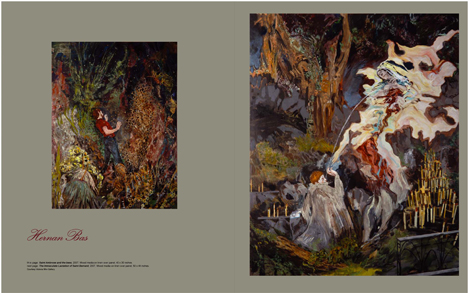 Hernan Bas from "Dense landscape". It thematizes western history and characters in classical deep colours are evoking anxiety and calling up strong narratives. The viewers must be drawn to its narrative profoundness.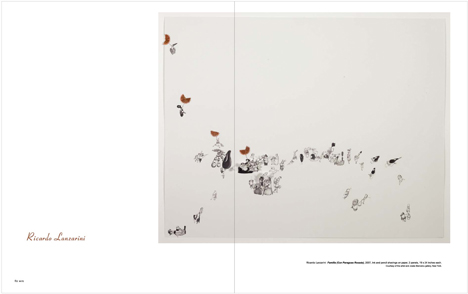 Ricardo Lanzarini from "Fragment". The work is odd and unique which has dotted micro people in the white space. Each micro people has different looks and is doing something. Viewers can enjoy by looking the work thoroughly both as a whole and as a part.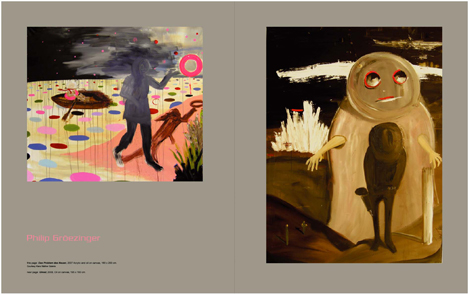 Philip Gröezinger from "Spontaneous". His instinctive harsh drawing shows his unique world view. Vivid colour is chromatologically attractive and adds spice to the existence of an enigmatic character appeared in the work.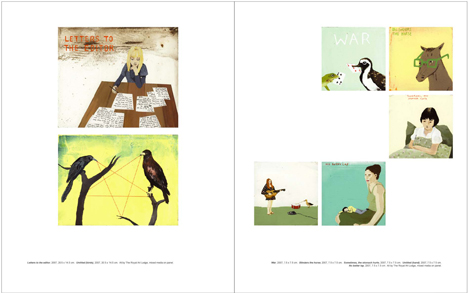 RoyalArtLodge from "Poetic". People and animals drawn in the work are mundane but evoke something humorous. Viewers are attracted to them naturally.
Artists: Francis Alÿs, Michael Raedecker, David Shrigley, Tam Ochiai, Sean Landers, Thordis Adalsteinsdottir, Hernan Bas, Avner Ben-Gal, Dubossarsky&Vinogradov, Nogah Engler, Andreas Golder, Scott Grodesky, Philip Gröezinger, Bendix Harm, David Harrison, Yun-Fei Ji, Frank Magnotta, Ricardo Lanzarini, Lorenzo De Los Angeles, Tala Madani, Claudia&Julia Müller, Basim Magdy, Masahiko Kuwahara, Jockum Nordstrom, RoyalArtLodge, Christian Schwarzwald, Katharina Wulff, Wang Xingwei, Nana Yokoi
MUTE No.1 Fugitive Tales
Specification: A4 wide, 128pages, 1800JPY, 3000copies
Release: August 2008, bi-annual
Published by: Tanin Inc.
ISBN: 978-4-9904425-0-7
Contact: 03-3418-0357 / post@tanin.biz
Text: Asami Miyamura
Translation: Takeshi Okahashi
[Help wanted]
Inviting volunteer staff / pro bono for contribution and translation. Please
e-mail
to us.