The designer's favorite bookshop.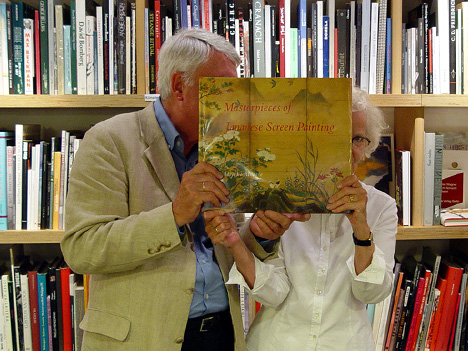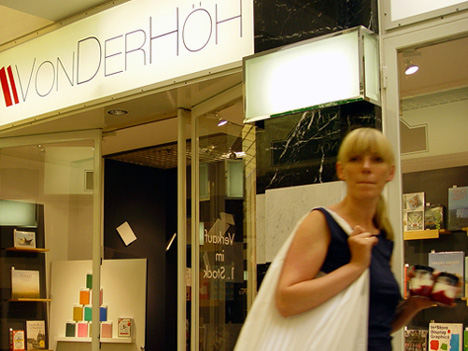 Photo: Von Der Höh's window display
"Von Der Höh" is not just a German surname but stands for a traditional bookshop in Hamburg. Read on to see what we discovered in a small boutique with books on design, photography, typography, advertising, illustration, architecture – full of printed surprises!
"Von Der Höh" originated as an art bookshop in Berlin (1937) founded by Helmut von der Höh, until the second world war removes the bookshop from the city maps – but not from the hearts… In times of peace the bookshop finds its new home in the city of Hamburg where today's owners, Mrs. Gitta Erbe (the founder's daughter) and Mr. Reinhard Erbe, continue the family business for the love of books.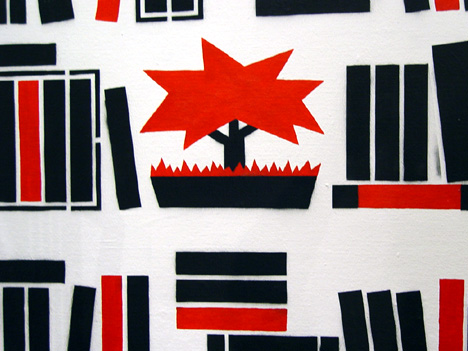 Photo: Wall drawing at Von Der Höh
Nowadays, the Von Der Höh bookshop is based on the first floor in the middle of Hamburg's shopping center and is well known to the local creative scene. Ironically, it's the same creative scene (a fashion store) that requires the bookshop to move in 2006 from a "window seat" towards a smaller boutique which narrows down the necessary display space for books. Luckily, unlike earlier plans on closing the store, the bookshop continues which has been a big relief for a lot of local art and design lovers.
Do bookshops still matter? In times of internet-shops (read: Amazon), we asked ourselves "Why do we still need bookshops?" By visiting the Von Der Höh bookshop we discovered three good reasons.
Firstly, bookshops matter because books are not just for reading. Books also have their own look and feel which makes them special. More and more books features exclusive cover materials, papers and printing techniques which makes just touching the book itself a unique experience. Mr. Erbe says: "For a lot of customers it is important to hold a book and browse through the pages with their own hands."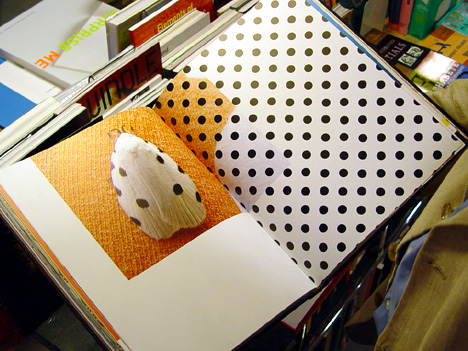 Book: Pachanga by Belén Mena – features a fabric-like cover and fine printing
Secondly, a website doesn't hear my accent. An online bookshop doesn't know who I am or where I am from unless I say so. Mr. Erbe quickly recognizes my Dutch accent and suggests a few books on Dutch design in a subtle way. After a short dialogue on design he notices my special interest for materials and comes up with another great book which has been published recently.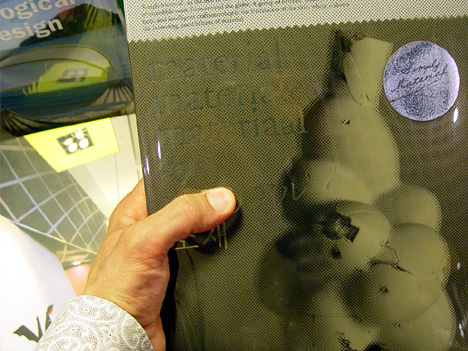 Book: "Simply Material" published by Victionary – a recent publication on materials in design
Finally, how to find what you are not looking for? Finding books is not only about searching but also about discovering. While exploring the bookshop I learn about publications I wouldn't know how to search for in the first place. Also, the large number of design publications these days makes it hard for us not to get lost but "the publishers that offer quality books on design are only few" says Mr. Erbe, and knowing them makes it possible to cultivate a condensed selection of books that keeps on surprising us.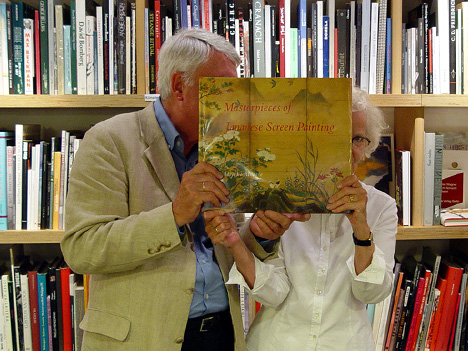 Photo: Mr. and Mrs. Erbe in a world of books
People often say a bookshop is just a good as it's owners – which is probably the reason why Mr. and Mrs. Erbe (file under "happy couple") have been keeping this bookshop going, for over 25 years (!) Despite their respectable age they are still in touch with the young art scene which is illustrated by the displayed artworks of upcoming artists. Our camera ends here, and to see more of the bookshop and the owners for yourself, not to be missed out whenever you're in the Hamburg area.
Von Der Höh Bookshop
Address: Grosse Bleichen 21, 20354 Hamburg
Tel: +49/(0)40-34 63 88
mail@von-der-hoeh.de
http://www.von-der-hoeh.de
Text and photos: Aart van Bezooyen
[Help wanted]
Inviting volunteer staff / pro bono for contribution and translation. Please
e-mail
to us.