THE EVOLVING NEXT GENERATION ECO CAR
The G8 Hokkaido Toyako Summit was held from 7th to 9th of July. In Sapporo-city, in advance of the summit, "the 2008 Exhibition on the Environment" has been held on June 19 in Sapporo Dome for three days. Companies and groups, which acted on thoughts about domestic and foreign environment more than 300, participated and showed their ecological approach. It is the exhibition of ecological cars (eco cars) going the next generation. Let's introduce some of the eco cars that may appear before us frequently in the just slightly upcoming future.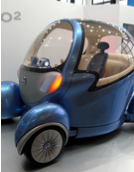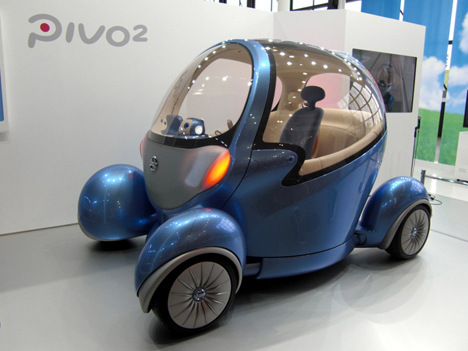 Nissan's concept car "PIVO 2"

There was a car that has attracted audiences' attention conspicuously in the main area of the dome: it will be a concept car " PIVO 2" of Nissan. People gets a lot of looks in the cute form and makes a clear distinction from the other exhibited eco car. What "PIVO 2" suggests is a totally new type of concept, "user-friendly innovations" that builds a positive and happy car-driver relationship. Providing robotic appearance in its design, but even more its inside is equipped with a robotic agent (RA) that faces to the driver to catch the drivers state of mind through conversation and facial monitoring technology, and guide a driver to the happier state. When you are going home, exhausted from work and when you are driving for long time to travel far, RA will become the good partner of the driver. To be said to drive PIVO 2 must lead us to the different experience from what we have before. To add a point of view of ecology, PIVO 2 is the electrical-powered commuter car.
In an outdoor site of Sapporo Dome's parking lot, there exhibited the eco car of various kinds and performed tests drive and ride. Here gaining people's attention is the fuel cell vehicle (FCV) with hydrogen powered, participating in "The Japan Hydrogen & Fuel Cell Demonstration Project (JHFC)". With a great deal of expectation, the hydrogen is an energy source of the future that can be produced from various raw materials, not to mention water.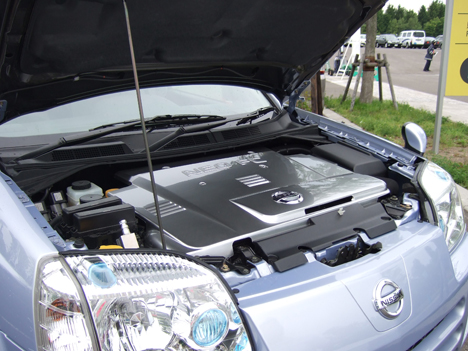 Front of the fuel cell-powered car "X-TRAIL FCV"
As for the greatest characteristic, FCVs produce no harmful exhaust emissions. What produces while running is water. I had a chance to see water dripping under the car. In addition, FCVs are quiet cars which make less noise than gasoline cars do. FCVs are often provided to companies and introduced as a public car. "X-TRAIL FCV", for instance, is delivered to Kanagawa and Yokohama city, and is also started to serve as a limousine in the city of Yokohama.
It's not a gas station, but it is the mobile hydrogen station that was also exhibited. In Japan, there are 12 hydrogen stations in Tokyo neighboring, Aichi and Osaka, and they produces and supplies hydrogen. The mobile hydrogen station shown here provides hydrogen refueling for 5 cars, as they mentioned. The further development on both FCV and the hydrogen storage and refueling station is required for the FCV's practical use.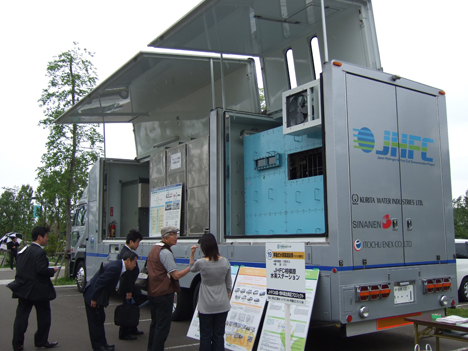 JHFC Sagamihara Hydrogen Station
It may take a while to get possible to drive a car serving all fuel with hydrogen, but it will be a not-far-off story with this car of the mixture combustion of hydrogen and gasoline. Using a compound called "organic hydride" (*) solves difficulty of the transportation of hydrogen and there is this car called "organic hydride hydrogen car" running in a blended fuel with hydrogen and gasoline, exhibited by both Hrein Energy Inc. and Futaba Industrial Co., Ltd. For the "organic hydride hydrogen car", the organic hydride is utilized for storing and supplying hydrogen, and the wind and solar powers are used for hydrogen production as fuel of the car. The 3 aspects of hydrogen production, storage and supply are extremely important to make a realistic operation of the hydrogen-fueled car.
(*) The organic hydride is the hydride of the aromatic compound and hydrogen can be easily stored and extracted through reversible reaction of aromatic series and hydrogenated aromatic series.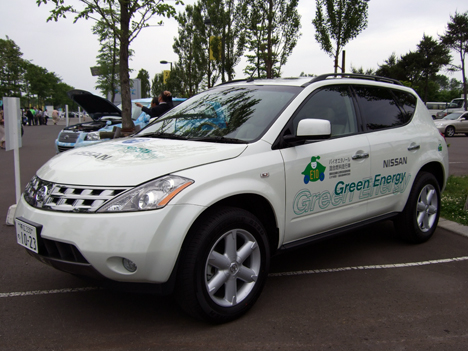 "Nissan Murano E10"
The E10 vehicle by Tokachi Zaidan is also exhibited. E10 fuel contains 10% bio-ethanol mix aiming at more CO2 reduction then E3, known for its bio-ethanol mixture rate of 3%. The E10 vehicles are expected to improve the CO2 reduction rate. In this February the Minister of Land, Infrastructure, Transport and Tourism authorized "Nissan Murano E10" as the car for domestic first E10 which mixed bio-ethanol with gasoline to 9-10%.
(*) E3 is the biofuel that mixed biomass ethanol with gasoline 3%. As for E10, the mixture rate is 9-10%. In addition, it is assumed that the gasoline car running a public road can support E3 fuel now.
The <a href="http://en.wikipedia.org/wiki/Autogas" target="new"LPG car has already got people's attention as clean car all over the world. Producing near zero black smoke, the LP gas is known for its clean energy, low CO2 discharge rate, low noise and low cost. The 90% of taxi running across the country are LPG cars, so that it can be said there is very few difficulties for the energy supply. Running with a gasoline engine and an electric motor, Prius is well-known for the hybrid car, but there is its remodeled "Prius LPG hybrid", running by the change of LP gas + gasoline and the electric motor. By introducing LP gas, it is aimed for low mileage and low CO2 discharge more than the conventional Prius. Exhibited by Astomos Energy Co., Ltd., the "Prius LPG hybrid" was running for the test ride, and unfortunately didn't have a chance to look at it.
Sumitomo Electric Industries, Ltd. has shown the superconductor electric vehicle and it was the world's first prototype exhibition. Motors using zero resistance superconducting wire can be expected downsizing and low-loss. They can contribute to environment-friendly cars, electric cars, hybrid cars and fuel cell vehicles and support both environment and resources. Expected for its development in the future.
Lastly it is a "biogas car" exhibited by Betsukai Town Public Office where it is located in the Nemuro area of Hokkaido. Proud of the best dairy farming kingdom in Japan and breeding 110,000 milk cows, Betsukai town is facing  the animal waste treatment of 190,000 tons every year. Here is the biogas car to assume biogas generated from the animal waste as fuel for cars. The idea utilizing the waste into energy, as a biogas must made people in Betsukai town happy since they have been having problems with the odor and contamination of the animal waste. I had a chance to ride the biogas car. It was a bi-fuel car that can be simply shifted to use either gasoline or biogas with switching on and off. It gives same comfort as the gasoline car does. In addition, it cost a few million yen to remodel a normal gasoline car into a biogas car, but you don't have to worry. The subsidy from the country goes around 55% – 60% of the remodel cost. What you need to realize, however, is the present conditions that there is no fuel station supplying biogas. Need to be patience for its effectively upcoming operations in the future.
The diesel car is supported widely in Europe. As diesel development advances, Nissan's "X-trail" that is equipped with a clean diesel engine will be released at last in this September. As for the clean diesel car, the clean exhausting system is a characteristic as well as low CO2 discharge and low mileage. Gained a great attention worldwide it will become the pioneer of the eco car in the next generation.
Including new types of fuel, parts, and even a concept for driving cars, it was an exhibition showcased a whole innovative idea of the next stage delivered from companies and self-governing bodies. The eco car going for the next generation is already used as a public car and limousines. We must keep our eyes on it for the development on new idea created in the future.
The 2008 Exhibition on the Environment
Date: June 19th – June 21st, 2008
Place: Sapporo Dome
http://www.do-summit.jp/kankyouten2008/
Text and photos: Mariko Takei
[Help wanted]
Inviting volunteer staff / pro bono for contribution and translation. Please
e-mail
to us.