BREAD & BUTTER Summer 08
Bread & Butter is interesting for many things that happen during the event. The organization is always improving the show by inviting new and different brands every edition, increasing the size of the feria that now is huge and you need at least a few days to visit the whole show, bombing Barcelona full of parties and events related to fashion and like this many developments every new edition.

But the show was helped so much by the big presence of professionals who form the industry, coming from everywere to attend the feria. With this mixture of cultures involved in the fashion business, the result is that anyone who visit the Bread & Butter is completely dressed for the occasion, and sometimes is more interesting just to watch the people than the stands.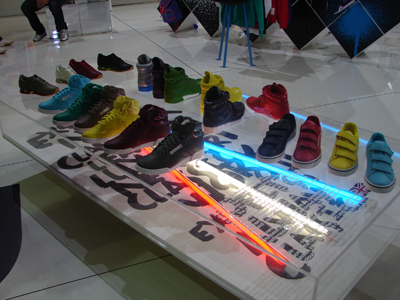 In the assistance percentage of women represents more than 70%, but this year the male presence was interesting because, maybe for the first time, the casual wear start to be funny and happy for guys.
A few years ago Bread & Butter introduced the fever for sneakers with the presence of skate, surf and bike brands.
During the last 3 years the sneaker culture in Barcelona has been huge, and all the big brands notice the fact and start to play with the heart of the sneakers fan by bringing the re-edition of their classic "old school" shoes. New Balance, Nike, Adidas, Reebook and all the leading brands in footwear start to bring back to life their new retro style.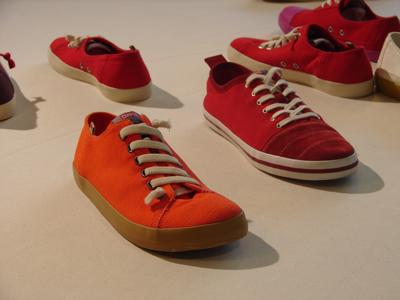 Shortly after the sneakers world start to become a part of the new-rave movement, acid disco, tecktonik and many new tendencies that bring the big explosion of colours to clothes. The flow of the 80's returns as well.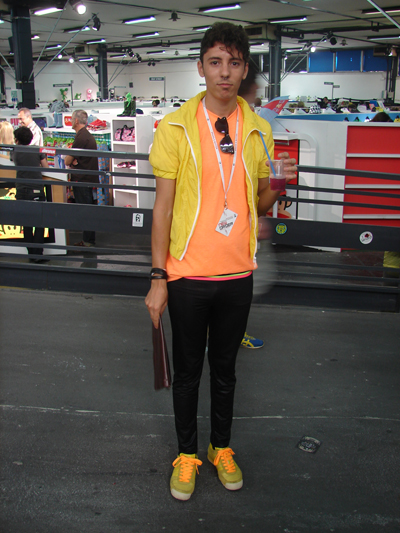 With all this, the colour started to be really important in the casual wear ones again, and the guys always used to wear sneakers started to use many colours in their clothes. Maybe it is something natural but I think that it's just a few years ago that men started to change the classical polo-tshirt, blue jeans, and brown shoes.
Now the sneaker fever is going to end, and it looks like surfers and skaters are not the most intersting thing as I can see in the streets.
At Bread & Butter, I just start to notice that the explosion of colours in the footwear for men, is rising from the feet to the whole body. So right now it is great to see that any guy will prefer to wear pink, green, yellow and multi-colour clothes instead of black and grey.
All of this is something that you can see if you come to Bread & Butter, not just the stands, or the shows, but the people and their looks. Everyone is dressed in their best and particular way to SHOW OFF at the Bread & Butter. It is call Self-publicity.
Bread & Butter Summer 08, New Order Edition
Date: July 2nd - 4th, 2008
Place: Fira Barcelona
Avinguda de la Reina Maria Cristina, 08004 Barcelona, Spain
http://www.breadandbutter.com
Text and Photos: Julio Cesar Palacio from Panopttic