Gee's not feeling very well and that's why he's being interviewed in a dressing gown at home. He's hurt his ribs carrying a big box of sneakers – special sneakers – all for his new store. It's been long anticipated, talked about and the opening of it is drawing near, so I thought I'd better quiz the man about the project.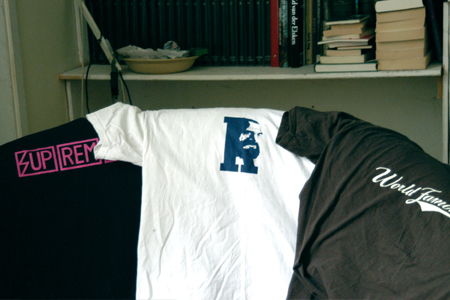 So tell me about the store?
It's opening start of June and we're really happy. It's been hard work but it's all coming together. All in all, I think me and Edzon (the other half of the partnership) had seen about 20 different spots before we settled on this one. We feel the location is perfect and the space is big enough to house all the things we want to do. There's going to be an exhibition space downstairs and then a shop next floor up and finally offices on the top floor. Downstairs we're planning exhibitions featuring local and international talent like photographers, graff artists, graphic designers. Upstairs and we got the main shop 'Patta', which is Surinamese slang for sneaker and that's what it's basically going to sell, plus selected lines of clothing such as Supreme, Vehicle and Rockwell. Piet Parra, friend and man behind Rockwell will be taking over one of the offices upstairs with Mr Wix, another friend, taking the other one. Our aim to make the whole building into a home for different kinds of projects and creative output. Amsterdam needs somewhere like this.
So was that the motivation for setting this up?
Well, me and Edzon have always been into hip-hop and a love for sneakers sort of naturally comes with the culture. Other cities have been tapping into sneaker heads for quite a while now and there's established sneaker boutiques in New York, Tokyo, and London but you know, it can feel a bit elitist and not quite right. I think our motivation is a love and respect for the culture that sneakers originate from. We're both heavily involved with the music – Edzon obviously DJ's and I regularly MC – and it's Fat Beats record store that brought us together so there is a love for the sneakers and not just as a purely fashion thing. I think that's what makes us different. We can't separate sneakers from hip-hop – the two sit together as do all the surrounding related elements of hip-hop culture such as art and graphic design. That's why it was always going to be more than just a sneaker store.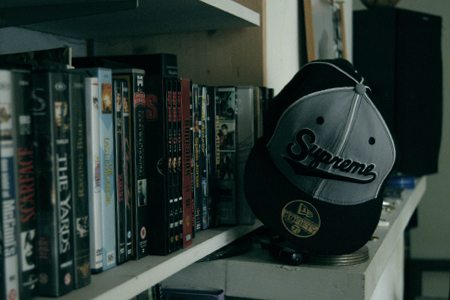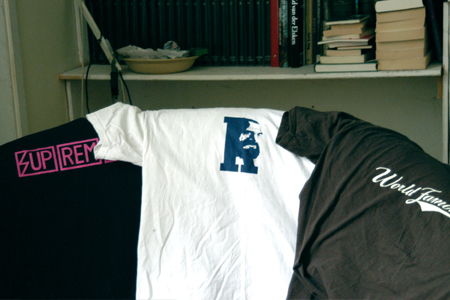 So does the fact it's located in Amsterdam make a difference?
I think so. Amsterdam is not elitist and therefore it's easy to put across a different vibe than you find in other cities. We really do want to welcome everyone – everyone who is in the same mind stage as us. We don't just want people to passively look at sneakers when they come to 'Patta'. We want them to get ideas and inspiration and that's why the exhibition space is so important. It can be used for different things like promoting young artists from the city who want to do their thing or doing something on vintage trainers – educating some of our younger generations. We also wanted Piet and Mr Wix upstairs because it makes us more into a creative centre and we can collaborate with them on different projects. But at the same time, the shop needs to have special things in it too and we expect to keep our standards high at all times. It definitely won't just be the big brands like Nike. We're gonna have all the different brands. New Balance are the only people at the moment that we're going to have a permanent account with because they are a class above. They make proper running shoes and we've decided to stock their handmade English models. The rest we'll source ourselves. Me and Edzon, we travel a lot with our music so it's not difficult to pick up product for the shop plus it makes it more personal.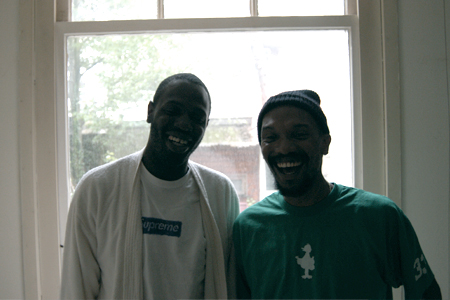 You looking forward to it?
Its gonna be good. Big opening party. Launching the website. We're excited. We just want this whole thing to get big and become a platform for all the good stuff happening around us.
And it's good for the kids too. They need to see stuff like this. It's important. If they can see little black guys like us having a beautiful shop and being successful, then they know they can do it too. (Edzon)
Patta
Address: 142 Nieuwe Zijds Voor Burgwal, Amsterdam
http://www.patta.nl
Text: Ania Markham
Photos: Mark Visser

[Help wanted]
Inviting volunteer staff / pro bono for contribution and translation. Please
e-mail
to us.