Spin Shanghai is the kind of store a customer has to especially make a trip to.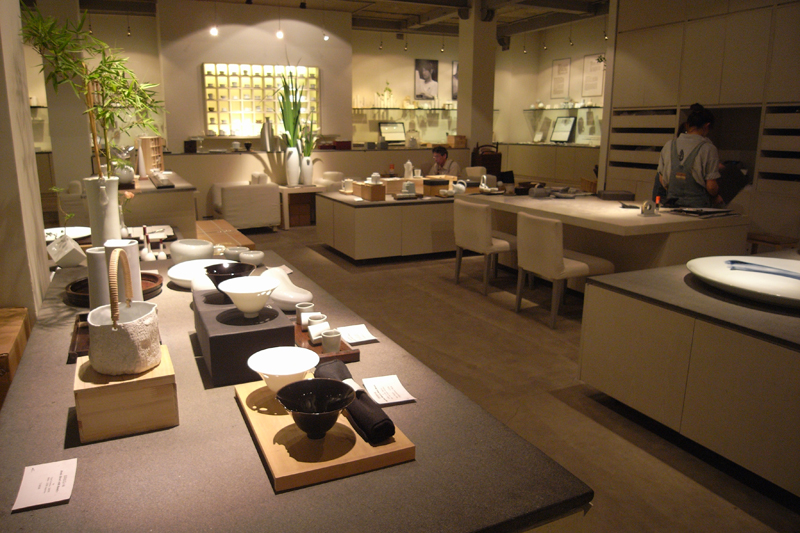 Hidden in the compound of nondescript industrial buildings, one has to walk past factory gates and know exactly which building to head to. Definitely not a store with an impossible-to-miss façade anyone stumbles upon in between errands.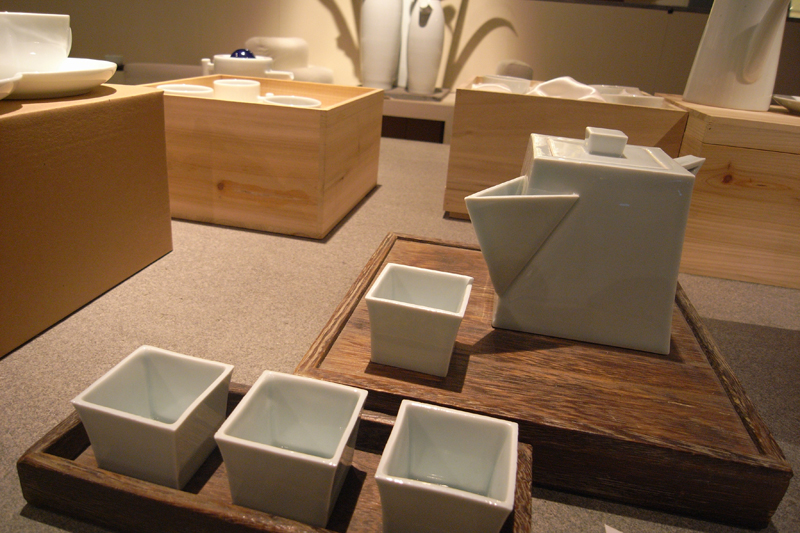 Pointing Nose Square Teaset (RMB 780/set)
Yet the customers keep on coming back. Spin prides itself on back-to-basics design that focuses on pure forms, subtle colours and clear purposes. Says Art Director Gary Wang, "It is really heart-warming knowing that people are buying our products out of their passion for good design, rather than the brand name or price tags."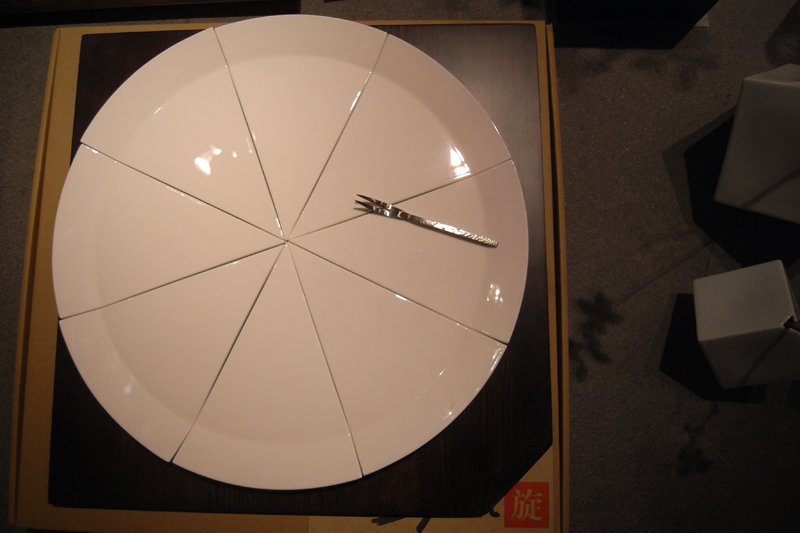 42cm Sliced Round Plate (RMB 640/ set of 8 pieces)
We think most people would agree the combination of these three factors is what probably makes Spin tick. What's not to like, Chinese ceramic tableware that does not look out of place in a gallery at non-gallery prices. Clean and timeless design aside, Spin has garnered rave reviews from guidebooks and newspapers the world over since its inception in 2004. Ironically perhaps, it remains relatively unknown at home in Shanghai, with Western tourists and expatriates in China forming the bulk of its customer base.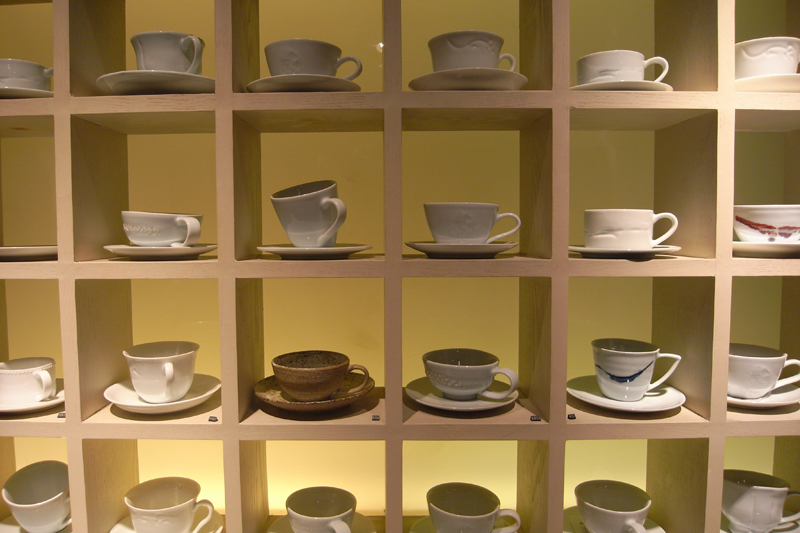 When asked if Spin ever considers reaching out to more Chinese buyers, we were told it did, but currently resources are just about enough to meet the ongoing demand. A team of 11 designers and craftsmen is responsible for developing new collections, after which molds would be sent to partnering workshops in Jingdezhen for actual production. New designs are introduced every three months and on average it may take half to one year for a design to materialize from paper to final product ready to be sold in the store.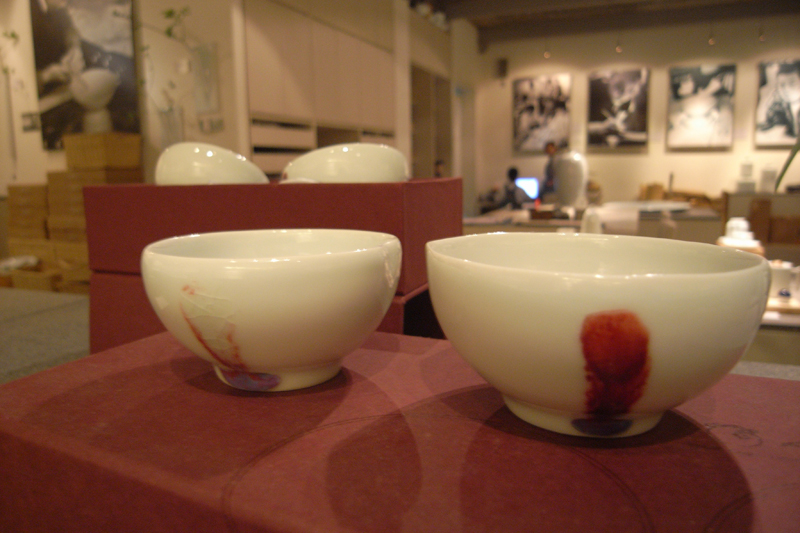 Under-Glaze Red Double Peach Cups (RMB 180, limited edition: 1,000 sets)
Among all the different types of ceramic techniques, Under-Glaze Red is probably the most challenging to execute as it requires rigid temperature control during firing, and because it is extremely sensitive to kiln temperature, it would only turn a proper red color under inner flame. As a result, well-done Under-Glaze Red wares are extremely rare and even Under-Glaze Red relics from the Yuan dynasty era were not considered successful.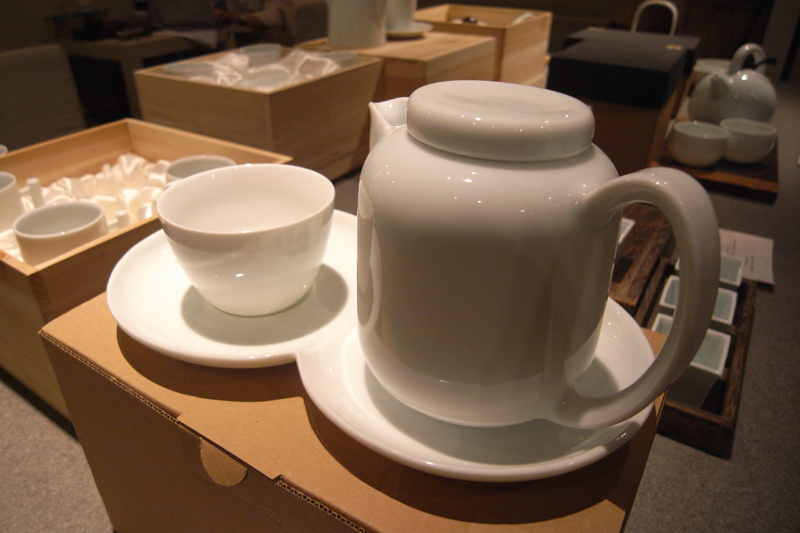 Tea Set for One (RMB 280/set)
A brainchild of Wang and restaurant owner Jeremy Kuo, Spin was originally started to create dining wares for Kuo's Shintori and People restaurants. Today, it is little wonder why people cannot get enough of Spin when its ceramic tableware is reasonably priced in the RMB 20 – RMB 6,800 (USD 3 – 983) range. Don't worry too much about RMB 6,800, go toward that direction only if you feel like a little splurge, otherwise there are actually plenty of items in the store that won't burn a hole in your pocket. Some of the most popular designs include the Magpie Teaset and the 16 Salutes Sake Cups Collection.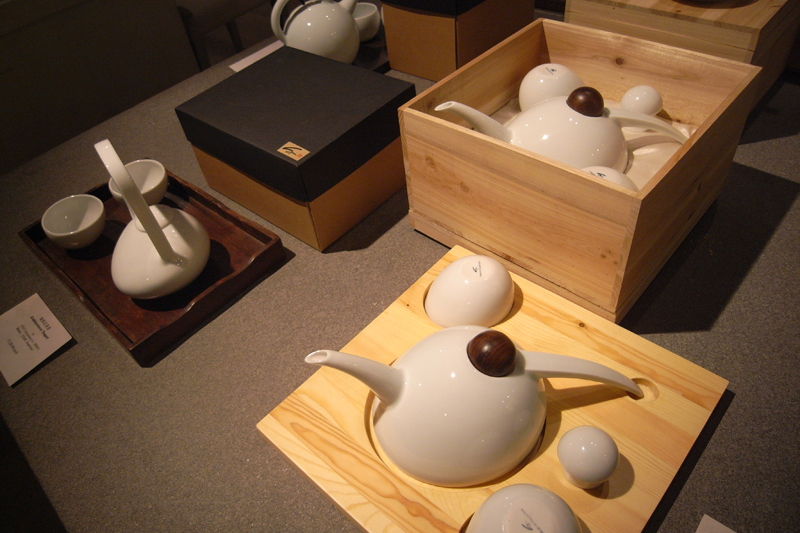 Magpie Teaset (teapot RMB 500, teacup RMB 50/each)
Spin is adamant to avoid being tagged as "fashionable" or "trendy". What it aims to accomplish is to design ceramics which are "simple, elegant, organic and fluent" enough to stand through the test of time. For those of us in Shanghai who know the value of well-designed tableware with a Chinese touch, this is one store that ranks quite high on our list. In fact, Spin does not even have a website so the only way to find out more is to head down to the store and see for yourself.
Spin
Address: 758 Julu Road, Building #3, 1F, Shanghai, PRC
Tel: +86 21 6279 2545
Text and Photos: Wee Ling Soh
[Help wanted]
Inviting volunteer staff / pro bono for contribution and translation. Please
e-mail
to us.