On a street that exuberates the atmosphere of Old Shanghai, the stylish store, Zongci KIN, has opened its doors. Large-paned windows facing the street give pedestrians a chance to see the store's nice wooden interior. On the shelves, sneakers and goods are displayed individually like pieces of art, and a skylight illuminates a café in the back of the store, adding to the relaxed, open space. The store was opened by a Shanghai-based DJ Gary Wang, who spent six years studying DJing in Tokyo, and also manages a club, The Shelter.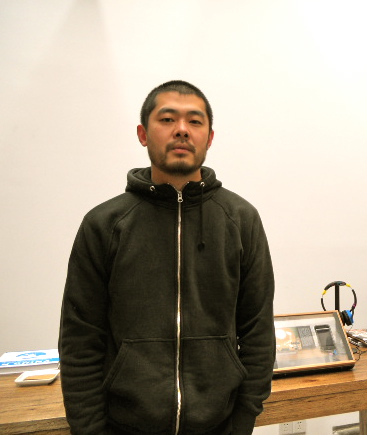 What made you feel like opening the store, Zongci KIN? Were there any special reasons?
I had wanted to open my own store for a long time. I always had this idea to own a three-story store that has a record shop, clothing store and a music studio. In the summer of 2009, my friend, also my partner, in London invited me to open a store together. Then, I told my friend who is a designer from New York about it. He was also interested in the idea. Soon afterward, we started a company together. It took us almost half a year to find the location to open the store. Our
concept was to create a space where everyone could hang out. If there were only a clothing store, there would be no seating and it would be hard for everyone to get together. Therefore, we came up with the idea of also having a café inside.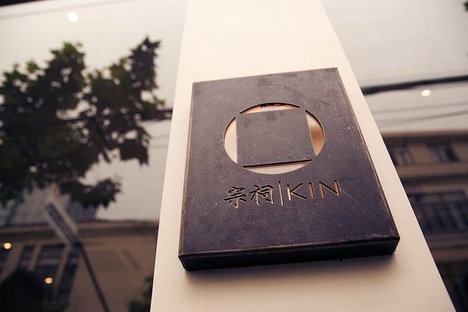 Why did you choose this location?
I like being away from the busy part of town. I like a unique location like this along an old shopping street. This is actually not an ideal marketing location. However, the rent is pretty expensive on Changle Road, and the area around KIN is a reasonable price. This place also suits our store's concept. Not that many places like this exist in Shanghai. When I'm at the store, it feels like being outside – but not too hot in summer and not too cold in winter.
What type of customers do you get at this store?
We would like more creative people to come to the store. Most of our customers are mainly foreigners. They can understand what we are trying to do at the store, and tell us that they like it as soon as they step in. Of course, we would like Chinese people to come as well. However, we feel like they have a hard time understanding the concept of this store. They see shoes and a coffee shop in the same place at the same time.
It looks like you keep lots of open spaces at the store.
China is all about design. If people see an empty space, they feel like they have to decorate it. However, I think that is wrong. I believe that keeping it simple is a good idea. Therefore we keep our store looking very simple. Also most of our tables are recycled products. This table was made out of an old wooden ship in Shanghai from eighty years ago. The more we use it, the more it gets its own look.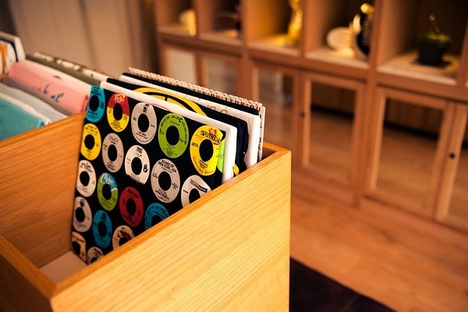 I heard that you guys teach DJ lessons here too?
Yes. We do it upstairs. There used to be a place called "The Lab" in Jiao Zhou Lu. Although people call it a lesson, we teach for free. It originally started as a community where people could get together and show each other their skills. It has already been five years since it started.
Are most of people who come to the DJ lessons Chinese?
Most of them are Chinese. But not that many people come by. If this happened in the United States, we would be getting a crazy amount of people coming for free DJ lessons, but there aren't that many people here who are interested in DJing. Chinese people think that DJs are cool if they see someone playing records, but when they actually try it out, they realize that it will take time and practice to get better, and they end up giving up. You know– it's kind of understandable.
Do you also organize events, such as movie premiers and flea markets?
Yes. We do flea markets twice a month. We also do a movie premier once a month. Most of the movies shown are independent productions or documentaries. Most of the documentaries are about music, food, design and art. I'm always the one who comes up with the plan. Our café usually doesn't get that many customers. We aren't like Wagas (a popular café in Shanghai). When people think of a café, Wagas always comes to mind first. We don't have that sort of image yet. Therefore we decided to do some unique events that suit us. We also offer workshops often.
What type of workshops are they?
We invited DJ Mitsu The Beats last time. A lot of people came out. Beat Rock will visit us next time. Last time, there were so many people that the place was packed.
Do you have any new ideas for in-store events?
I would like to keep showing movies. Of course, I'm going to keep offering workshops and flea markets. I'd like to start some food-related events. My interest is mainly music. I'm thinking about starting a gallery in the future. However, I'm not an art specialist, so I'll have to find someone who knows art well. This place already has a space set aside for a gallery when we're ready.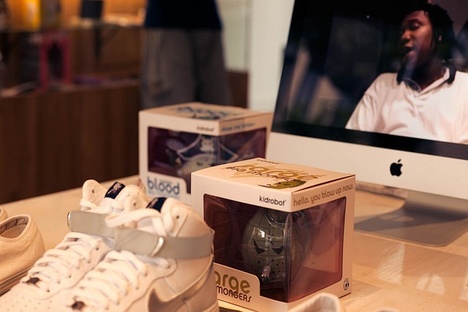 What is your ideal image of the future Zongci KIN?
I want people to know that Zongci KIN cares about quality. It's kind of like a brand. We do lots of design work too. We took care of producing all of the promotional events for Nike's Spring 2011 items last week. We carry the type of stuff that we would like to have at the store. They do not have to be limited items– as long as we know that it's good stuff, we're happy to carry it.
You also manage The Shelter. Can you let us know about what type of place that is?
It has been three years since I started The Shelter. Without any hesitation, The Shelter is an awesome place. DJ Krush performed at The Shelter last year, and KENTARO has also performed here. Everyone loves The Shelter. There's so much good energy there all the time. Anyone can go to The Shelter without worrying about dressing up, and there are always good events happening there. It's not just about popular DJ's, but also about good music.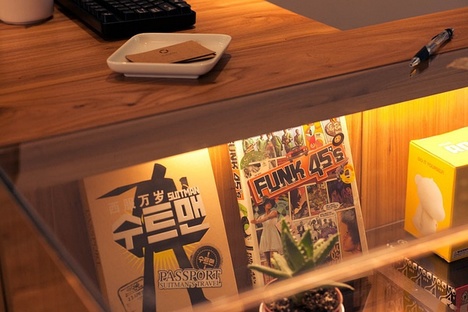 Do you have things that you want to create in the future?
For now, I'm doing pretty much all that I can handle. There might be some things that I'd like to do in the future, but I haven't really spent much time thinking about it yet. If there were anything, it would likely be something related to music.
A workshop held on the night of this interview gathered more people than could fit in the store. Most of the participants were foreigners, and they mostly spoke English. Participants received seven minutes to introduce what they were interested in the most. They talked about the hologram screens in Sci-Fi movies, music that samples Chinese listening lesson programs, or the invention of applications for the iPhone and iPad. The audience posed questions to the presenters and discussed about the contents of the presentations among themselves. The atmosphere was relaxed, with laughs and compliments in abundance.
Zongci KIN
Opening Hours: 11:30-23:00
Address: 65-5 Maoming Road(North), Jing'an, Shanghai
Tel: +86 21 6217 3355 8006
http://site.douban.com/zongci.kin/
The Shelter
http://site.douban.com/sheltermusic/
Opening Hours: 20:00 – 2:00
Address: 5 Youngfu Road, Xuhui, Shanghai
Tel: +86 21 6437 0400
http://site.douban.com/sheltermusic/
Text: Zongci KIN, Hiromi Nomoto
Translation: Yumiko Miyagawa
Photos: Zongci KIN, Hiromi Nomoto

[Help wanted]
Inviting volunteer staff / pro bono for contribution and translation. Please
e-mail
to us.