Vienna is a beautiful city. You may easily be captured by its charms. Besides gorgeous architecture the city offers numerous cultural events, ancient and modern art, excellent theatre performances, modern literature and film festivals, classical music concerts and modern dance festivals. Culinary highlights range from a delicious chocolate cake to excellent Austrian wine and Bohemian treats. You get all kinds of exotic spices, fresh fruit, Italian, Turkish and Asian specialities in the city's best known market area. Numerous luxury boutiques and small antique shops do exist alongside plenty of modern art galleries. In other words, the city offers you more than you may be able to consume.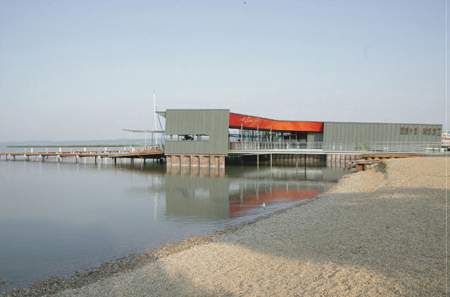 Photo: Harry Mannsberger

However, there is one thing missing in Vienna: it's the light breeze from the sea that makes the leaves in front of your window rustle, that clears your mind in the early morning and creates positive vibes on romantic summer evenings. Those of you who live by the sea might know what I'm talking about. One must admit that there have been several fantastic initiatives by the city government to get nature and recreation into the city. For example, there are numerous parks and gardens where you can picknick and relax. Outdoor cinema locations attract film freaks on hot summer evenings. And there is now even a beach with a real outdoor swimming pool at the Danube canal directly in the city centre. But still that's not the real thing, is it?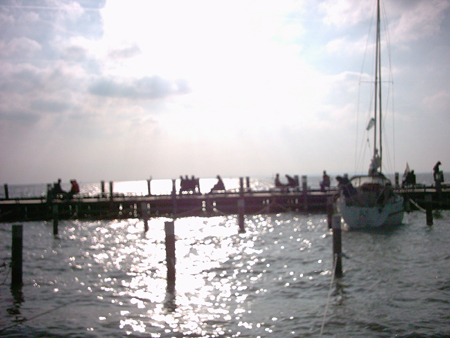 Photo: Christina Merl
So there you are, in this beautiful city, desperately missing the sea. And then you meet a good friend who tells you about a wonderful new location at Neusiedlersee, or Lake Neusiedl, some 20 miles southeast of Vienna, in the province of Burgenland. The large, shallow steppe lake, roughly 20 miles by 5 miles and generally only six feet deep, is ringed by wetlands and draws bird-watchers — it is the perfect breeding ground for about 250 species. Hikers and bikers use the tracks that wind through the reeds and grasslands, the beaches draw crowds in summer, ice skaters go there in winter.
As someone who does not have her roots in Vienna you don't really go to this lovely area of vineyards and orchards, ruined castles and small towns. Mostly, Viennese people who are into all kinds of water sports like swimming, sailing, surfing, kite surfing, water skiing, and fishing gather at lake Neusiedl. It's also a hot spot for Viennese boat and yacht owners – a well known yacht mole is called "Mole West". And that's also the name of the newly constructed, fashionable restaurant-cafe-bar my friend was talking about.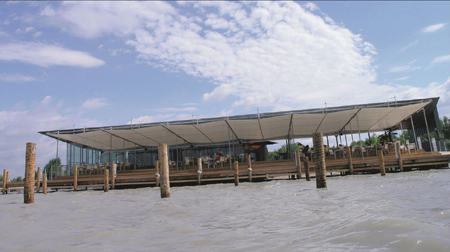 Photo: Johannes Jungel-Schmid
The "Mole West", a building completely surrounded by water, welcomes you with its huge inviting terrace and outdoor bar. The view is gorgeous and I really do not exaggerate when saying that one develops a kind of holiday feeling over a cafe latte with unobstrusive electronic vibes on a lazy sunny Sunday afternoon. If you are a person with a lively imagination the palm trees, surfers and boats in front of your eyes as well as the sound of the small wavelets might give you the idea of being somewhere at the Italian Riviera or in southern France… it's only the behaviour of a certain "clientele" that might urge you to remember where you are: "incognito VIPs" mingle with really nice people in the "Mole West".
The construction of the "Mole West" itself consists of two areas, a transparent restaurant area with glass walls and the functional part — kitchen, toilets and storage rooms are disclosed from the view of the guests. The dark grey sheet facade of the building perfectly adjusts to the colour of the lake and reflects its different moods.
The "Mole West" definitely is an extraordinary location. As the building is oriented towards the south you can enjoy not only the perfect view but also the morning, afternoon and evening sun. Tables, chairs and functional elements are made of tasteful teak, dark grey cement and leather. The outdoor area leads you down to the small marina and invites you to sail away for a couple of hours…

MOLE WEST
Address: Strandbad Westmole, 7100 Neusiedl am See, Burgenland
Building owner: Karolyi & Ehrengruber OEG
Architects: Architekten Halbritter und Halbritter ZT Gmb., Hans Peter Halbritter and Herbert Halbritter
architekten@h2arch.at
http://www.h2arch.at
Text: Christina Merl
[Help wanted]
Inviting volunteer staff / pro bono for contribution and translation. Please
e-mail
to us.