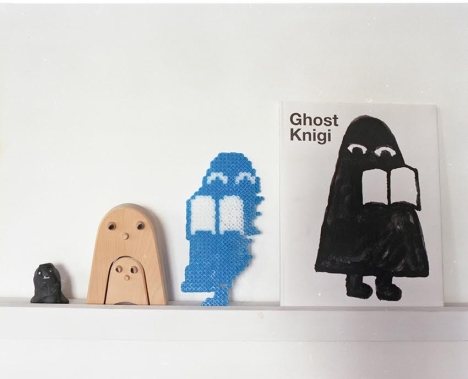 The first time I heard the name Nieves Books, my friends from No.12 Gallery in Tokyo were talking about collaborating for a world zine exhibition with Nieves Books.
Sometime later, in a Berliner art bookstore PRO QM, I coincidentally bought a zine called "Lispering" by Josh Petherick, which happened to be published by the same Nieves Books.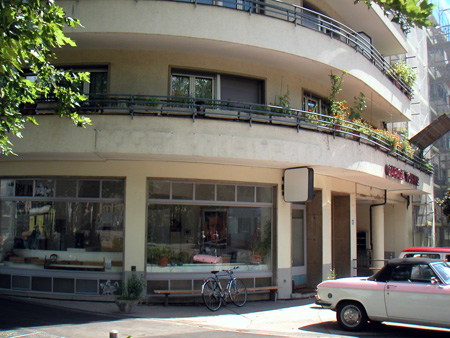 Nieves Books on Hohlstrasse in Zurich
Nieves' zines and books are fresh to the eyes that have become used to many design and art books. Zines, made from staple bound black and white photocopies, are somehow nostalgic and remind me of a teenage hobby. Or perhaps the nostalgia comes from the use of pencil- and watercolor. But then, that's what you see everywhere these days. So what is it that makes Nieves Books so special? How can so many interesting zines and books come from Nieves Books, the smallest publisher in Switzerland? Out of curiosity and empathy for their publishing, I decided to visit their office in Zurich.
Nieves Books is indeed a one-man publishing house, founded in 2001 that focuses on producing artist publications and zines. Founder and owner Benjamin Sommerhalder is a 29-year-old Swiss who comes from a graphic design background.
The office is located on the ground floor of a curved corner building on Hohlstrasse. Vintage cars in orange and blue from a neighboring car dealer line up in front of the huge glass window, making the office look like a gas station from the 60's. An office sign designed by graphic artist and filmmaker Mike Mills marks the office entrance.
It's even more of a time-trip when you enter his office. There are old wooden furniture, piled-up books, posters on the wall, and more books in the back room. It's definitely not what you expect a minimalist Swiss designer's office to look like, but rather a messy atelier with cozy atmosphere.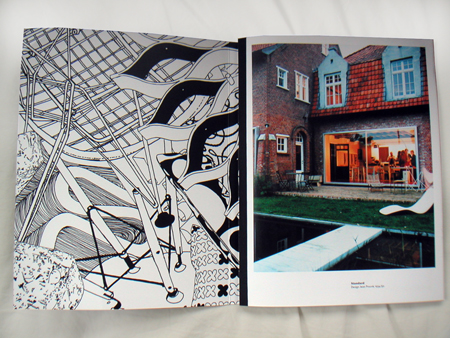 Vitra furniture catalogue "The Home Collection"
The office interior reminds me of the photos in "The Home Collection", a Vitra furniture catalogue designed by a renowned Swiss graphic designer Cornel Windlin. In this catalogue, the fascination and beauty of ordinary life styles are rediscovered. Benjamin has worked on that catalogue as a graphic designer, and some of his artists are featured.
From this office numerous zines and books travel to the hands of people who appreciate the same aesthetic that Benjamin finds print-worthy.
While working for "zoo" magazine, Benjamin came across a zine by American artist Chris Johanson and became interested in making his own. Zines originally started in the amateur press movement in the 1930s and re-emerged in the punk movement of the late 1970s. Since then, it has been regarded as the fastest and cheapest way to publish one's work. Benjamin also points out that he can feature as many artists as he wants without worrying about cost and print quality. The hand-made quality and reasonable pricing of a zine also make it easier for people to exchange their creativity.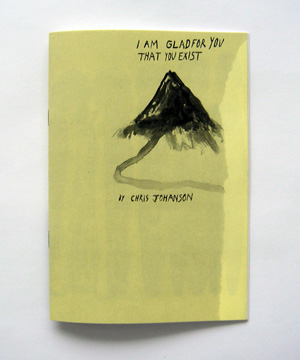 zine by Chris Johanson "I am glad for you that you exist" (Nieves Books)
At the beginning, Benjamin had no concept for his zines; that were purely about graphics. As he got older and Nieves Books more established, Benjamin became interested in artistic content and wanted to move on to thicker printed matter. He used to publish three zines per month, and that gave him enough time to work on his other books. Now he is making fewer zines and publishing catalogue-like art books such as "Humans" by Mike Mills. At this rate, it's not a distant dream to publish an encyclopedia.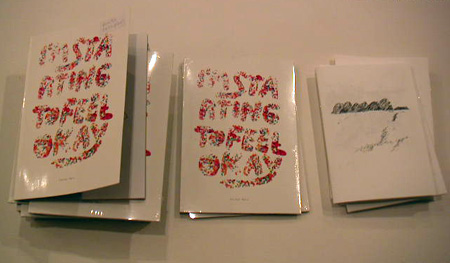 "I'm Starting to Feel Okay" by Stefan Marx (Nieves Books)
Recently Zurich boutique GRAND reopened and held an exhibition by Stefan Marx, an artist from Hamburg's skateboarding scene and latest to be featured in Benjamin's book series. At the back of the store crowded with young Swiss hipsters, Benjamin was standing in front of the artwork, selling Stefan's book "I'm Starting to Feel Okay". After the wave of customers were gone, he leaned back on the nearest wall and watched the crowd with his hands crossed in the back, like a shy boy at a high-school dance party. When I asked if he knew anybody here, he replied he does not really know anybody besides the artist. Rather than getting to know everybody, he seemed more interested in observing how people reacted to the artwork he selected.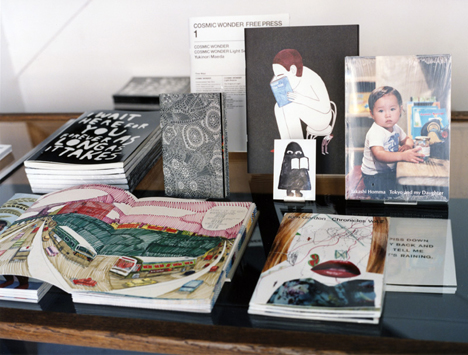 Nieves Books
I saw a similar scene at the book release party of "Piss down my back and tell me it's raining" by Linus Bill in Benjamin's office. It was rather a different crowd this time, more with Linus' acquaintances and people like me who like the publications by Nieves Books. Again, Benjamin was standing behind the counter, focused on selling the books and making the occasional explanatory comments. He does not talk much, which seems to put more emphasis on his artists and books. He is definitely not a social butterfly but rather a craftsman who steps back and prides in his works. Despite his modest personality, he is communicating so much creativity to the world.
Benjamin draws inspiration from many things in everyday life. For example, he finds inspiration in children's books, such as Maurice Sendak's "Where the Wild Things Are" or Tomi Ungerer's "The Three Robbers". He also showed me his favorite book from Japan called "World Paperback Design" featuring 60's and 70's designers and illustrators such as Paul Rand, Dick Bruna, Bruno Munari, and Ben Shahn.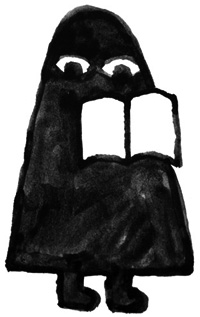 Nieves Books logo
His gets many of his ideas on vacation where he is detached from all means of communication and fully relaxed. The Nieves Books' logo – a black monster reading a book – was invented while he was vacationing in Italy. As his friend and contributing editor Nakako Hayashi says, it's a rare thing for him to take up a pen himself.
Another influence on his work comes from foreign culture. When I visited Benjamin's office, he was watching the Japanese kids TV program "Pitagoraswitch", while sipping tee in 35-degree heat wave. His fascination to Japan is no coincidence. He is a frequent visitor to Japan and has even worked as an intern at Tycoon Graphics in Tokyo for two months. Since then he has held a Nieves Books Exhibition at Rocket Gallery and published books with Japanese artists and authors. Among them are "Tokyo and my Daughter", a very personal book by photographer Takashi Homma and "Here and There Vol.6", collaboration with freelance editor Nanako Hayashi.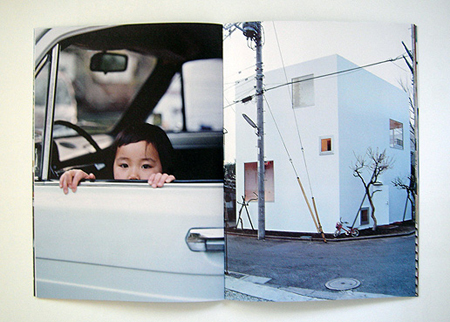 Takashi Homma "Tokyo and my Daughter" (Nieves Books)
Benjamin says the happiest moments in this job are when he asks an artist for contribution and receives a positive response. It also makes him happy when he learns that the artist is looking forward to see the final product just as much as he is. From the line up of artists and authors on Nieves website, you already get the idea of how selective and goal-oriented he is.
So how does he find and choose an artist? There are no strict guidelines, and he selects an artist according to his instinct and same feeling for it. The bottom line is he is just doing what he really likes to do. Occasionally selecting already-successful artists helps the name Nieves Books and its lesser-known artists to be recognized. Even though he works without a target audience in mind, people between their mid 20's to late 30's who like design tend to buy his books.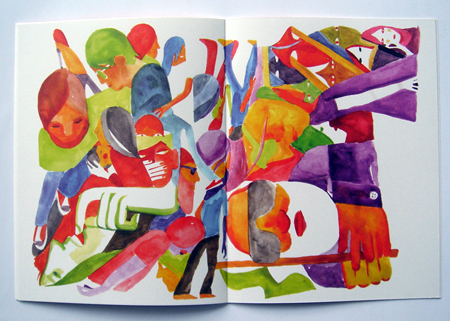 Geoff McFetridge "It Looks Like A Smile" (Nieves Books)
He always looks for undiscovered talent with a potential to grow. Sometimes he finds an artist while browsing the Internet and contacts them directly, or as in the case of Kim Gordon, through a gallery. His friendship with numerous artists has also come in handy, like when he contacted photographer and filmmaker Ari Marcopoulos through Cornel Windlin, or Takashi Homma through Nakako Hayashi. Most of the contributing artists provide their work for free, and the reward is their own book in their own image, published by Nieves Books.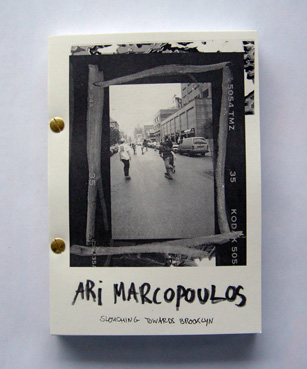 Ari Marcopoulos "Slouching Towards Brooklyn" (Nieves Books)
Even so, Nieves Books is constantly receiving portfolios from artists all over the world, especially from the U.S. and U.K. This is due to the fact that Nieves Books has a greater distribution in those two countries. From the overwhelming amount of applications, he sometimes finds an opportunity for collaboration, like in the case of Matthew Chapman from Australia.
Nieves Books is not only about introducing different artists. Benjamin values working with the same artist in the long run and sometimes returns for further collaboration after the first issue. A second book by Australian graphic group PAM is about to be published in September.
When most of the creative minds head to NYC, Paris, London and Berlin, why does Benjamin base Nieves Books in a quiet Swiss city? As he says, "Zurich is a base for many great artists and distinguished publishing houses such as the traditional Diogenes, Scalo and Simonet as well as new art publishing houses like JRP|Ringier, and I'd like to be part of it." He once considered moving to Paris, but he couldn't bear the idea of leaving his familiar town and people. Besides, I think Zurich is the perfect place to cultivate one's creativity away from the mainstream.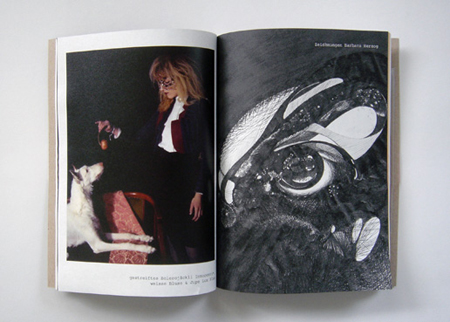 "Stella #5" – a fanzine by Nadja Aebi, Nicole Bachmann and Maja Tackett
Although from a small city, the international flavor is another characteristic that brings attention to Nieves Books. It introduces local jewels such as illustrator Ingo Giezendanner a.k.a. Grrrr or photographer Nicole Bachmann. Simultaneously artists from countries like U.S.A., Australia, Japan and Germany participate in these smallest Swiss publications.
Nieves' publications can be found in selected art bookstores and design shops globally: Colette in Paris, Printed Matter in NYC, and NADiff in Tokyo.
A new wave of creative output is being discovered and published by Nieves Books, and it's crossing borders geographically and artistically.
Nieves Books
Address: Ankerstrasse 20, 8004 Zurich
Tel: +41 44 240 04 80
post@nieves.ch
http://www.nieves.ch
Text and photos: Nem Kienzle
Additional photos: Benjamin Sommerhalder, Joerg Koopmann
[Help wanted]
Inviting volunteer staff / pro bono for contribution and translation. Please
e-mail
to us.