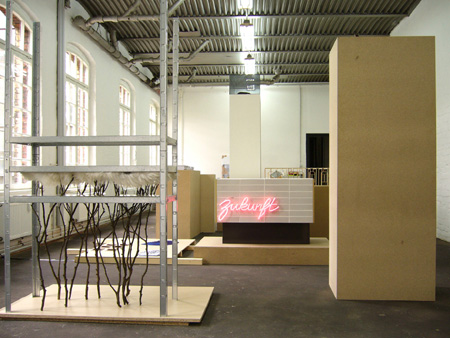 From the collapse of the wall ten years ago to the present, it is said that the frontier of the Berlin art scene has moved to the area of Augststrasse on the periphery of the Mitte. Some commercial Galleries moved already to Holzmarktstrasse or Zimmerstrasse, as you know. Recently, an unexpected area came up. And it's name is Wedding.
This area once belonged to West Berlin. The immigrants, who came over as labourers from Turkey or some other countries, live in the area and compared to other areas, there are few clubs and cafes, among other things, for recreation. People have a relatively strong image that it is a "poor area" to live. Therefore, rent is comparatively lower there. People renting there can push the merit, in that you can immerse yourself in art, a related organization has opened a new art space here. This is not a commercial gallery but like an increasing non-commercial art space.
Now, the presentation, "Cluster," based on the context of the situation, is managed by the artists. This art space opened in the same Hoefe (courtyard) as Guido Baudach's and Max Hetzler's galleries.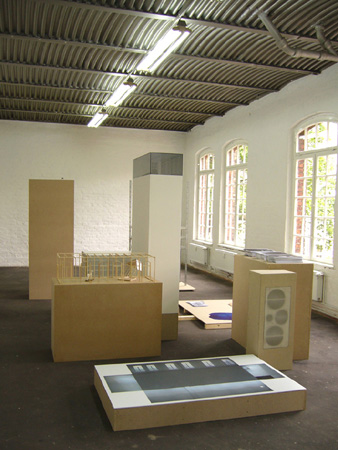 For the opening of this space a management team of nine artists had group displays. For that occasion, the artists defined the framework like the followings:
To incorporate the art space "room" as one element of the work.
One part of the construction element of the piece must be made using specific materials.
The result, all the works appear to have unification next to one another, while including diverse elements. In addition there are individual works on display to gaze at. Some are artist production elements from backgrounds through to samples, and others are original ideas for works this space will have from now on.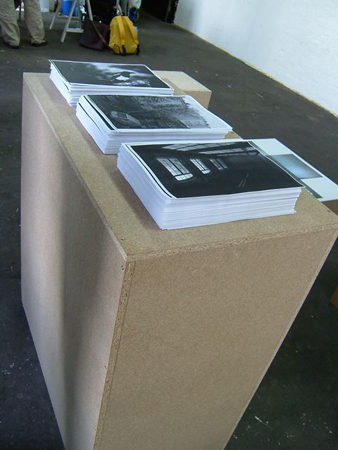 For example, Gehrd Grothusen's informal photos origin picture. This display shows photos of motivs of his original painting works. As well as photos of the room and the landscape you can see from it. Common materials, like a wooden box, are used for the display.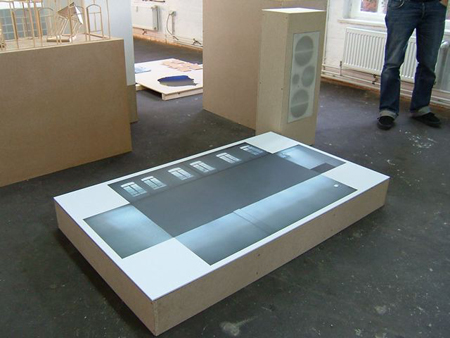 Thea Timm has a similar motif of photo room.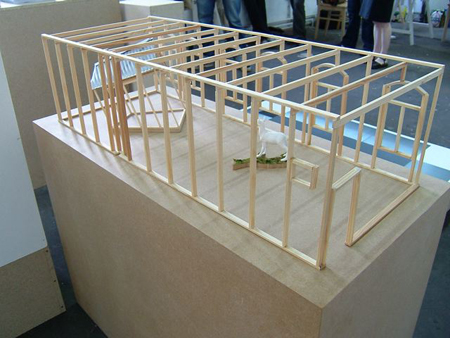 Also Irena Eden, Stijn Lernout, and Simon Halfmeyer showed the room as a model.
On one hand, Stella Geppert shows many diverse elements, using silver birch branches and animal fur and reproducing the "size" of this room with the common rack and mirrors on top of a wooden board as a multidirectional material.
The approach is to incorporate the size of the room. Bernd Trasberger, Lutz-Rainer Mueller, Johannes Heidenpeter, and Sebastian Graefe do the same.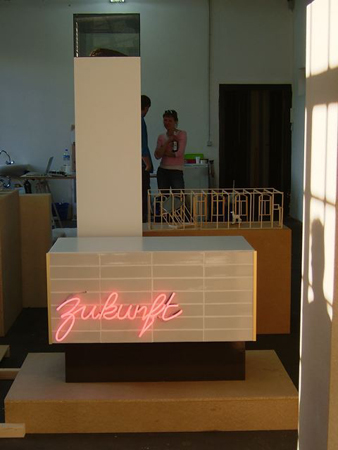 Gunnar Voss' approach was interesting too. On top of a common wooden board he arranged a bundle of cloth, six notebooks, inkblots which was the same as one used for the notebooks. Looking through the notes one by one, I understood that they were theatre script directions. Reading those directions carefully I closed my eyes and tried to imagine. I saw the image with people wearing costume fabrics in the room as if it's the image of a stage which will start from now on.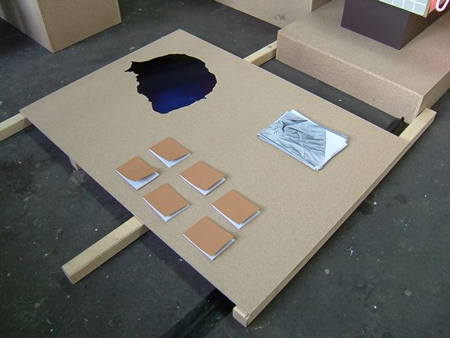 This is organized by an interesting individual who modified the direction of the project in the role as Project Chief, Barbara Buchmaier. She relates why she chose this place for the occasion of the project. "Of course, there are economical reasons. However, more important is that there are only a few places to see art in Wedding. So people here tend to make time to face the long time works themselves. For example, we could have a place on Torstrasse (there are many galleries within walking distance of the Mitte area), but most people only check and go to the other places next door straight away, don't you think? But it's not that there is nothing appealing to an artfan there. This Hoefe has two other galleries. This space has modest surroundings, but it's a quite quiet and concentrated atmosphere – like a home or a studio – , that's one of the biggest reasons."
This is the approach due to the appealing contents. That's how I felt her confidence in her remark. I think we should keep a close eye on ther activities in the future.

Vorabzug/Cluster Groupe Exhibition
Date: 3rd – 13th, 2006
Place: Cluster
Address: Osram Hoefe, Oudenarder Strasse 16, 13347 Berlin
http://www.cluster-berlin.de
Text and Photos: Yoshito Maeoka
Translation: Jacqueline Ste. Croix
[Help wanted]
Inviting volunteer staff / pro bono for contribution and translation. Please
e-mail
to us.