This month's SHIFT cover was designed by "null*", which operates out of Tokyo and is a project of "artless". Its concept is to incorporate Japanese traditional aesthetic feelings. The group creates graphic expressions, freed from the constraints of media, through various techniques such as typography, photos, illustrations, paintings, interactive video and so on. They released their portfolio "null* book" in 2005. Their third exhibition will be held at Sapporo "SOSO", after debuting in Kyoto and Tokyo.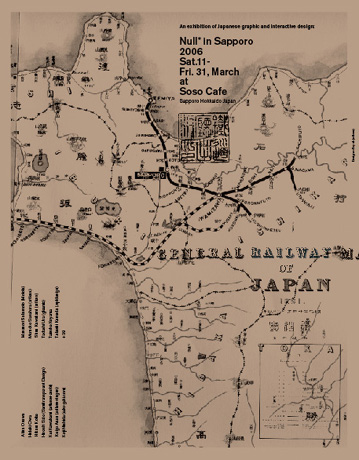 First of all, could you tell us a bit about yourself?
My name is Shun Kawakami, creator of the "null*" project.
I work under the name of "artless" for usual client works and personal artwork. Artless is a sort of company and freely performs various graphic designs and art direction without constraint of media.
Please tell us about the process of the birth of "null*" and its members.
I held an exhibition at "ROCKET" in September 2004. Gallery "PRINZ" in Kyoto visited the exhibition and offered to host me for an exhibit in their space. This was the trigger for null*.
I thought to hold a group exhibition under a theme, with designers and artists who I respect and influence me. Then I started to call to the designers and artists with whom I had been wanting to make something. I told them about the concept, aesthetic feeling (output's concept). It was an exhibition in Kyoto, so I decided that the concept should be something like "the Japanese traditional aesthetic feeling", which I had already been interested in.
The unit, composed of the designers and artists who reacted to it is "null*". Contrary to my expectation, many persons were actually involved and presently the number of the members is 15. I get the feeling it will increase aftertime 🙂
The members are: graphic designers, web designers, photographers, painters and illustrators. Some are friends I met a long time ago, others I have met recently.Everyone is creditable, so I would like to thank them for playing together.
Basically "null*" considers enjoying expression important and comfortable. A suitable temperature for us is "tepid" which is also a concept 🙂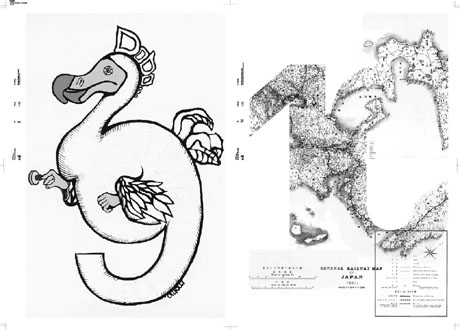 What is a concept "the Japanese traditional aesthetic feeling" for "null*".
It doesn't mean making straight "japanized" graphics, but "Since I am Japanese and live in Japan, potentially "the Japanese traditional aesthetic feeling" is inherently stored in my mind." I think. "null*" makes pieces, considering that the concept is the Japanese traditional aesthetic feeling which is potentially in our mind and stimulating it. I thought we could make something original that doesn't exist in foreign countries that doesn't exist on a superficial level.
Perhaps I was a bit tired of my works. With this project, I can make something new, considering "the Japanese traditional aesthetic feeling". I'm Japanese. I should think about this a lot. It seems like taking a lesson from the past.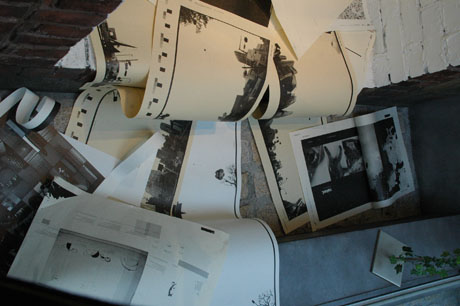 How do you operate mainly?
Our main focus is to hold an exhibition. I make, enjoy, publish, and enjoy my pieces. No more and no less.
"Null" means zero, an absence of value. Therefore, "null*" doesn't seek common value. The operations we enjoy and that seem useless are sometimes more important, and I think the futility is "null*".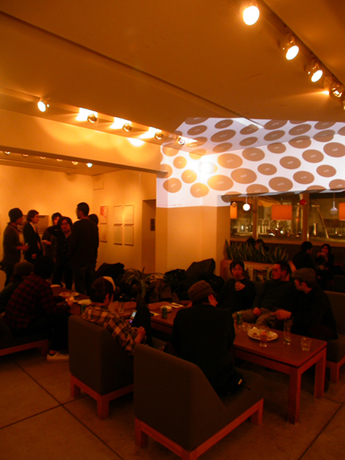 Please tell us about the exhibition held in Kyoto and Tokyo.
In Kyoto, the first exhibition of null* was held at "PRINZ", a comfortable place where a cafe, book store, gallery and hotel were combined from the 18th of January to 20th of February 2005. The theme was "margin". We sought for pieces of whom we were conscious. Also, we used paper for all the pieces, so the exhibition was made up for pieces whose part of the margin was importantly made the most of. Moreover, an interactive designer was a key member, so we made an installation, which was interactive and reacted with the camera's sound and image, and we set up a PC and camera permanently and projected onto the floor with a projector.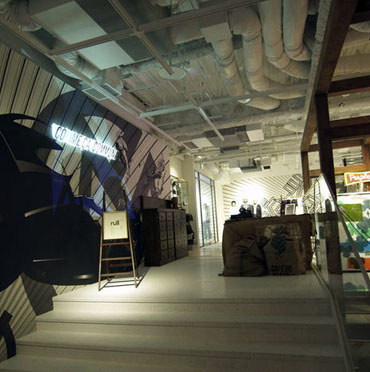 After this, we held an exhibition inside a shop in Tokyo on behalf of an offer from a fashion brand "COMME CA COMMUNE" from 9th to 25th of September 2005. It was a traveling exhibition and we exhibited the graphics and the interactive works made in Kyoto. Then we produced, "null* book" a portfolio whose name was fool.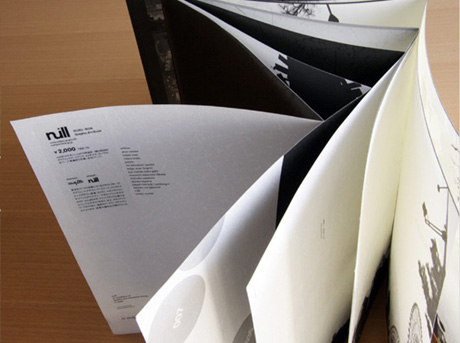 Please tell us enthusiasm and so on about an exhibition at "SOSO", which starts on the 11th of February.
We will make it null and a good exhibition with whom I can blow my horn 🙂
I hope to meet you at the opening party on first night. You can see Akira Osawa's live painting. I think that the 14 pieces for this exhibition make a very good balance. Though each one's character is expressed strongly, the concept of null* gently makes them one piece in total. I recommend you to enjoy the 14 pieces in one glance. Also, our second portfolio is going to be released on that day, for which the 14 pieces are gathered and which is a big book of about A1 size after its been unfolded.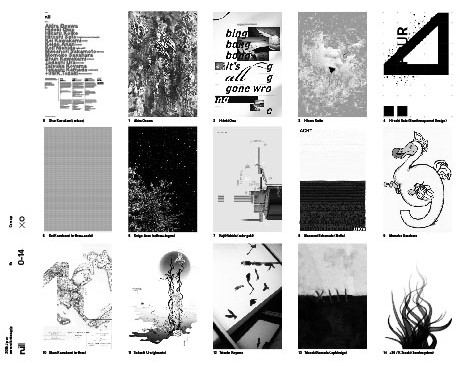 Please tell us also about entries for "Electrical Fantasista" held in Yokohama.
We submited 2 pieces of interactive works that moves a reacting camera. Mr. +39 and Kamada tell about them.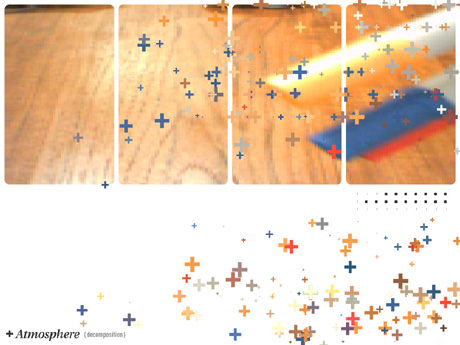 +39/K.Tozaki (KARATE SYSTEM)
The piece exhibited in Yokohama is "Atmosphere(decomposition)". This piece is an interactive one, which dissolves dimension of vacancy and is transmitted by way of a camera. Spatial awareness is expressed in the form of the extraction of a changed part's colors. A camera, as a device, perceives changes that come up in vacancy through seeing outputs coming from unconscious inputs, which come up in static vacancy (null area). Though there is much room for improvement, I hope to deliver a template of "read the atmosphere" with the computer.
In a simple term… 🙂 I wanted to make a piece that reacts to the understanding of a human's feelings 🙂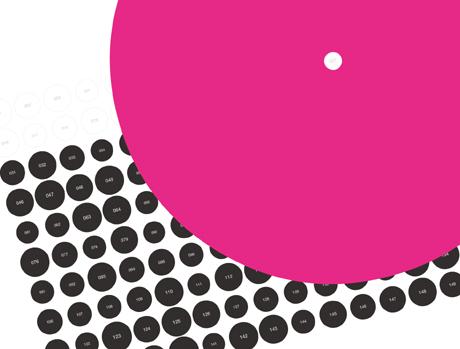 Talashi Kamada (.spfdesign)
"Factoral Dots", which is exhibited on Electrical Fantasista in Yokohama is another interactive piece. It forms images by detecting environmental sounds which leads to a reaction by a group of dots. If it detects volume that sticks out from the average volume, the groups of dots erase needless dots. When all the needless dots are erased, the groups of dots form a certain figure. In a word, it moves if you shout. Then, it will be a certain picture. Adding sound(+) erases dots(-), then the phenomenon itself becomes a deed that forms figures(+). This is an example that null's concept "-=+" is embodied. (Factoral is a coined term)
What is the concept of SHIFT cover?
It is a countdown of time to end on the third exhibition of "null*", which is held at SOSO in Sapporo from 11th to 31st of March 2006. The concept of this exhibition is "x0". All the numbers always become 0 if 0 is multiplied. I use the exhibition's end to resemble "0" and do a countdown to it. The exhibits were trimmed off and become each dot, which forms letters.
Kamada from ".spfdesign" did the design and Flash, and I did the concept for the design. I have been with him for a long time, since he lived in Canada. Thanks to meeting him, I stopped touching Flash. I find I'm beyond his power 🙂
Do you have future plans or things to challenge?
Let me see… I would like to direct my attention especially overseas about this "null*" project. I'm interested at how foreign persons, who have another culture, feel null's pieces. Maybe, they feel Japan more properly than Japanese 🙂
Also, Going abroad unveils Japan's goodness. Touching other cultures brings growing up and changes my feelings. Therefore, for my changes, I want to direct my attention overseas.
Please leave a message to readers.
There is a sense that design or making works are like sports (for me, it is soccer). We have a game to win, but winning isn't everything. However, if I lose, I'm unhappy 🙂
The original point should have been a feeling of enjoyment. Therefore, I want to think it is the most important point.
Then, for me, design and making works are communication, so I imagine new encounters with those who make things that they think good and find my works likewise good.
I look forward to new encounters with laughing and empathy.
null*
null@artless.gr.jp
www.nullartless.com
Text: Yurie Hatano
Translation: Yuhei Kikuchi
[Help wanted]
Inviting volunteer staff / pro bono for contribution and translation. Please
e-mail
to us.