The book "TAPE – an excursion through the world of adhesive tapes" is a product of a young German designer. Her name is Kerstin Finger, she is 26 years old and life in Frankfurt, Germany. She studying graphic design, and will finish her studies in summer 2006.
"TAPE" is the first book about adhesive tapes, it is divide up in four chapters and an index part. First the artists and designers chapter, then the do-it-yourself chapter, after the tape illustrations chapter and last the text chapter. All chapters are marked with a diffrent color. The TAPE book is published in english by "Die Gestalten Verlag", Berlin. The book include 160 color sites, and the format is 170 x 240 mm, with a hard cover.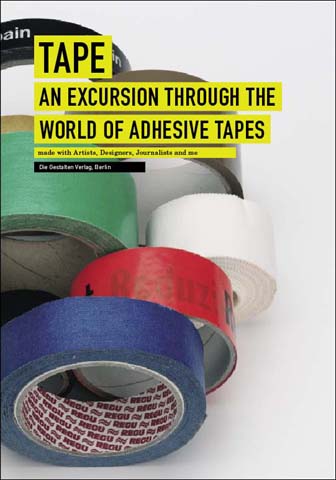 Adhesive tapes have recently been used more and more in designprojects. "TAPE" is the first book that documents this trend and shows the variety of work being done with this material and takes readers on a ride throught the world of tapedesign. The book presents exemples in art, interiors, fashion, furniture and architecture. With this book Kerstin Fininger presents her good sense for coming up trends.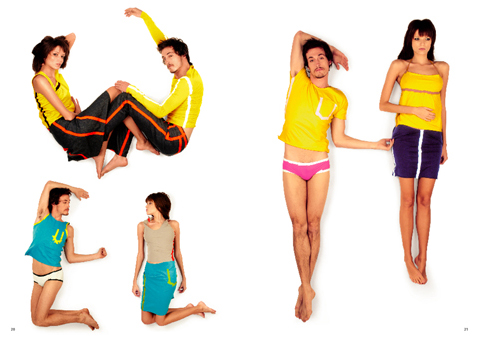 Because recently more and more contemporary artist like Nic Hess or Jim Lambie, Beat Zoderer or Thomas Hirschhorn discovered the tape for their art. Then tape hold together, hide from, tie up or shine, this allready known Joseph Beuys and Dieter Roth. In former time the tape was not very popular in the art scene. But today, tape is standard in every office, like pencil or scissors.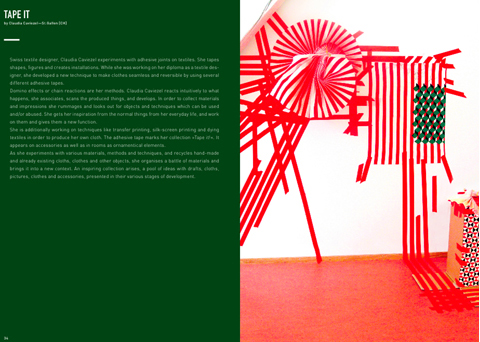 In the artists and designers chapter, you can discover all about using duct tape in art or design, for exemple: Valery Koshlykov, a Russian artist, take different color tapes to rebuild famous artists' painting or famous buildings, like Mona Lisa or the Invalidendom in Paris. She do not use a canvas, she tape her "tapepictures" directly on the wall of the exhibition room in the museum.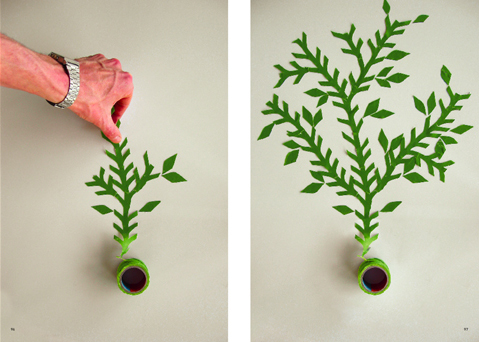 You can also see the eccentric tapes introduced. For example, this "Plant Tape" is the one that a plant will be completed by sticking on the wall.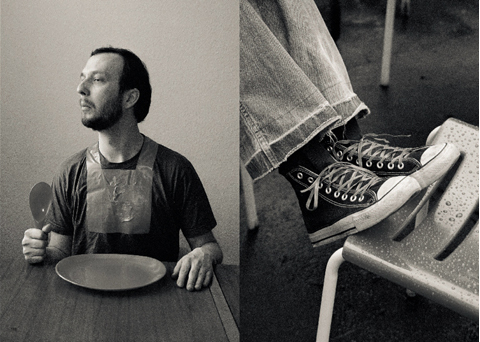 The do-it-yourself chapter starts with 175 usefull or unusefull application for duct tape. Two exaples: Fix cigaette that is broken at the filter, or taping annoying people to walls, floor, ceiling or bed. After this humorous introduction you can see black and white pictures of using duct tape in everyday life.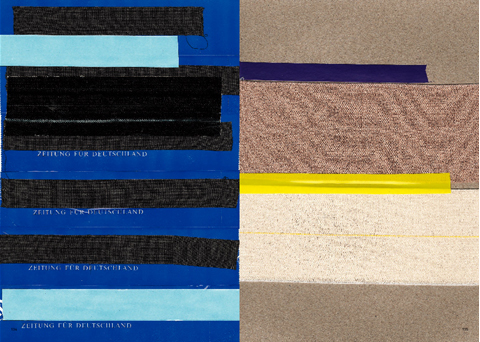 In the illustrations part, you can see how Kerstin Finger use duct tape for illustrations, second hand duct tape is arranged in new form and context.
By reading the text chapter, you can take part of expirience and adventure of different contribute writers with duct tape. This chapter also inform you about duct tapes' history and the duct tape as a symbol of autonomy.
Here you get also some humorous storie about the duct tape paradise tokyu hands, tokyo or duct tape performence in gallery.
"God made the world, but it is held together with duct tape".
so if you want to know how the "duct tape world" look like, check out this book.
TAPE
An Excursion through the World of Adhesive Tapes
Author: Kerstin Finger
Publisher: Die Gestalten Verlag
Specification: 160 pages, 168 x 240 mm, fullcolor, hardcover, English
Release Date: September 2005
Price: 25.00 EUR, 36.00 USD, 19.00 GBP
ISBN: 3-89955-088-9
verlag@gestalten.com
www.gestalten.com
Text: Tim Engel
* This book "TAPE – An Excursion through the World of Adhesive Tapes" can be purchased at Amazon
[Help wanted]
Inviting volunteer staff / pro bono for contribution and translation. Please
e-mail
to us.