In this Shift issue, Eike and Martin from "Hort", a design studio in Frankfurt am Main, Germany, designed the cover. Their design, which is unique and has a sense of humor, is well known in German music industry. They are very busy at the moment for publishing their new book, which will be released in this July.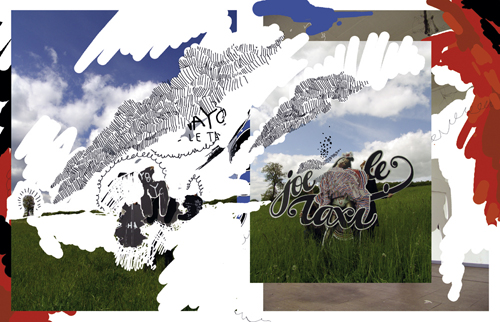 Could you introduce yourself?
We are the Hort. We are Eike and Martin. Eike Koenig was born 1968 in Hanau, nearby Frankfurt am Main, Germany. He studied Graphic Design at the University of Applied Science in Darmstadt, but quit when he got a job offer from Logic Records as an Art Director. One and a half years later he opened his own studio, called Eikesgrafischerhort.com. That was in 1994. Since 2001 Eike is running Hort together with Martin Lorenz.
Martin was born in 1977 in Hanover Germany. In 1996 Martin moved to Darmstadt, a small city near Frankfurt, to study graphic design. Three years later, bored from german design, he moved to Holland without having graduated from Darmstadt. In the year 2000 he founded "Twopoints.Net", as a commercially independent platform for self initiated art projects. One year later he graduated from the Royal Academy of Arts in The Hague Holland and started to work as an art director at the Eikesgrafischerhort.com. Since 2001 Martin is running the graphic design studio Hort.org.uk together with Eike Koenig.
The Hort is an office for graphic-design in Frankfurt am Main, Germany. Even if Eike and Martin are specialised in visual identities for companies and bands, logos, websites, photos, illustrations, etc, they do art direction and graphic design for culture, fashion, music, magazines and everything they feel connected with.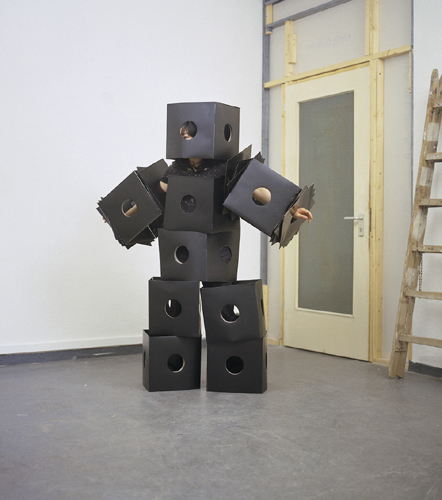 What is your recent activity field?
We still work mainly for the german music industry, but we also participated in the Fox Project and created three Hotel rooms. Until the beginning of this year we were involved in another project that required special imagination. We were hired by an agency for fair architecture to make several 6 meter high Illustrations for the Mercedes Benz Center near by Paris. It is very impressive if your work is suddenly that big that you can walk through it.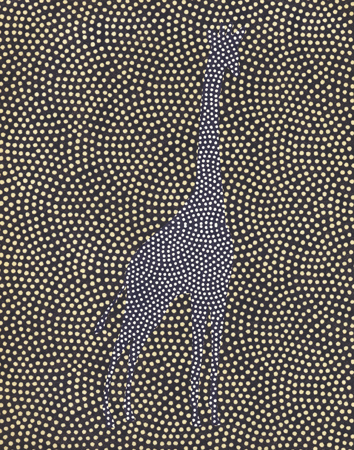 Could you tell us about designing for Hotel FOX project?
The first time we visited the finished Hotel. It was just totally overwhelming. So intense. All rooms are very different and very impressive. We had to walk through the Hotel about three or four times to be able to appreciate the quality of the rooms. It was certainly fun to work for a three dimensional space. We have worked before for exhibitions, but never with such freedom. The Gestalten Publishers, the curators of project fox, did a great job. It was a very pleasent experience to work with them together.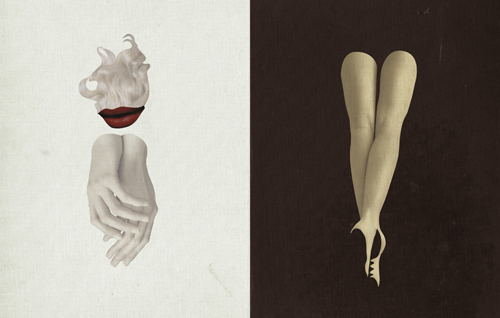 Are there any differences between designing for music industry and other works?
It isn't really the industry that makes the difference. It is the target you have and the media you use. Some of our Record Sleves could have been a Corporate Designs and some of the Corporate Designs could have been Record Sleeves. We have the same design approach on both.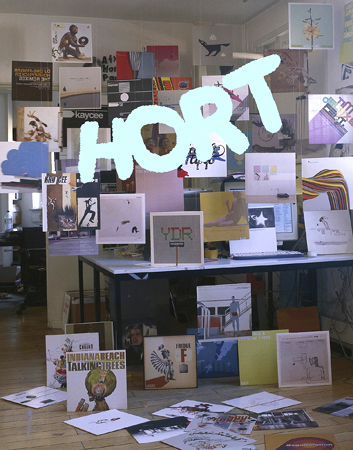 What is the concept of your new Hort book will be relaesed from Die Gestalten?
We wanted to present the best recordsleeves we did, but also show the ideas behind and how they could have been developed further. If you look at the book you will find in the beginning of every project a double page with a picture of the items we produced. This page, we call it the divider page, is followed by three double pages on which we reanimate and evolve the visual idea behind the original record sleeves. Like this we make sure that the people that are buying that book will find their favourites, but aswell lots of new work we only did for that book.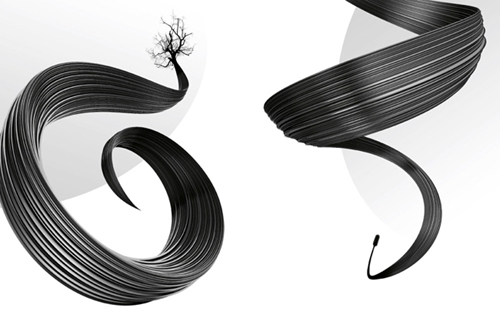 What do you think of current designing situation in Germany?
We might be mistaken, but we do not see too many interesting things happening in Germany. Germans shouldn't be so afraid of being unprofessional. They should have more balls to fight for their unconventional ideas. There is nothing worst than being boring or bore someone else.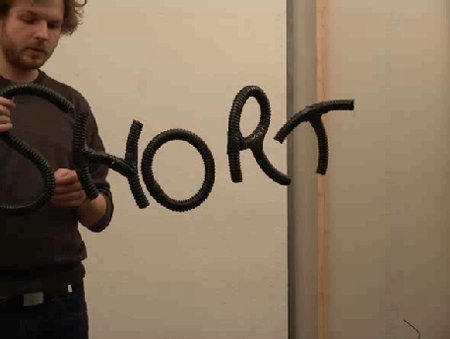 Please tell us about the concept of the cover design for this Shift eddition.
We are not really into programming, but we wanted to make something small and sweet that doesn't need any programming, but is still interesting enough to watch. And then by coincidence we still had these letters hanging in our storage room, because initially it should have been the cover for our book at the dgv. So, we just used them and turned them into the Shift cover. We really like it and hope that it is not disturbing to you that we told you the truth.
What would you like to challenge in the future?
We deserve a good sleep at a sunny beach after the book is published. Have a good sleep at a sunny beach!
HORT
Address: egenolffstrasse 29, 60316 Frankfurt, Germany
Tel: +49 69 944 198 20
contact@hort.org.uk
http://www.hort.org.uk
Text: Yurie Hatano
[Help wanted]
Inviting volunteer staff / pro bono for contribution and translation. Please
e-mail
to us.