Situated amongst the big-name high fashion outlets in Berlin's Quartier 206 fashion district on Friedrichstrasse, the Little Red Riding Hood store shines like a dark little star in a galaxy all on its own.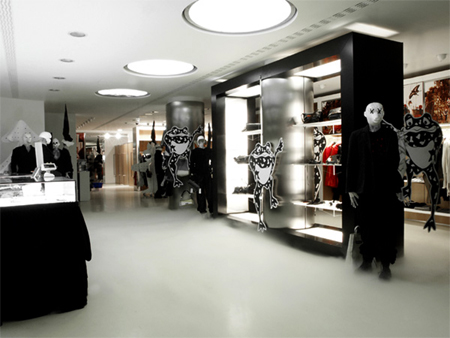 Step into the light interior of the store and you enter not just a retail space but a philosophy which encompasses more than just a fashion outlet, but a creative collective under the 'Little Red Riding Hood' name. While the store is predominantly a retail outlet, it also collaborates with artists, designers, photographers and musicians in art projects and events.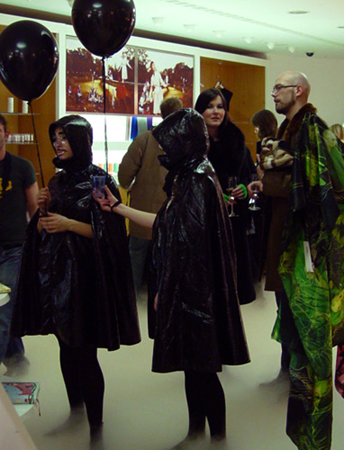 It's a minimal fairy-tale setting, with white plastic wolves as mannequins and accessories draped off wooden cut-out trees. You can almost imagine Little Red Riding Hood herself hiding somewhere within this fairy-tale world, or perhaps she is the next girl that strolls into the store looking for a new wardrobe, turning from innocent girl to dark princess, befriending wolves and kissing frog princes, and fulfilling her fairytale destiny in a killer outfit which surprisingly, doesn't cost the earth to own.
Part of the clothing store's philosophy is to cater for all classes of buyer, with cute and affordable no-name pieces mixed with more luxurious pret-a-porter, all arranged according to style and colour. "There's something for everyone" explains owner and manager Daniela Goergens. "We try to offer a range of items to suit all buyers, that fits in line with our view of the current trend directions, with a new and unique 'story' for every season."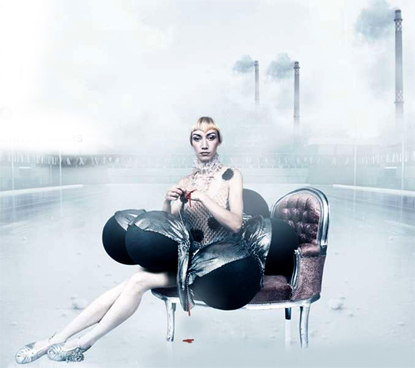 Photograph for the 'Black Reality White Dreams' story by Tina Winkhaus
This season's story, 'Black Reality – White Dreams', reflects a shift toward 'hi-tech baroque', with white ruffle-collared shirts and structured black pin-stripe pants by the Little Red Riding Hood signature label, and geometric printed sweat tops by Danish designer Helle Mahdal. Princesses are taken care of by designers Husein Chalayan and Alexander McQueen, and tougher girls from the hood (or in this case, the 'woods') can relish the selection of street-wear and basics by Levis Red, Etnies, and Nike. Or find them selves sporting a hot pair of white, orange-edged Nike high-tops and black leather knuckle-duster gloves, ready to fight courageous battles with back-street goblins and any over zealous wolves that come their way.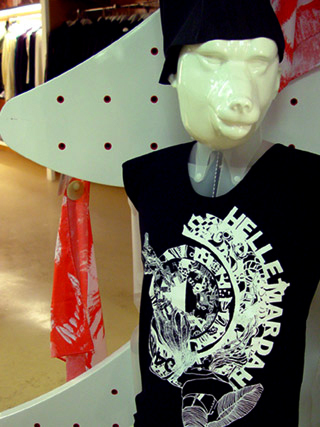 The Menswear selection is street-wear with a formal twist, including suits made out of sweatshirt fabric by Berlin based designers Firma, T-shirts and hooded tops by UK label Homecore and Mardahl, and jeans by Levis' Red.
The official store launch held in February of this year was an intimate affair which coincided with Berlin's bi-annual fashion tradeshow Bread & Butter. Girls dressed in black shiny capes wearing creepy see-through masks and holding black helium balloons and were the Little 'Black' Riding hoods, silently walking through the space as the crowd sipped on drinks and soaked up the fairy-tale freak show. Even Grandmother made an appearance holding bouquets of pretty little flowers. It did leave one wondering however, could she be trusted?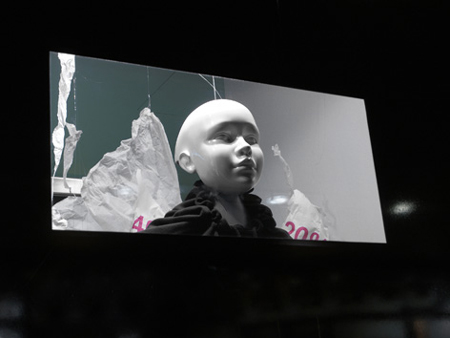 Window decolation.
The event brought together the artists from the Little Red Riding Hood Collective, with music provided on the marble chequered corridor at the storefront by Berlin based live-act popnoname (Kompakt Records).
Photographer Tina Winkhaus exhibited a series of beautifully macabre photographs on light boxes inside the store, which now remain as a permanent part of the store interior.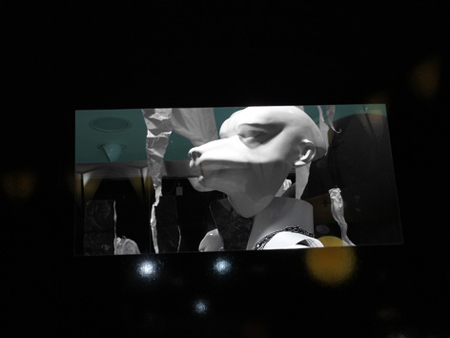 Window decolation.
As Berlin sheds its winter coat and moves into the warmer months, it will be interesting to see what the Little Red Riding Hood collective will delight us with in the 2005 summer season. Currently in production is an exclusive event in co-operation with Nike. Taking place at Design Mai, one of Berlin's biggest design festivals, the event will present the latest chapter from the Collective's fairy-tale storybook, merging fashion, video projection and music.
Little Red Riding Hood's philosophy is more than just fairy-tale nonsense – it's steadily making its mark on Berlin's creative landscape, while proving it's more fun to hang out in a world of make-believe, where long-forgotten tales of old evoke new visions for the future.
Little Red Riding Hood Store
Address: Qaurtier 206 / 1. UG Friedreichstrasse 71, 10117 Berin, Germany
Tel: 030 20455619
shop@littleredridinghood.de
http://www.littleredridinghood.de
Text and Photos: Peta Jenkin
Photos: Joachim Wagner
[Help wanted]
Inviting volunteer staff / pro bono for contribution and translation. Please
e-mail
to us.