On April 2nd, the Hotel FOX opened in Copenhagen, the capital city of Denmark. Targeting young ages, the selling campaign of "Volkswagen FOX" is being held for 21 days in three venues; "Hotel Fox" for press during the daytime, "Club Fox" for live performances at night, and "Studio Fox" for showing art-cars as the artists make them.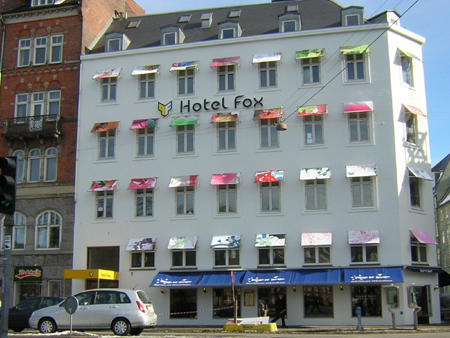 Although Copenhagen being situated at fifty-five degrees north latitude had just reached April, it takes long till getting dark. At eight in the afternoon, as a yellow FOX melted into the sunset in front of "Club Fox", which was converted from a brick warehouse for the campaign, it was lighted up and the reception party was started in the restaurant next to Club Fox.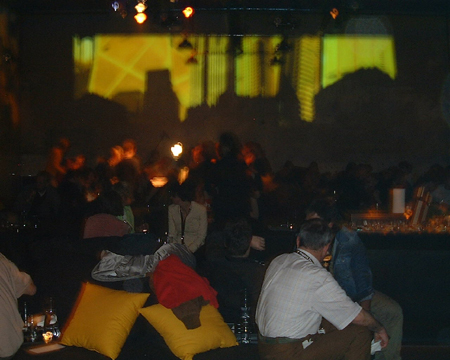 Inside in the dark, as DJs played music, video works by participating artists were projected onto the whole wall. There were many people concerned, relaxing on a sofa and celebrating the beginning of the project. Though, there was also an atmosphere of excitement as if it was the closing party celebrating the achievement of their hard work for 3 or 4 weeks.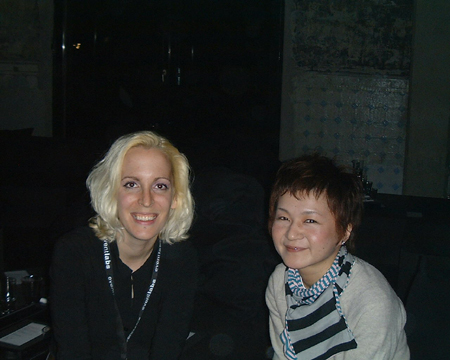 There were three cooking table spaces in the venue, and chefs were making dinner shifting between each space. While staff, all with black uniforms and the same makeup were bringing around the artistic food, which was on glass plates or in test tubes everyone was enjoying their conversation in a relaxed mood.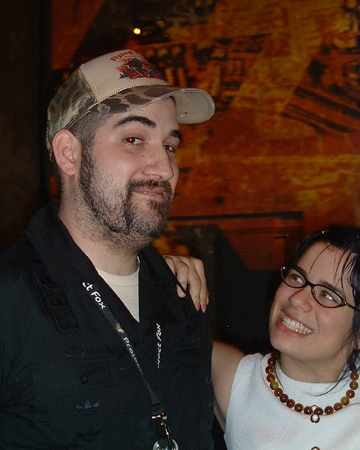 Freaklub, two cheerful artists Xavi and Elisa, are based in Barcelona, Spain. They are active in various fields; graffiti, animation, fashion, shop window, restaurant, magazine, and other books. They said "there is a big responsibility to design a place people should be able to relax in," and also about their room in Hotel Fox, "we wanted to make a story telling of the moment when the characters fall asleep and dreams comes, then fill the whole room. We hope people staying there will see a sweet dream."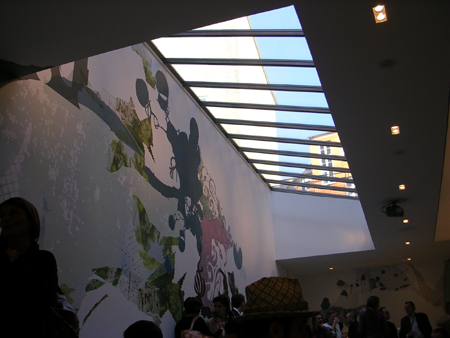 In the city of mostly brick-red, Hotel Fox stands strikingly with white walls and the colorful eaves in each window. Going inside, a work by Pandarosa covering the whole face of a front wall grabbed my attention, lit-up with sunlight from a skylight. Regardless of size, it doesn't give an oppressive feeling as if it is floating somewhere. It seemed as if it would change its shape if I moved my eyes away, and is exactly suited to a lobby, which is for both arrival and departure.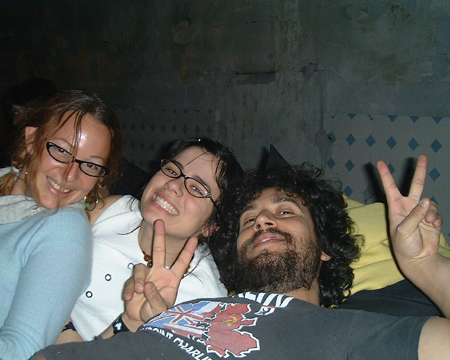 Since November 2004, Pandarosa has been traveling in Europe. He reflected his inspiration from food, history, people, weather and feelings he met on his journey into the Hotel, and created the lovely space.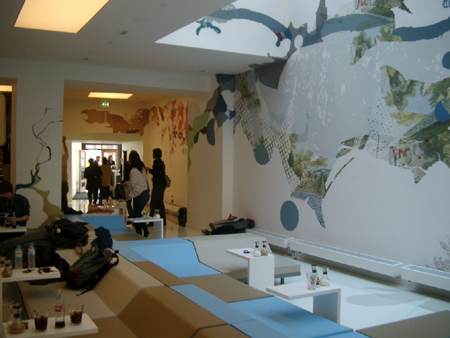 Hallways are covered by specially designed carpet, and also the walls in the landings are filled with exhibits. Moreover, each artist designed the doors facing the hallway. Therefore, you can see a part of other works, not only the room you are staying in. It is exciting just to walk around watching the doors as if there are 61 pieces in one big exhibition place called a hotel.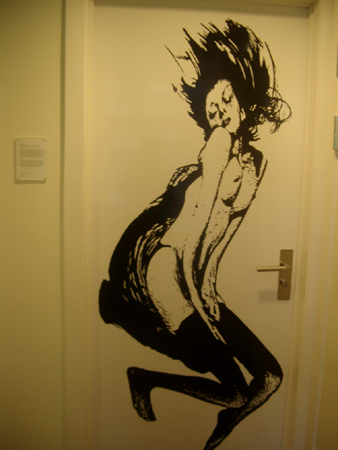 Some artists took 3 or 4 weeks to draw or paint directly onto the wall, and each artist approached the work in various ways. It is like an unusually plentiful treasure house of ideas; a room that you can feel as if you are in a garden on a fine day, a room which has characters hanged from the ceiling, a room based on all white color, etc.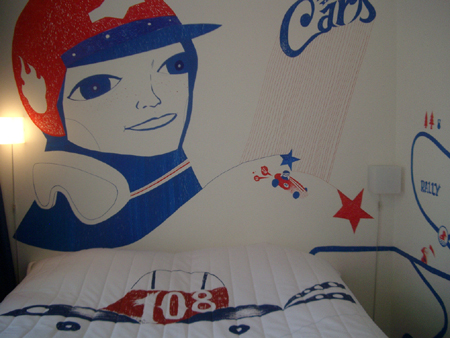 Among these, there was a room, which had a tent instead of a bed, by Rilla from the design group Rinzen. Woods with many animals are painted on the wall, and people who stay in the room will turn off a lamp inside the tent when they sleep, as if when they go camping. "I almost went crazy wearing painted clothes for four weeks," said Rilla. "But after finishing everything, I am very happy now. I myself want to stay in this room." She said the idea of a tent came out afterward. "While taking such a long time to make each room, we artists gave inspiration to each other by exchanging ideas." A curtain and a bed cover were handmade by her mother. "My mother likes to help me," Rilla laughed with impish eyes. Her room is warming and you experience tender feelings. After this project, Steve and Rilla from Rinzen are planning to move from Australia to Berlin.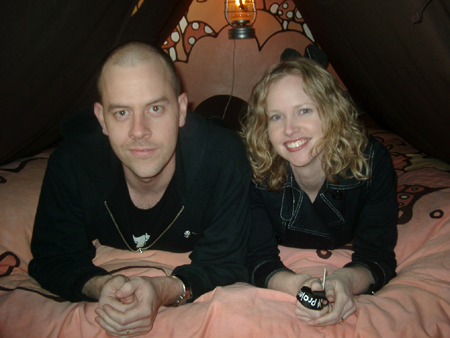 Playful and romantic, "royal" was the theme of the room by Container, a design team of two artists from London who create illustrations with a unique atmosphere. They designed each room based on the four cards suits; spades, diamonds, clubs, and hearts. "To emphasize people's special feelings when they stay in a hotel," they said. The room is cute and gorgeous with fur mats, furniture, and a wall painting of a king and a tiger. It is like a room in a story that every girl has ever wished for. Luise from Container who spent two months on the concept and three weeks making the room said, "We are so lucky to be able to take part in this project. We could make a lot of friends and I'm happy, but I feel sad at the same time because everyone got along so well while making the hotel together, and now after the opening, everyone has to go back and many strangers come in." To a question of "what's your plan next?" she answered cheerfully "Holiday!" With the production of music videos near at hand, Container is very active.
Another place of Project Fox, "Studio Fox" is one of a row of warehouses standing a 20 minute walk from Hotel Fox. Outside of the building, a Fox art-car by WK Interact was exhibited, and a wall on the right side was filled with a powerful spray drawing by Speto.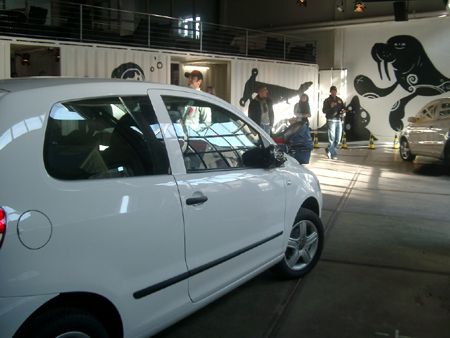 Just then, Sam and Turry from FriendsWithYou based on Miami were decorating FOX. They were literally friendly, and their art-car had already no trace of original car form, with woods flames, fur cover, and pink colored inside. Though I wondered if it is right, they made me
smile as a matter of course. It was unfortunate not to be able to see the completion and to introduce it here.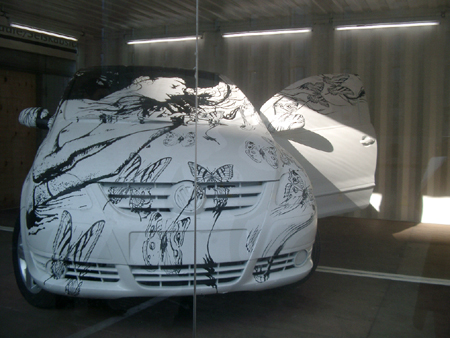 Same as the Club Fox, Studio Fox is being held for 21 days during the campaign.
Container, Boris Hoppek, MASA, Freaklub, and Akim Zasd Bus produce the art-cars.
Also, there is a shop selling artists' goods, an introduction of Hotel Fox, a video with artists' interviews and photos documenting the making, exhibited in the venue.
Hotel Fox has a projected life of five-years at this time. So, you should go while you can. Such a project, which artists and visitors can both enjoy, should be planned again all over the world.
Hotel Fox Artists; Akim Zasd Bus, Birgit Amadori, Antoine + Manuel, Container, E-Types, Freaklub, FriendsWithYou, Genevieve Gauckler, Benjamin Gudel, Kim Hiorthoy, Boris Hoppek, Hort, Kinpro, MASA, Neasden Control Centre, Pandarosa, Rinzen, Speto, Tokidoki, Viagrafik, WK Interact
Hotel Fox
Address: Jarmers Plads 3 DK-1551 Copenhagen, Denmark
http://www.project-fox.org
Text and Photos: Ayako Yamamoto
Translation: Yurie Hatano
[Help wanted]
Inviting volunteer staff / pro bono for contribution and translation. Please
e-mail
to us.