CARL FISCHER & FRANK HABICHT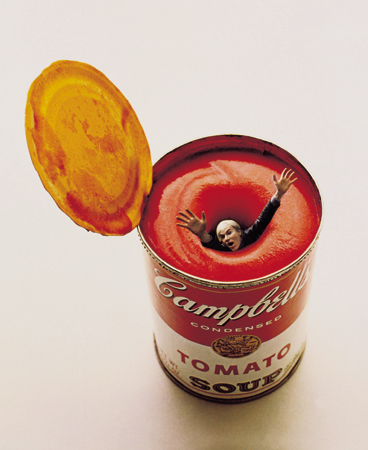 Andy Warhol © Carl Fischer

Colette swings into the 60's during the month of October as not one, but two photographers conjure up a full-blown cultural flashback inside one of the world's hottest shopping mecca's this month.
In the colette gallery, American photographer Carl Fischer and his notorious images for Esquire Magazine (dating from 1963 to 1977) reflect a sign of the times, not to mention providing the perfect settting for Frank Habicht's collection of "Karma Sixties" shots which adorn the ground floor setting and re-evoke the vibe of his phenomenally popular underground vintage book, "Swinging London".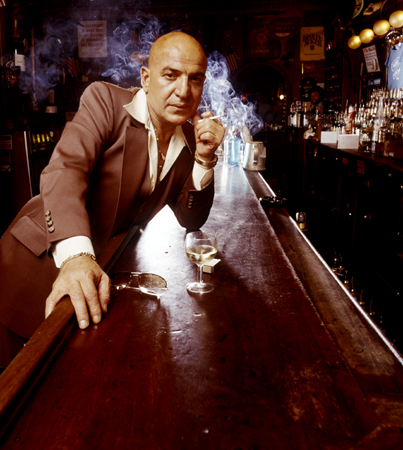 Telly Savalas © Carl Fischer
The Swinging Sixties: a turbulent decade complete with war in Vietnam, increasing civil rights marches, feminist movements and sex, drugs and rock'n'roll. In a time when sexual liberation, photographic permissiveness and moody black and white imagery reigned supreme when it came to capturing fleeting moments, the contrast between New York photographer Carl Fischer's work and its intricate, technical details draws a fine line in the boundary-breaking stakes when set against German-born artist Frank Habicht's compositions.
Claiming credit for the majority of Esquire magazine covers throughout the 60's, Carl Fischer frequently collaborated with George Lois, the head of a public relations and creative agency located on Madison Avenue in NYC. Together, they worked alongside producer Harold Hayes, in conceptualising a new method of imagery which spotlighted intricate hand-made details, resulting in Fischer's work being labelled an outright "visual metamorphisis" from fans.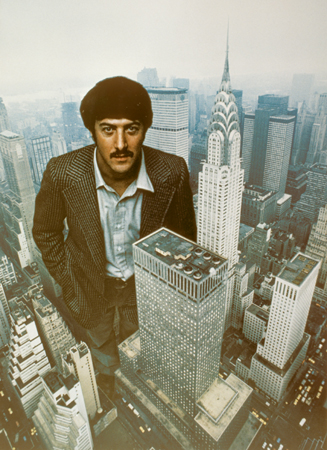 Dustin Hoffman © Carl Fischer
In short, Fischer would spend days at a time creating one singular image. Starting with a simple studio portrait, he would then superimpose the portrait on to a background and then commence a cutting-out stage so that the background details against a selected subject matter would remain invisible.
From Andy Warhol drowning in a bowl of Campbell's Soup to Dustin Hoffmann portraying Gulliver amidst a setting of Manhattan buildings, Fischer's technical precision is his forte.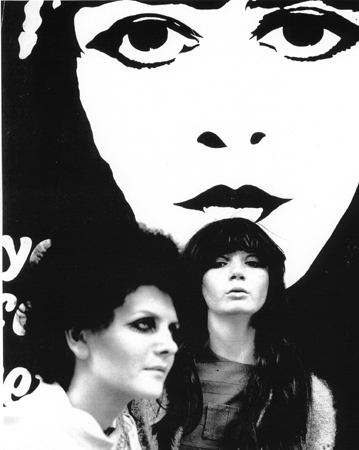 MATA HARI BOUTIQUE 1967 © Frank Habicht
Across the Atlantic at around the same time, Frank Habicht's work was also steadily garnering a reputation for its cinematic edge. Essentially his collection of portraits on show at colette capture fleeting moments and spontaneous expressions, whilst displaying the photographer's ability to provoke an action or a reaction from his subject matter.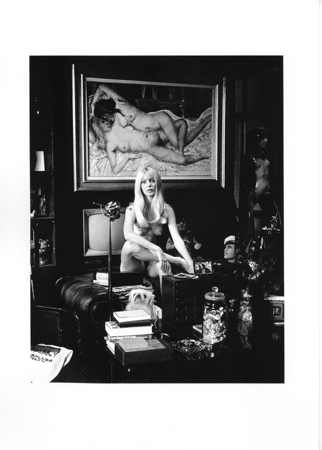 Playmate 69 © Frank Habicht
Having first developed an interest for photography in his teenage years, Habicht endured a short but successful stint in London before moving on to Paris where his lighting techniques were undoubtedly refined whilst freelancing for magazines including Esquire, The Guardian and The Sunday Times, and working alongside directors Roman Polanski, Jules Dassin and Jacques Deray as an on-set photographer.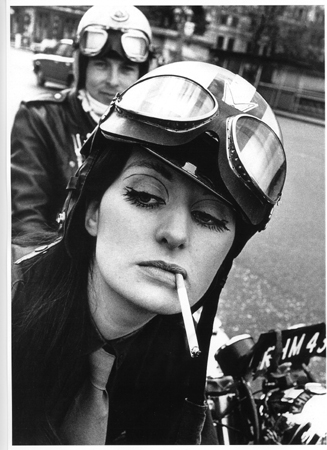 She'll do the ton © Frank Habicht
Precisely at a point when his career in Europe was reaching its peak, Habicht surprisingly fled to New Zealand with his family where he is based today and continues to work as a freelance photographer, in addition to recently concluding work on a book titled "In the Sixties" (Tandem Press) which is available for purchase at the exhibit.
Recently, whilst shopping at colette, documentarists Francoise Lazard and Patrick Jucaud stumbled across a rare copy of Frank Habicht's photo album titled "Young London: Permissive Paradise (1969)". After tracking him down in New Zealand, they convinced him to publish a limited series of images comprising pop idols, models, stars and ordinary, everyday people enjoying the 60's in all its glory. This collection of photographs has been christened "Karma Sixties" and sets the scene for Habicht's presence at colette.
Carl Fischer & Frank Habicht Exhibition
Date: 4th – 30th October, 2004
Place: colette
Address: 213 rue st honore, 75001, Paris
Open: 11am – 7pm, Monday – Saturday
http://www.colette.fr
Text Linlee Allen from colette
[Help wanted]
Inviting volunteer staff / pro bono for contribution and translation. Please
e-mail
to us.