Graceful graphics, dynamic editorial design, graphical typeface born from a free way of thinking and feeling. Such is the philosophy behind graphic designer Hideki Inaba, who designed the cover for the Shift June issue, and works with Shift on various collaborative projects. In Shift, you can find his fonts here and there, they are used for advertising visuals and on products such as the T-shirts for Shift Factory, etc.. broadly and flexibly under the name of "Newline". An exhibition collecting such Newline projects which has produced so far , and showcasing them was opened at Sapporo "Soso Cafe" in June. On Friday, June18th an opening party with a Hideki Inaba performance occured.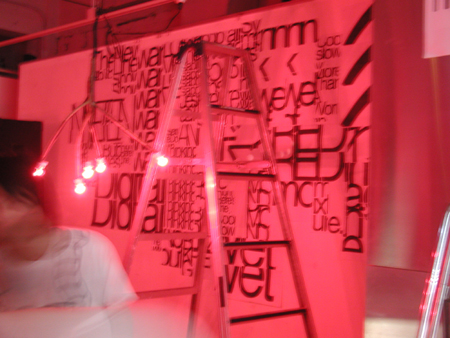 It was the crimson lighting that first surprised me. Why red? It may be related with Hokkaido-born "E2O" project. He did the packaging design for a bottle of tomato juice as the first edition of "E2O". In the hall, the special cocktail "red eye" using the tomato juice had also appeared on the menu. Furthermore, the original exclusive T-shirt was also exhibited and sold, which was born by a collaboration between Newline and "Beams T".
Soso cafe has a glass window that faces the outside. A translucent white screen was hung there to project Hideki's red typography called "Burst Helvetica". Since the screen was hung on the windowpane, a passerby who walked along outside could also see the image; the red typography and the red image which shook flickeringly aroused people's curiosity to peep into.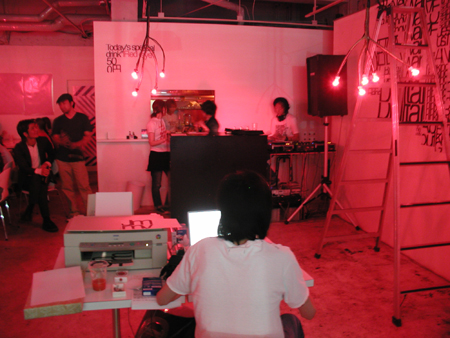 In such a red space, Hideki brought his work space; mac and a printer in the middle of the cafe, and he created a work on a pure white wall with 4m width 2.5m height. Although a lot of artist shows are live performances for the opening event at Soso Cafe, this style was one of the most unique.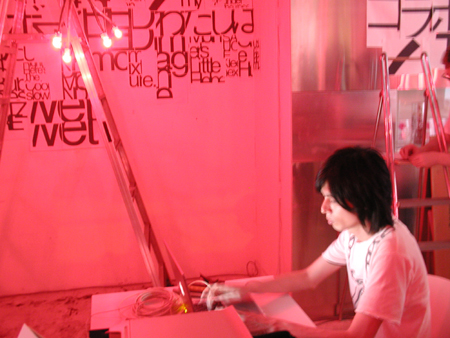 Hideki put typography together by printing it out and pining the typography up on the wall repeatedly. Have you ever seen a performance using a printer? Although I described his work "typography like graphics" at the beginning, it is exactly the right description for this work as well. All the elements which were placed on the wall were a part of a "letter" but it was a "picture".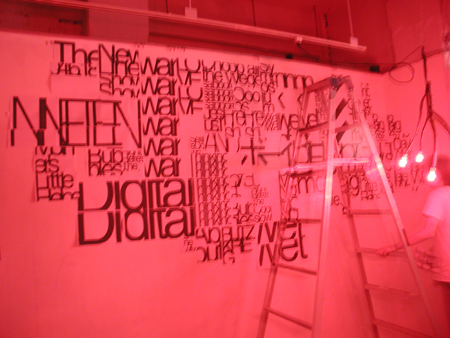 Good music selection from new wave and electronica made a comfortable atmosphere, and Hideki kept producing his work pieces having a red eye beside, while the audience enjoyed their time looking at the work, which was calmly placed on the white wall, and talking and drinking with friends. When I looked around the cafe, I suddenly realised that there were strangely many people who had red dress on. It was because of the flyer for this event, which says "Come in red clothes and you will enjoy yourself more."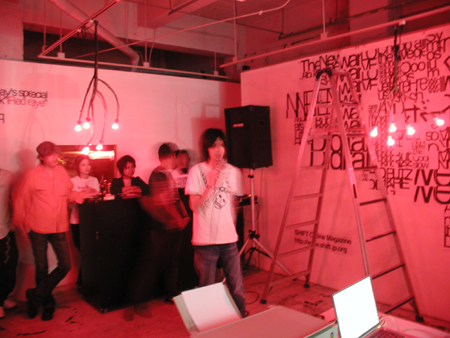 I was thinking it was just because the hall was lit with red at first but by the time he almost finished up his work, he started spreading out some posters slowly and gave away them to the audience dressed in red! Even I, who was on the sponsor side for the event, was not told about this and it was a delightful surprise happening.
At "Rocket" in Tokyo, this exhibition starts from July 16 again with the the different contents from Sapporo. What would be performed there? I surely recommend to visit and want you to enjoy Hideki Inaba's world.
Hideki Inaba / NEWLINE Exhibition Sapporo
Date: June 18th (Fri) – 30th (Wed), 2004
Open: 11:00 – 21:00
Place: Soso Cafe
Address: Sansei Bld., 1F, Minami 1 Nishi 13, Chuo-ku, Sapporo
Admission Free
Tel: +81-11-280-2240
Hideki Inaba / NEWLINE Exhibition Tokyo
Date: July 16 (Fri)- 21st (Wed), 2004
Opening party: July 16th (Fri), 2004
Place: Rocket
Address: 3-7-9 Kita-Aoyama, Minato-ku, Tokyo
Tel: +81-3-3499-8782
Admission free
Supported by BEAMS T, E2O, PRND, SAL magazine, Web Designing, Prism Co.,Ltd.
Text: Naoko Fukushi
Photos: Shinichi Ishikawa
[Help wanted]
Inviting volunteer staff / pro bono for contribution and translation. Please
e-mail
to us.