EBOY EXHIBITION "PIXELESQUE"
"Pixelesque", eBoy's first Barcelona exhibition opened at Maxalot Gallery, Barcelona on May 7th. The 3-d world of the Berlin-based pixel-masters is a hubbub of hot chicks, functional robots, spectacular vehicles, weapons of mass destruction and emblazoned with familiar commercial icons. For Pixelesque 23 eBoy images are printed on canvas and framed in classical gilt gold. The results perfectly demonstrate what Maxalot aims for: to cross the boundary between graphic design and modern art.
As always, Maxalot threw a kickass launch party, adding an ironic twist to the high culture theme playing music by the classical masters, including Beethoven, Mozart and their wig-wearing contemporaries. Quality champagne was served to add a touch of class to the proceedings and the overall effect was comical and just on the right side of kitsch.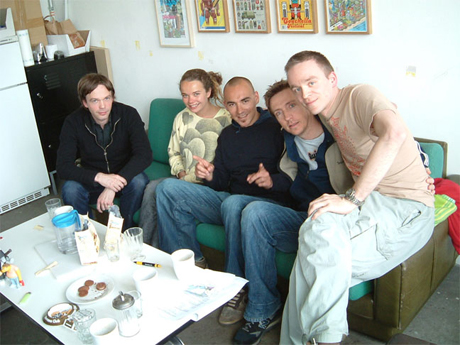 Sadly the eBoys could not be present in person, but Maxalot were lucky enough to catch the German contingent a week later in their Berlin office (see mandatory sofa shot). Steffen Sauerteig, Svend Smital, Kai Vermehr and Peter Stemmler have been working as eBoy since 1998.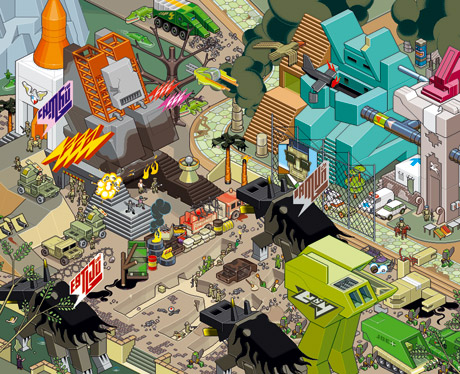 Pixelesque saw the launch of the latest addition to their legendary eCity series, a desert-scape dotted with Inka-inspired buildings and humans warring with giant machines (See above). Alongside this work, Pixelesque shows works from eBoy's much-loved retrospective including some of their prettiest monsters, the glorious Golden Gals glamorously positioned in lavish gold frames, a selection of entire eCity's plus eCity segments.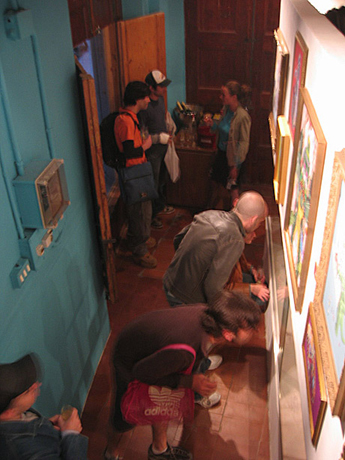 eBoy's images appeal to a wide audience because they combine the familiarity and nostalgia of pixelised game-like graphics with futuristic action-packed metropoli and sexy chicks. Who could resist such a heady cocktail?
Pixelesque has broadened Maxalot's audience because of the universal appeal of eBoy's style. Maxalot's network is now expanding beyond the world of graphic designers and creatives and into the general public: people strolling by who catch a glimpse of Pixelesque and can't resist a closer look. Maxalot aims to bring the beauty and artistic value of graphic design to the public eye and Pixelesque is helping them achieve this.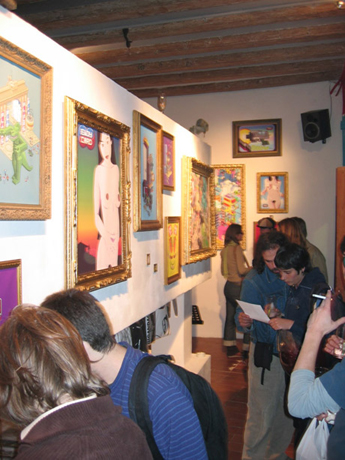 Much of eBoy's work brings to mind retro Atari-style imagery, which may be explained by the fact that 3 of the 4 eBoys grew up without computer games in East Germany. This may also go some way towards explaining their main aspiration for the future: to produce toys. Not the "urban vinyl" collectibles which are the latest must-have designer item, but real toys for children to play with. If their explosive imaginations and capacity for fantasy are anything to go by, we can see the eBoy toys taking off in a big way.
All the Pixelesque artworks are available for sale online via www.maxalot.com. Prices start at e25.00.
Pixelesque by eBoy
Date : May 7th – June 26th, 2004
11:00-14:00 and 16:30-21:00
Place : Maxalot Gallery
Address : c / Palma de Sant Just 9ab, 08002 Barcelona, Spain
Tel:+34 933101066
Info@maxalot.com
www.maxalot.com
Text and Photos: Lotje from Maxalot Gallery
[Help wanted]
Inviting volunteer staff / pro bono for contribution and translation. Please
e-mail
to us.