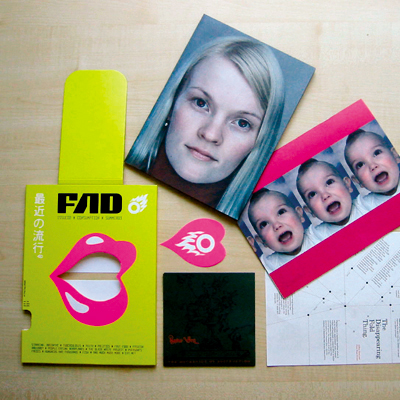 FAD is a magazine about art and the boundaries of art.
This new publication is the brainchild of designers Dan Sumption and Mark Westall. More than a magazine, FAD is a collectable outer sleeve, containing a package of ever changing contents: single sheets, posters, cards, booklets, CD covers, origami objects and sleeves-within-sleeves.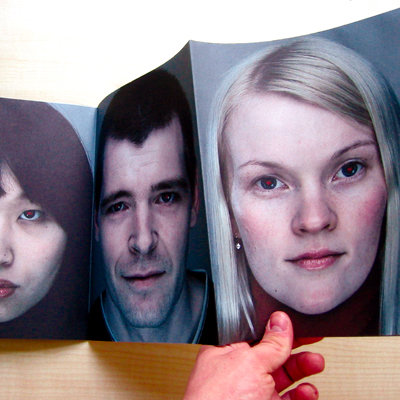 FAD contributors include a wide range of artists/non-artists, musicians/writers, and punters. Every issue, the contributors consider a single theme, picked at random by FAD. They can respond to the theme in any way they like, and so define that issue's format. FAD contributors experiment with presentation, message and delivery. No two issues are the same.
The third issue of FAD deals with the subject of "Consumption". The issue includes articles such as "Blair Waste Project", "From Pheasant to Faeces" and artworks "The Last Supper" by Think1 and "The Mechanics of Destruction" by Radioboy.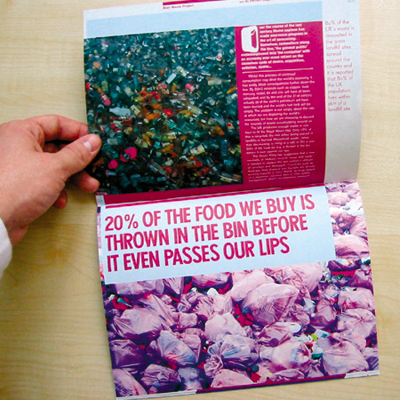 I spoke to the art director, JC, about the new issue and ideas behind the design. The pages are presented to run vertically, parallel to the fold, questioning the notion that all magazines should be presented in the same orientation. Each page is largely monochromatic, consisting of tints of one colour. The first page is printed in 100% magenta, and as you go through the magazine, the page colour gradually shifts in hue to 100% cyan, in effect a 30 page graduation. The photography on each age is tinted accordingly. In the bottom corner of each page are tiny acronyms on the word FAD, such as "face another diagonal" and "float and drown". Also there is a tiny 'flick book' logo animation in the bottom right of each page.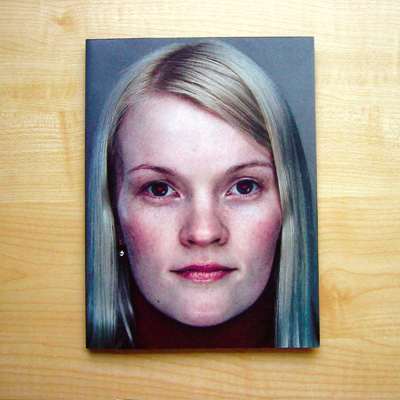 Along with the magazine part of the package is a CD sleeve, containing download instructions to access a collection of MP3's which form an album by RadioBoy. Each track is made up of samples from everyday objects such as a McDonalds happy meal, the sun newspaper and 'my granddad's old black and white TV'. Furthering the concept of consumption, there is also a large poster which features reworked version of 'the last supper', where the apostles have been replaced by silhouettes of world leaders and heads of corporations.
This issue has a print run of 20,000, distributed in London, Paris, New York and LA, via art galleries, bookshops and larger newsagents, with a focus on specialist outlets such as Magma in London and Palais de Tokyo in Paris.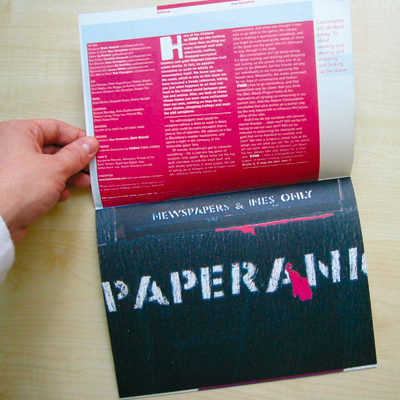 FAD also hosts at least four events per year, plus Christmas and New Year specials. Events currently take place in London, Paris and New York, with additional US, European and Japanese venues lined up. Events feature a mix of music (DJ sets and live music) and art (exhibitions by up-and-coming artists, performance art).
FAD Magazine
Address: BradonpaceLtd PO Box 34966 London SW6 4YE, UK
Tel: +44-70-9201-8462
just@fademail.com
www.fadwebsite.com
Text and Photos: Tim Spear from Now Wash Your Hands
[Help wanted]
Inviting volunteer staff / pro bono for contribution and translation. Please
e-mail
to us.