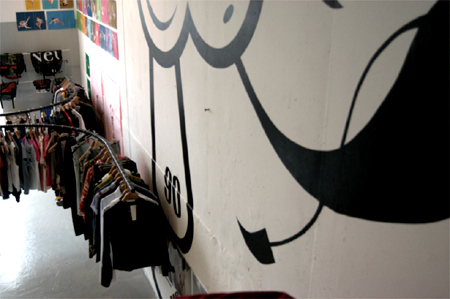 How come things work here in Amsterdam that would never work anywhere else?
Take "90 Square Meters", for example – this is a shop situated on an ultra-modern housing development on an island (KNSM Eiland) to the north of Centraal Station. And the best way to get there is by ferry. This is not a place you just happen to stumble across. To be honest, in any other city the location would probably work against it but here in Amsterdam, people have time to get to places like this. And that's really nice.
90 Square Meters may at first look like a shop but it's actually a bit more than that. The owner, Ido, started it two years ago with his friend, Bas, but now runs it by himself.
"We wanted to start a place that basically attracted creative, talented and like-minded people. If it hadn't ended up being a shop it could have quite easily been a bar or restaurant. The basis was we wanted to do stuff we liked and this could be fashion shows or an art show – anything that inspired us." The lads couldn't decide where to situate themselves and having grown up in Amsterdam, they knew it pretty well.
"We finally decided on KNSM Eiland because we liked it so much. I'd visited it quite often that summer because of this mad bike event that takes place on the island. Not only was it so good to be out here away from the city center, but the people were really nice and I just fell in love with the place. It's a pretty unique place for a store but I don't think it's necessary for a store to be in the same spot as everywhere else. If you have something people want, they will come. And besides it's a great trip out in the summer.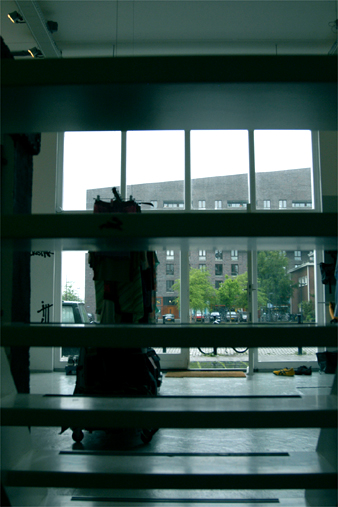 The first 3 months came and went with lots of interest from the islanders but also some bemusement further afield, "Not many people from Amsterdam got this store at first. Why was it so far away from the center? And what sort of shop is it? We sell a wide variety of things we're into such as sneakers, clothes, magazines and toys. We try to have things that make it worthwhile for people to come over here. I travel a lot so I like to pick up things I find in other cities. If I've read about something or somewhere I'm interested in, I usually act on it and that's how you meet new people and find new stuff. And a lot of it is word-of-mouth. It's definitely not a shop that sells stuff to the islanders – it just happens to be located on the island.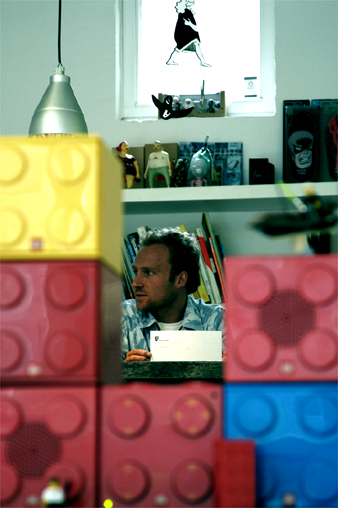 It was during these first few months that Ido met Garrett from Amsterdam street-art collective, London Police. "He just came in one day. He'd heard of this underground skate shop and come to check it out. Obviously it wasn't the right description of what he found but we got talking. When I found out he was part of London Police, I was shocked because I was a fan of their work and that's how the idea of us holding art shows got started." The London Police show kicked off with a launch party in February 2002, "which was really nice because I liked the idea of putting something together in the evenings – you know, a good mixture of music, drinks and people. I remember it was February, it was cold and raining. But there were people waiting outside to come in. What a great feeling that was. The show ran for 6 weeks and we sold nearly 20 pieces."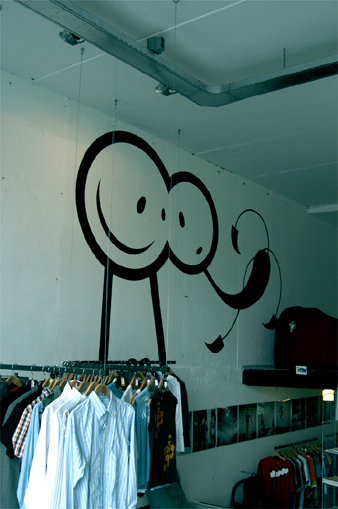 The store has had 9 exhibitions since then including a launch party for Nike iD.
"I suppose the three that standout for me so far have to be London Police, +41 (a group of graphic designers from Lausanne, Switzerland) and our first group exhibition put together by Atti. Atti came to one of our art shows and afterwards approached me to see if I would look at her work. I really liked it and so we set a date for her to do her own show. Atti didn't have enough work to fill the store completely so she suggested including some of her friends in the show. We ended up with six different artists and it worked really well."
Currently, there is an exhibition by photographer, Valerie Phillips (from the US and based in London) and artist, Sara Woster (based in New York). Both had followed a group of young gymnasts over a period of time and the store features pieces from their project. The exhibition launch night featured a live gym show inside and on the square outside the store.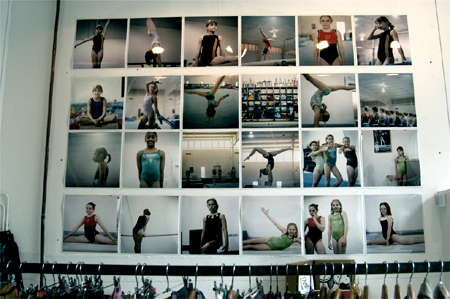 The store's next exhibition "Tunnel Vision", which opens 6th June and runs till 20th June, features the work of another photographer and illustrator, Nigel Bennett and Nathan Burton. The duo is also launching their book by the same title from which the pieces in the store have been taken. "They picked out a few words together and then made a story, each in his own media. In the book you can see how each scene has a photographic and illustrative interpretation."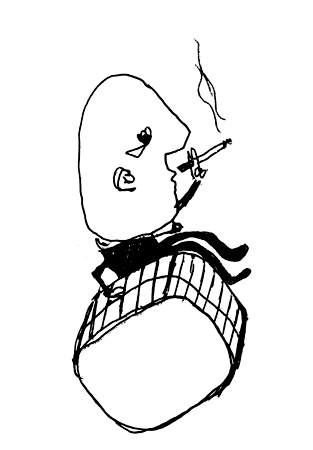 So what does the future hold for Ido and 90 Square Meters? A book of all their exhibitions to date? "Perhaps but if we're going to do something by 90 Square Meters then it has to be done 100% right. Our main priority is to keep following our original goal – getting nice stuff in from nice people, connecting with different brands and helping talented people to get the exposure they deserve."
90 Square Meters
Address: LevantPlein 52, KNSM Eiland 1019 MB, Amsterdam, Netherland
Tel: 020-4192525
Fax: 020-4192526
info@90sqm.com
www.90sqm.com
Text: Ania Markham from PostPanic
Photos: PostPanic. Additional photos courtesy of Nigel Bennett and Nathan Burton
[Help wanted]
Inviting volunteer staff / pro bono for contribution and translation. Please
e-mail
to us.