Innovative and surprising. "Nike Presto/Instant Go" campaign gives us a fresh impression every time. In the latest campaign, a creator "Skwerm" at a globally famous street art group Barnstormers, an artist Sasu based in Nakameguro, Tokyo, Frek in Hong Kong, a live-action design company Motion Theory in Los Angels and one of rising artists at the street scene in Tokyo DJ Uppercut have a fantastic collaboration.
Find out how this great project is taking forward in this article. Interview with +Cruz, the art director at Wieden+Kennedy Tokyo.
Please introduce yourself.
+Cruz. I'm an art director/designer /director at Wieden+Kennedy (W+K) Tokyo. Outside of W+K Tokyo, I consult for media hybrid experiences and create personal work under my vagabond studio, cruz@mass.
I studied illustration and graphic design at Virginia Commonwealth University and Art Center Pasadena + Europe. Worked with studio Archetype/Sapient – web and graphic design; W+K Portland – art directing for Microsoft; Imaginary Forces – motion/titles/graphic experiences including JUN Japan, titles for the Mummy and Spiderman; Razorfish London – consulting for digital hybrid experiences. I recently received my MFA at Cranbrook Academy of Art, focusing on digital filmmaking. I also taught university level graphic, motion + digital design and illustration at CCS, the Center for Creative Studies, Detroit, Michigan while at Cranbrook. my main interests are in experimental media hybrids and digital narratives, new forms of visual storytelling – new experiences.
My personal interests in civilisation, anthropology, personal / cultural identity and visual / cultural colonialism prompted my relocation to Tokyo. I had been working in both the US and Europe for the last 6 years, and felt the need to contribute to the culture I came from.
Since I am Filipino-American, I wanted to create work that is for Asian people. It's a natural thing. I traveled China/Asia for 3.5 months after Cranbrook, and grew more curious about its dynamic beauty and chaos. China at one point was one of the most powerful empires that ever existed, today it is a "counterfeit culture", taking ideas from elsewhere and re-making it cheaper and more accessible. the idea of creating brand in China is somewhat of an oxymoron, how can you build a brand such as Nike, when people cannot afford it and can get it for 1/8 the price? with Shanghai's re-awakening, Asia seems more relevant for me to create for. I want to help rebuild this side of the world.
One side of my profession explores modern commercial culture, speed and futurism, youth culture specifically with the Nike, while the personal side explores anthropological culture, indigenous, primitive and social culture. It's a contrast between futurism and history.
For Presto 03 and 04, my role in these projects was the art director and co-director of the films, print designer/director, and photographer. Small budgets required many hats to fill.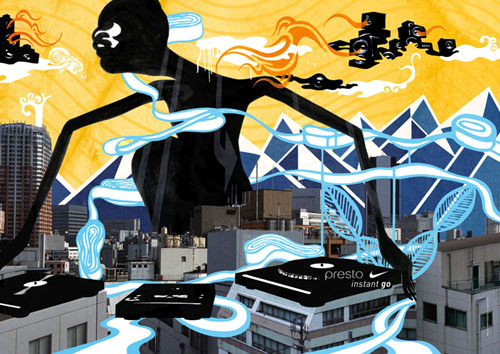 Can you tell us about the "Nike Presto" campaign?
Act. 01 : 30sec : Instant Go : Ribbon
In this first act we introduce the "Instant Go" movement, following Skwerm's ribbon graphics permeating thru the city with a fluid groove. along the way, we experience the art building and interacting with the environment as well as the youth culture. Skwerms' speakers fuse with the cityscape and reverberate the city's beat. Sasu's leaves fall on the skater grinding on rails. Frek's kung-fu orange character blends in with the Shanghainese crowd. Skwerm's DJ character emerges as the link between the 2 spots, mixing music amidst the Asian skyline.
Act. 02 : 30sec : Instant Go : Rootz
In the 2nd act, the beat picks up with a more active vibe. The roots, based out of Skwerm's trees, take us thru the journey, at times morphing into Frek's liquid waves. "Instant Go" is much more hyper active, as we see the DJ plug his gears in, setting things into a motion of frenzy… Sasu's mandala unfolds, mimicking the break dancers moves, Frek's tails sweep across the subway, Skwerm's catfish swim through rainbow bridge. Kami-san makes a Cameo appearance skating through Nakameguro.
Act. 03 : 120sec : Instant Go : Urban Canvas
Is an extended remix of "Ribbons" and "Rootz". This time we see the artists in motion, in the moment of creating "Instant Go" in the city.
Print Ads : Instant Go : Asia
The print ads reflect the energy behind the spots and the collaborative fusion between the 3 post graffiti artists. One of the things I have always tried to achieve with print is that it reflects the time based medium in which we exist in. Therefore, we approached the print as if it were frozen moments of images in motion. We expressed "Instant Go" through the arts' motion and movement through the Asian cityscape, spreading urban action.
Read more ...
[Help wanted]
Inviting volunteer staff / pro bono for contribution and translation. Please
e-mail
to us.