A few weeks ago, I got somewhat of an exclusive, "invitation-only" e-mail message in my inbox. It was from Res, the digital filmmaking magazine. By now, Res has become a household name among designers and independent filmmakers. For years, Res has been producing its successful Resfest, a festival of digital filmmaking, that originated locally and now tours globally from LA, San Francisco, New York, to Tokyo, Melbourne, and Cape Town.
A few years ago, Res started a feature called RES 10 in the magazine. It is a feature in which Res chooses a group of 10 artists who Res believes "are destined to affect and invigorate their respective artforms in the coming 12 months." Tronic, a collective that I'm part of, was one of Res 10 last year.
More recently, the selection of Res 10 has become a bit more diverse to include not only filmmakers and designers but also illustrators, graffiti artists, and installation artists.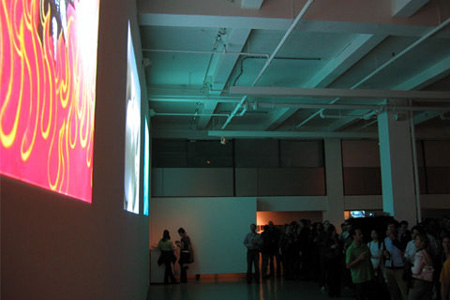 The "invitation-only" message that I received was for a party hosted by Res at the Art Directors' Club in New York. It was to show off this year's Res 10. The event was quite well attended – fairly packed house with designers, filmmakers, and musicians alike. The line-up was somewhat of a surprise to me, but in a good way. Among the 10, I knew or heard of about half. Here's the line-up of the featured artists (that you probably know already):
Featured Artists: Ruben Fleischer, Kuntz & Maguire, Pleix, David Ellis, Matthew Dear, Motion Theory, kozyndan, Antenna, Tunde Adebimpe, Ellen Allie
Of the above artists, my favorite is David Ellis, aka Skwerm, and a founding member of Barnstormers. It's a bit surprising to me that he didn't make the list last year as he had already been gaining quite a bit of recognition in the press over the past few years. Probably the most recognized work he has done is the campaign by Nike Presto in 2002 – a series of commercials featuring Ellis and his fellow artists of Barnstormers' graffiti paintings in motion. Although many people questioned the relevancy of the work to Nike, it was quite fresh and cool nonetheless.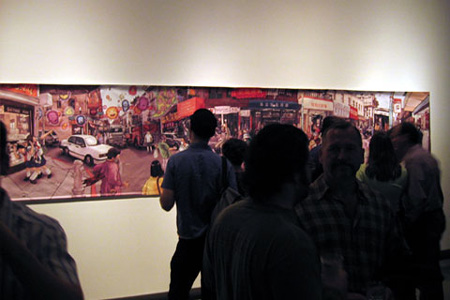 The first time I saw Barnstormers' work was through a co-worker of mine, whose boyfriend is a member of the collective. One day, she brought in a video of paintings "in motion" called "Watching Paint Dry." It was quite a simple idea, yet so effective and mesmerizing to watch. Basically, it was a time-lapse video of various graffiti painters painting over each other's work. A camera was attached to a ceiling and painters would paint on the floor. The camera was completely static but what was in motion is the artists themselves and their creation. Unlike traditional paintings, there really wasn't an end state to the painting itself, but rather, it was the process of painting that is the work itself. Although this might not be considered filmmaking in a traditional sense, it certainly is an innovative perspective on what is considered a film or a painting.
I hope Res continues to feature artists like these in the years to come in Res 10.
Res 10 Exhibition + party
Date: April 30th, 2004
Place: Art Directors Club
Address: 106 West 39th Street, New York, NY
http://www.res.com
Text: Rei Inamoto
Photos: Rei Inamoto

[Help wanted]
Inviting volunteer staff / pro bono for contribution and translation. Please
e-mail
to us.