"The Peoples Bureau For Consumer Information Tokyo (alias The Peoples Bureau Tokyo)" has just opened in Harajuku, Tokyo. This is the first real shop of the on-line shop "The Peoples Bureau For Consumer Information" run by The Designers Republic.
The shop used to be the Harajuku branch of Shop 33 but was reborn as "The Peoples Bureau Tokyo." Interviewed with "Love the Life", who dealt with an interior design, about the details of the design and this project.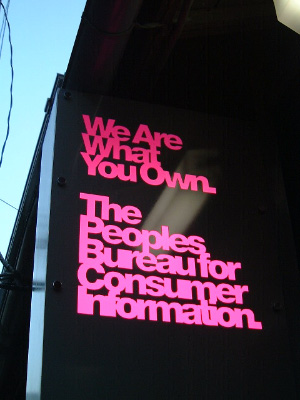 Please introduce yourself. What sort of activities is "Love the Life" doing?
We, Love the Life, started to work in 1997. There are just two of us in Love the Life; Akemi Katsuno and Takashi Yagi. We have been mainly doing art direction in architectural designs and commercial facilities.
Please tell us about "The Peoples Bureau Tokyo", which just opened on the 4th of October. I heard that you were in charge of the interior design of this shop. What brought you into this project?
"The Peoples Bureau Tokyo" is the world's first real shop of the on-line shop "The Peoples Bureau For Consumer Information (TPBFCI)" run by The Designers Republic. It was April in 2002 when we got a phone call from Mr Aratake, the president of "Shop33", to participate in this project. Also, in 1998, we had done the interior design of "33hrjk (Shop33 Harajuku branch)" in the same place where "The Peoples Bureau Tokyo" is now. We will talk about this later on but we think it was a natural course that Mr Aratake decided to take this project forward with the same project team of "33hrjk" since the geographical and social conditions of this location are pretty unique and we understand them well.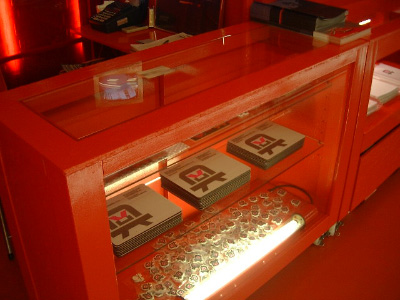 Tell us your feelings when you received this DR project. What did you say?
Ask DR to give us their signs!
I heard that Mr Ian Anderson from DR gave you the theme "transfer the colour scheme to the space as the scheme is". How did you manage this task?
First of all, Mr Anderson explained his idea that he want to paint the space in red, white and gray from top to the bottom as the web screen of "TPBFCI". Also, pink is using within the web in order to make important points stand out, and he wanted to use fluorescent pink to paint some pillars and beams. In other words, it can be said that he had showed all of the basic points about the space design at this stage.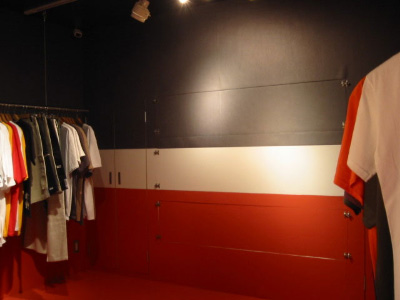 This sort of simple and strong idea was very DR and directing transferring a virtual space into a real space was really exciting task for us. However, we knew that we would have to add another important idea in order to make these ideas not only just a decoration but also an architectural design.
As you can see in the web site of "TPBFCI", the red part at the top is a table of contents, the gray part at the bottom shows images of products and data, and the white part at the middle is a functional area where customers can select each item. The colouring system there is not a mounting thing at all. It is a silent (but strong) index in order to make customers have an intuitive shopping experience. We thought we want to transfer this experience, which is hiding behind the "TPBFCI" site, into the space somehow.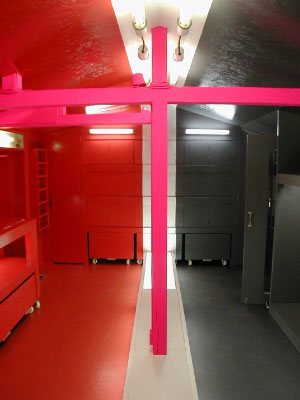 Photo by Love the Life
If you go up the short stairs and enter "The Peoples Bureau Tokyo", you will see the emitted white bump (the height is 200mm and the width is 400mm) laid down at the middle of the shop. This white line works in order to separate the space into two parts and the line goes around the shop from the floor to the walls and the ceiling. The entrance side from this white line is painted all in gray and it's in red over the line. By setting these zones, the gray part works as displaying the products and the red parts, where the staff counter is, works as a guidance function of the shop, but both of them work flexible. The most important point here is also this white line that we previously explained. This is because it is impossible to enjoy shopping without getting or crossing over this troublesome obstruction.
This sort of device has got a sense of mischief but it can be said that this most low-tech and spatial mean brings an active relationship between customers and the shop. Of course, having high-tech machines, motions and sounds is another possible means. However, we think the former simple mean is more appropriate for the DR shop. Moreover (and thankfully), we did not have a big budget for a luxurious facility.
"The Peoples Bureau Tokyo" consists of two spaces: SHOP1 with the entrance and SHOP2 that is detached from SHOP1. The story we told is mainly about SHOP1. We would like to cut to SHOP2 because we talked about SHOP1 a lot.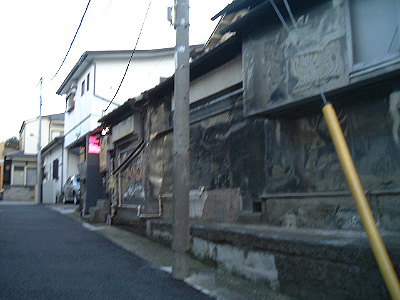 Since you did not change any parts of this old Japanese building, the building keeps its style, and it is small and the ceiling is quite low. However, I did not feel any "tight" or "narrow" feeling. I think you put some special ideas into this problem as well.
We think we need to talk about the geographical and social conditions of a location and why "33hrjk (Shop33 Harajuku branch" was reborn to "The Peoples Bureau Tokyo" for this question. The shop is located at the middle of a residential area of Harajuku, Aoyama and Shibuya, and these three areas are known as a commercial spot. The landlady has got a wooden one-storied house and a wooden two-storied house within her site. Both houses are for rent. A part of the one-storied house (SHOP1) and one room of the two-storied house (SHOP2) are used for this shop. Between SHOP1 and SHOP2 is just a narrow space and of course, there is no roof. So you will get soaked when it is raining. In addition, the roof of SHOP1 is really low and it is only 1800mm high under the beam. It can be said that the conditions of the location are pretty unique ("unusual" might be a better word for this).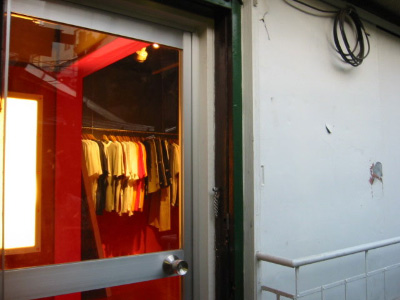 When we asked to do an interior design for "33hrjk", we thought this miracle situation, which a club-wear-select shop is in a postwar-fossil-like building, was really interesting. And we set goals: taking out unnecessary details, making simple problems elaborate as well as making a space construction clear. Both SHOPs are painted in white and covered with a cheap compilation material, called OSB. This made them plane symmetry spaces. The space of "33hrjk" had been adjusted enough as a base and it is the best reason why people do not feel "tight" or "narrow" feeling within this small shop "The Peoples Bureau Tokyo". Adopting new objects into more than 40-year-old building without any failures was a hard job, but we could work it out with a great help from Kigokoro, which was in charge of a building work.
Unfortunately, people did not smoothly accept this type of design when "33hrjk" was opend and we were fed up with the fact that people paid a keen attention mostly to the feel of OSB and the way we used OSB, to be honest. The reason why we used OSB was that this material was outstandingly cheap. We did not have any special feelings to the feel of a material at all. Therefore, we are pretty satisfied with the feel of OSB were completely got rid from the space and it made the experimental taste stronger that the space has by renewing the shop to "The Peoples Bureau Tokyo". Designing this space not only lets people directly experience DR concepts, but also makes this unique ambience in Tokyo outstanding.
Not only the building, but also all outside walls are in silver. And the shop is at the middle of the residential area. However, I felt an impression that that unique looking house adapts itself to the surroundings.
To be honest, we did not do anything in the external appearance of this building except putting the sign at the entrance. Not only the all outside walls are covered with stainless steels, but also the external appearance is full of mystery. However, that is all what the old landlady Mrs Inaba did and everything has already been there before the shop opened. We heard the rumor that this external appearance is related to Fen-Sui but nobody knows the truth. In any case, the sense of this landlady slightly but definitely influences to the appearance of this building. We think it is not so bad, is it?
How long did it take to complete this project? Is exchanging e-mails the main way of communication between you and Mr Anderson in DR?
It was April 2002 when we had the first meeting with Mr Anderson after having a phone call from Mr Aratake. Then, the basic design was almost ready in June but various sales matters dragged on the opening until the 4th of October. After all, it took nearly 6 months in total but we had loads of things to prepare to move on the construction work. So our schedule was really tight.
We used e-mails to get in touch with staff. However, we needed to ask Mr Aratake to transfer our mails to Mr Anderson in English. The mails from Mr Anderson were really clear and specifc, so that we could understand them enough even we understand little English.
What would you recommendeded to visitors to look at in the shop?
Please have a look at the fitting room.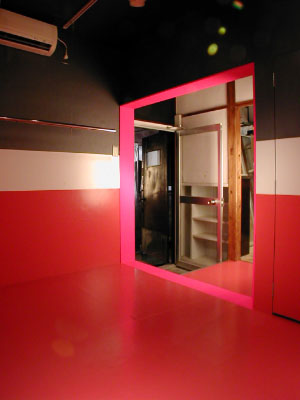 Photo by Love the Life
How would you like visitors to enjoy this shop?
It would be nice if people visited the shop again and again.
Please tell us your plans from now on.
A house interior redecoration project will be done at the end of October. And a clinic architectural project will be done at the beginning of November as well. After that, we would like to get less works. In the meantime, we hope to deal with "under constriction" again (This is a house & office of Love the Life. This building is featured in "Tokyo Houses" released from "teNeues Publishing" in September. If you were in Europe, please have a look). We have been really swamped days so we would like to spend time at our pace.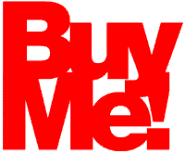 The Peoples Bureau For Consumer Information Tokyo
Address: 5-18-8 Jingumae, Shibuya, Tokyo
Tel: +81-3-5468-3133
www.shop33.com/thepeoplesbureau-jp/
Text, Translation and Photos: Sachiko Kurashina
[Help wanted]
Inviting volunteer staff / pro bono for contribution and translation. Please
e-mail
to us.