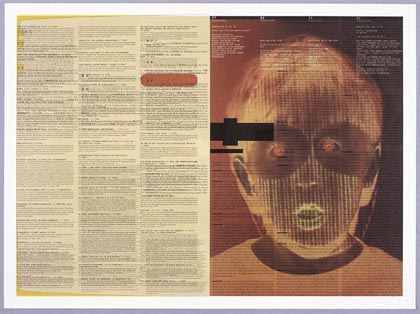 Someone emailed me recently to complain about my review of Game On. I was secretly delighted, I took it as ultimate proof that anyone actually reads these articles. My own personal SETI project. Anyway, his point was that I was light and fluffy, typical of the mainstream journo ticker-tape, not personal enough and far too forgiving of the hyperbolic PR whimsy that we all get fed ad nauseam. Deeply encouraged by this, I got into my car and headed over the water to the Design Museum in London. Tower Bridge was resplendent in a fuddy-duddy kind of a way (the tourists like it anyway). Our Mayor's new hideout, a dumbed-down Fosterised echo of Future Systems work, is squat and diligently fashionable. The Thames itself was a corpulent brown snake, as it ever was. Ancient, Victorian, Modern and Post-Modern(-ish) all bumping uglies in close proximity. A suitable environment for considering the ever shifting balance of power between convention and anarchic rejection of what are perceived as old limitations.
The exhibition I was there to see has been curated by graphic designer Christian Kusters and design historian Emily King, editors of the critically-acclaimed book, Restart: New Systems in Graphic Design (Thames & Hudson), Design Now – Graphics promises to give an insight into the cutting edge of current design practice through the work of an interesting selection of international artists. The emphasis is often on experimental, editorial work but balances this with client projects where relevant, if only to show that clients can be an inspiration and not an irritation. I think we all need reminding of this sometimes.
The Design Museum is weird. Despite best intentions , it always comes across as being a bit crap. The poor relation in London's glittering family of stellar Museums.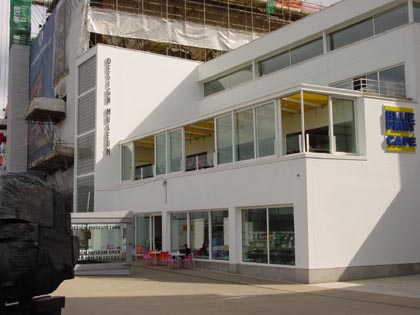 It's a real shame that the exhibition was in the upper gallery, those glass cases are especially unforgiving when displaying printed materials. The selection of images from M/M's Yohji Yamamoto work were crudely hung posters curling up at the bottom like yesterday's sandwiches. Remember guys, this is the Design Museum.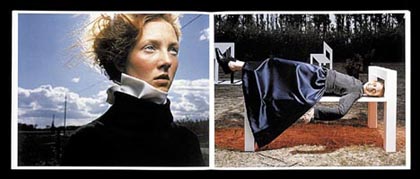 That said, it's a great shame that the space isn't bigger and couldn't hold a wider selection of the projects contained in the excellent book. Among the designers featured are the US typographer Matthew Carter and Andrew Blauvelt, head of the award-winning design studio at the Walker Art Center, Minneapolis. The exhibition will explore their collaboration on projects such as the development of the Walker typeface created by Carter. M/M is a Paris-based group co-founded by Michael Amzalag and Mathias Augustyniak in 1992. Having started with music projects, they have forged enduring collaborations with the fashion houses: Balenciaga, Jil Sander and Yohji Yamamoto and were recently appointed creative directors of Paris Vogue. Trained in the Swiss school of typography, Muller+Hess describe their work as a sophisticated subversion of its traditions. From their Zurich studio, Beat Muller and Wendlin Hess combine self-published projects, like Grenzwert magazine, with work for the Basel Art Fair and Kaskakondensator art space. Mevis en Van Deursen is an Amsterdam-based design team co-founded by Armand Mevis and Linda Van Deursen. As well as creating Rotterdam's identity as European Capital of Culture, they have worked for the Netherlands Design Institute and for the Stedelijk Museum and Muziektheater in Amsterdam.

M/M's work is artful and original. They mix a very traditional sense of dense pictorial story-telling with a wild sensibility. Their creations are highly-strung, neurotic and haunting. Their work for Yamamoto is elegant and memorable, slyly mixing restraint and excess. Defiantly unusual, they beguile you with a sense of impending insanity. Beautiful art direction and photography, deft graphic nuances, driven by off-stage narratives. As M/M say themselves, "Design is a conversation and they're always waiting for an answer."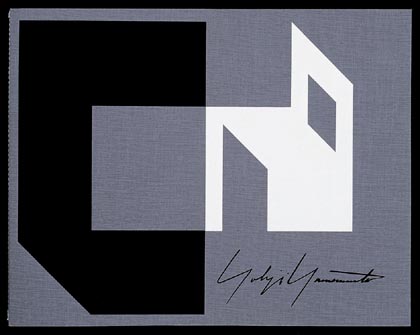 Muller and Hess: The love/hate relationship with typographic tradition is the engine of this work. The application of predetermined systems to complex design environments, and the consequent joy in "found" or "accidental" results is very spirited despite the initial sense of austerity and reserve. All their work is intelligent and communicative. The recycling and overprinting of student leaflets and administrators business cards is a wonderfully efficient and poignant way of stressing how time passes and change occurs. Their final result is a graveyard of ink describing a very human sense of time, change and impermanence. The modus operandi of over-printing becomes a ritualistic mantra which resonates against the formal structures inherent in the typographic composition.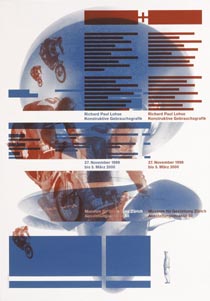 Mevis and Van Dursten: Again I was struck by intelligence and brevity. They excel in the process of editorial readjustment, taking delight in the journey itself as well as the destination. On display here were cinematic books that seem to obsessively catalogue and digest ephemera, always seeking the story as a means of explaining something. They probe the relationship between author/designer and audience deftly and assuredly, seeking to create meaning from isolated fragments of experience.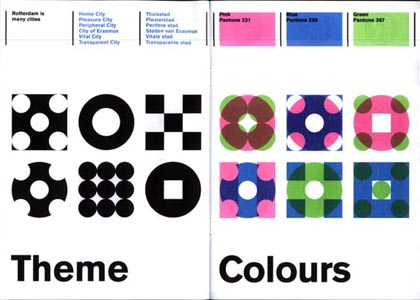 The exhibition doesn't begin to do justice to the range and depth of thought presented in the book. At the heart of the work is a debate between modernism and post-modernism whereby the new recognises the value of the old and builds upon it rather than seeking to destroy. Postmodernism is seen as a peaceful insurrection, rather than a revolution and I'm perfectly comfortable with this idea. The principle theme is that all of this work is the result of "systems based" process and editorial choice and it deals with this without getting caught up in any trivial discussions of analogue vs digital techniques which is refreshing.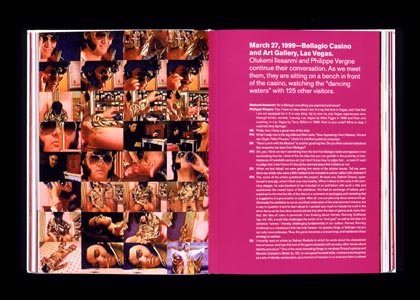 The authors seeks to constrain the unconstrainable by introducing three categories of the Post-Modern response to infinite choice. Code, Generic and Deconstruction are thought provoking and useable structures through which to analyse current trends in visual expression in interactive, transmitted and printed modes. They wisely acknowledge the breakdown in distinctions between the disciplines of typography, graphic design, photography, and illustration. That if anything is the nature of the postmodern condition for the current design-scene. The semantic limitations of critical language are ruthlessly exposed by these artists and they know it. Above all, in all the work, I felt a strong sense of humour. These artists have confronted choice and limitation and found a strange anarchic sense of joy in the provocative contradictions they face.
EXHIBITION: DESIGN NOW – GRAPHICS
Date : 21st June to 27th October, 2002
Open: 10.00-17.45 Daily, Last admission at 17.15
Tickets: Adults 6.00 pounds , Concessions 4.00 pounds, Family Ticket 16.00 pounds
Place : At Design Museum
Address : 28 Shad Thames
London SE1 2YD
England
Tel: +44 (0) 20 7940 8790
groups@designmuseum.org
http://www.designmuseum.org
Text and Photos: Alistair Beattie from Me Company
[Help wanted]
Inviting volunteer staff / pro bono for contribution and translation. Please
e-mail
to us.