LONDON & BRIGHTON GUIDE – DVD
The UK is a country where many creators' talents have bloomed and they enthusiastically have been expanding their artistic fields. You might be one who has been inspired by its creativity. In this DVD, famous British creators Tomato and Red Design introduce the city of London and Brighton from their point of view.
I interviewed Mr Toru Hachiga, a producer of this DVD. Find out how he felt about London and Brighton as he went talking and walking with them.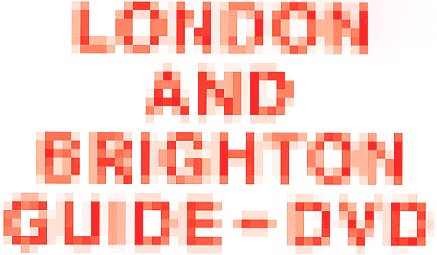 First of all, please introduce yourself.
After graduating from the university and working for "Piebooks", I had been writing, organising events and editing with the theme of designing. I started the magazine "+81" in 1997 and had been publishing this magazine as a chief editor until the 11th issue. However, questions and complains about this medium came up to me and they brought me to start a new project. I am doing this project at the moment.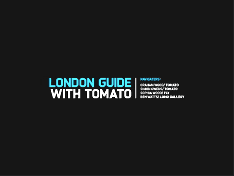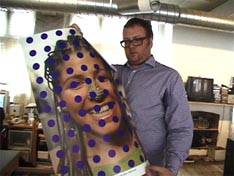 What made you produce this DVD?
I felt uncomfortable working in a print medium "+81" in various meanings. Also, I found a potential to an image medium with a new way of expression. So I made "a guide DVD", not "a guide BOOK".
What is the thing you wanted to do the most in this DVD?
I wanted to make something, which nobody has ever seen, in a DVD as a product package. Of course, I admit that not everything in this DVD is novel but I have not seen this type of DVD package before.
As a concept, I wanted to take a challenge of making this DVD interesting with a graphical added value in images. Not only just seeking the interesting aspect of image, but also I wanted to make a useful product package by adding various information. Basically, this is a documentary DVD. I may be able to look on this DVD as a nonfiction reality without a scenario.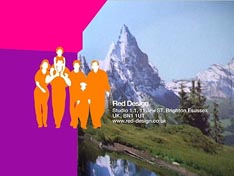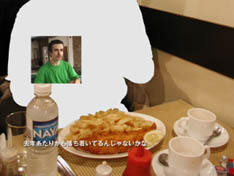 London is widely known as a noteworthy city. What leads you to look at Brighton as well?
Briefly, many interesting creators are living in Brighton or are working in Brighton as a base place. Also, I enjoyed relaxed atmosphere of this town last time I visited. The sunset view at the seaside was beautiful.
When I read your interview about "+81" in Shift before, I found you used the word "now" quite often and that was impressive for me. " 'What's the most interesting medium 'now'? In any design, 'now' is very important.' " If you think of this London & Brighton DVD according to this "now", what sort of "now" in London and Brighton you can see?
It can be said to all cities and towns in all over the world, but I cannot say that the city of London and Brighton are interesting only "now." I do not know specific things happened in these cities because I am not living there but I presume they used be interesting in the past and will be interesting in the future as well.
I think, however, that implies that people, who are living and working there, are interesting, not the city itself is interesting. As I mentioned before, this is just a thing that many interesting creators are living in Brighton and London or are working there. If they were living in a different city, I would feature that. Many interesting creators are also in Tokyo and Paris as others are in London and Brighton. So, I am now making "Paris Guide DVD" as a sequel. Paris is also one of the interesting cities for me.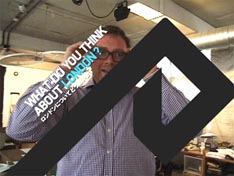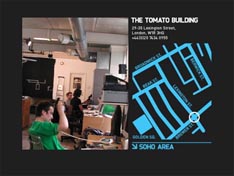 It is a good point that creators, who we could get to know only through their works, talk in front of a camera and introduce their studios and towns from their point of view in this DVD. Please tell us the things you felt after hanging around the town with them. Did you find something like a common point as British creators from them?
I enjoyed walking, talking or sometimes having a meal with them. I could see their daily aspects that I never felt from their works. All of the creators kindly took us around the town and they were cooperative. It was a valuable experience for me that Graham Wood shyly introduced Tomato building. I hope you can feel it in DVD, too.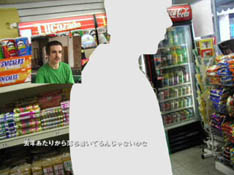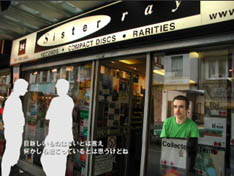 The reason why I thought this is not a usual town guide DVD is that I noticed I was attracted by the images with full of art tastes when I watching this DVD. Editing and art direction are especially unconventional. Who dealt with them? How did the image editing go on?
The contents of this DVD are divided into three parts. Power Graphixx was in charge of editing the part of "Tomato" and a/o was in charge of rest of them, "Red Design" and "Ben Sansbury". Both of teams are young and the most notable creators at the moment. Basically, I let them freely edit and direct each part and I checked the images and structures at each stage several times. However, both teams made interesting stuff and there was not necessity to make changes. In terms of the parts of Red Design, it was a hard task to decide which parts we select from more than 15 mini disc tapes (more than 15 hours long).
There is a mean that is different from TV and a methodology that works in something like a DVD that is not supposed to be on air. Shooting with one DV camera (sometimes two) and a low budget. We did not use pin microphones and gun microphones in this time. The staff were a cameraman, a translator and I.
The graphical approach was sometimes used in order to hide rough images and sounds. I think, however, this is a proof that the added value of graphics properly works in images as a design and this was the objective of this DVD. Making a usual documentary work is a piece of cake if you have got high quality images and sounds. However, when the images and sounds I have are not good ones, I think it is possible to express the interesting and enjoyable points of images with using a graphic editing.
Please pick up the difficult points and good points when you were making this DVD.
I admit that there are still green aspects in this DVD but it is made as the one that has not been made ever before. Graphical editing is also new that you have not seen in other works. However, the speed of consuming images is quick. Thus I think it will be a hard job to find out a new way of expressing and a different approach each time.
Please tell us your future plan.
I am making a sequel version of this, called DVD "Paris Guide DVD" at the moment. If possible, I would like to make "Paris Guide Book" with this DVD.
I personally would like to start projects with images + graphics from now on. I am thinking I can make a new expression by using the media, prints and DVDs separately or together so far. A new magazine is on the way to be published and it will sharply feature not only creators but also others. A bit big project is now dealing by autumn. Please look forward to it.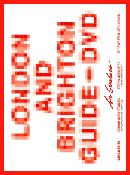 London and Brighton Guide – DVD
Specification: Approx 68 min, NTSC/Regional code is ALL
Price: 3,900yen (tax out)
Manufactured by Newsbase, inc
Text and Translation: Sachiko Kurashina
[Help wanted]
Inviting volunteer staff / pro bono for contribution and translation. Please
e-mail
to us.