PUBLIC INFORMATION SYMBOLS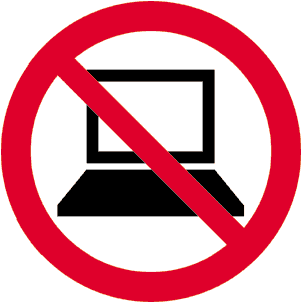 You might not be able to have a clear idea when you hear the word "the Public Information Symbols." The aim of making these symbols is to standardize the information symbols that are used in transports, sightseeing spots, sports facilities and other places. We can find "Do not use mobile phones", "Post", "Toilet" and others everywhere in town. However, they have not been standardized and you can notice a little difference of designs between each design. The meanings from these symbols are the same but why have not they been standardized until now?
This is because many of the information symbols in Japan are from the American Ministry of Transport. In addition, each company and public facility asked different designers to create new symbols, such as a mobile phone or an electronic device. In order to improve this state, The Public Information Symbols exam committee was founded in 2000 as a subsidy project of Japan Foundation. The symbols will be authorized by JIS (Japanese Standards Association) and 104 symbols will be enacted since the 22nd of March in this year. In public facilities, hotels, stadiums that will be used for World Cup, JR… these symbols will spread out many places. Moreover, they have been proposed to be the international standard and this issue has been dealt at ISO (International Organization for Standardization) at the moment.
These symbols are not only simple, but also easy to understand for everybody from children to adults. In terms of these points, they are much better than texts. These symbols might need to be improved and unified to satisfy people's needs and to follow the society's changes. They are simple but the best visual language to tell accurate information.
Download the Public Information Symbols here.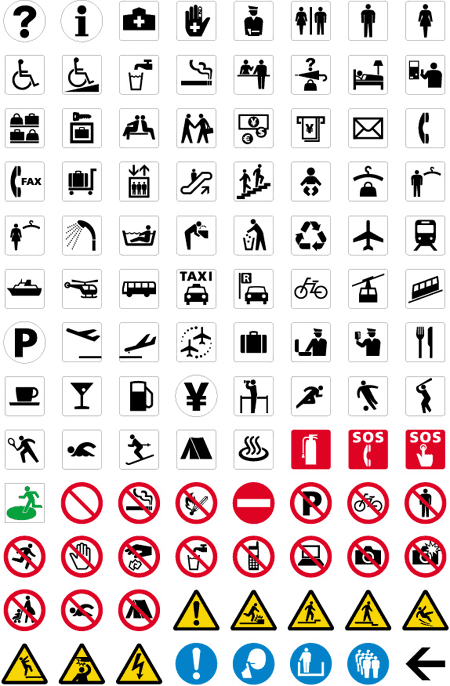 From left on the top: Question & answer, Information, Hospital, First aid, Police, Toilets, Men, Women, Accessible facility, Accessible slope, Drinking water, Smoking area, Check-in/Reception, Lost and found, Hotel/Accommodation, Tickets/Fare adjustment, Baggage storage, Coin lockers, Lounge/Waiting room, Meeting point, Bank, money exchange, Cash service, Post, Telephone, Fax, Cart, Elevator, Escalator, Stairs, Nursery, Cloakroom, Dressing room, Dressing room (women), Shower, Bath, Water fountain, Trash box, Collection facility for the recycling products, Aircraft/Airport, Railway/Railway station, Ship/Ferry/Port, Helicopter/Heliport, Bus/Bus stop, Taxi/Taxi stop, Rent a car, Bicycle, Cable car, Cable railway, Parking, Departures, Arrivals, Connecting flights, Baggage claim, Customs/Baggage check, Immigration/Quarantine/Inspection, Restaurant, Coffee shop, Bar, Gasoline station, Cashier, View point, Athletic stadium, Football stadium, Baseball stadium, Tennis court, Swimming place, Ski ground, Camp site, Hot spring, Fire extinguisher, Emergency telephone, Emergency call button, Safety evacuation area, General prohibition, No smoking, No open flame, No entry, No parking, No bicycle, No admittance, Do not rush, Do not touch, Do not throw rubbish, Not drinking water, Do not use mobile phones, Do not use electronic devices, Do not take photographs, Do not take flash photographs, Do not use prams, No swimming, No camping, General caution, Caution/Obstacles, Caution/Uneven access/up, Caution/Uneven access/down, Caution/Slippery surface, Caution/Drop, Caution/Overhead, Caution/Electricity, General mandatory, Quiet please, Please stand on the left, Line up in twos, Directional arrow
You can check the way of the symbol indication here.
Text: Satoshi Ota from Ponchi Design
Translation: Sachiko Kurashina
[Help wanted]
Inviting volunteer staff / pro bono for contribution and translation. Please
e-mail
to us.