The cover of this month was designed by Ten, (who used be a member of Delaware) based in Tokyo. He has been expanding his unique world in designing CDs and record sleeves, magazines, webs, etc using dots/pixels. His style makes us feel the modernity of Japanese taste. What is he looking forward to while doing the Ten-style?

Please introduce yourself.
I am Ten from ten_do_ten. I was born in Osaka and went to a kindergarten once a week only. I graduated from Musashino Art University and am living in Harajuku, Tokyo. I love Plastics and chewing gum. I am a crazy, bitmapped designer. CBND for short!?
You used to belong to Delaware. What was the starting point to working in that group?
It was about eight years ago when I was working at Saru Brunei at a part-time job. When I was dancing and singing like the Ramones, the members of Delaware found it funny and we became friends. At that time I started to work with them.

What sort of activities were you doing in Delaware?
I had a hope about a band. That band is the one that has got style, which is able to accept any mannerism, like Ramones, Plastics, Motown, Bill Evans Trio or DJ performance of Larry Leavan who has a cool "one and only" format style.
My main objects, while I was in Delaware for six years, were how to find such a "one format rock = one format design" and how to make the members understand that format. As a result, they thought that I am stubborn and made fun of me! I was responsible for art direction and designing. I was also a vocalist and a guitarist (but I can't play, laugh). I made songs, too (but not so many).
Please tell us the current projects you are doing.
– Weekly release of ten_do.
– Recording of ten_do.
– Monthly release of "Eri's Hidden Fashion Report" in a magazine called "Olive" and recording with Eri, the ex-member of Hajime Tachibana and Low Powers!
– Direction to NTT Docomo and Art Award poster.
– Illustrations for Gakken and Hanamaru Kids picture books
– Designing for College Chart Japan and CD sleeves.
– Animation support for so-net and monchat.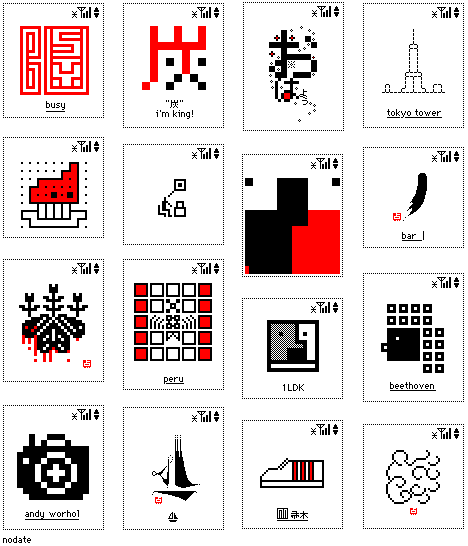 Why did you go back to the Art University after a job as a designer? Was anything changed by studying at the university?
Mmm… I was studying as I was working, so I graduated from the university after I got a job. I made many good friends in the university but I didn't feel I was absorbing something from the university. This is because I found it difficult to have an interest in the subjects that the university provided.
Many of your designs are based on dots/pixels as we can see from your name Ten (ten means dots). How did you get to the designs with dots/pixels? Please give us the reason why you stick with them.
This is because the monitor is shown with dots/pixels. But this is not a good answer. So if I give you a serious one, because I think the graphic design until now had been developed in order to be printed in papers, hadn't it? In spite of mobile terminals and computer screens have been spread out so much, there was a trend that everybody tried to design with the design aesthetic, which was used in the paper time, to the monitors. It doesn't mean that the rotrings are unnecessary anymore. It means the rotrings cannot draw lines in monitors! Therefore, I believed that something like a new design to monitors would appear in the future. When I look around, I can easily find many designers who design dots/pixels now. I think this trend has taken a firm hold as a movement!
I want to be an originator with the name of Ten because I design pixels. Ten is originally my nickname, actually.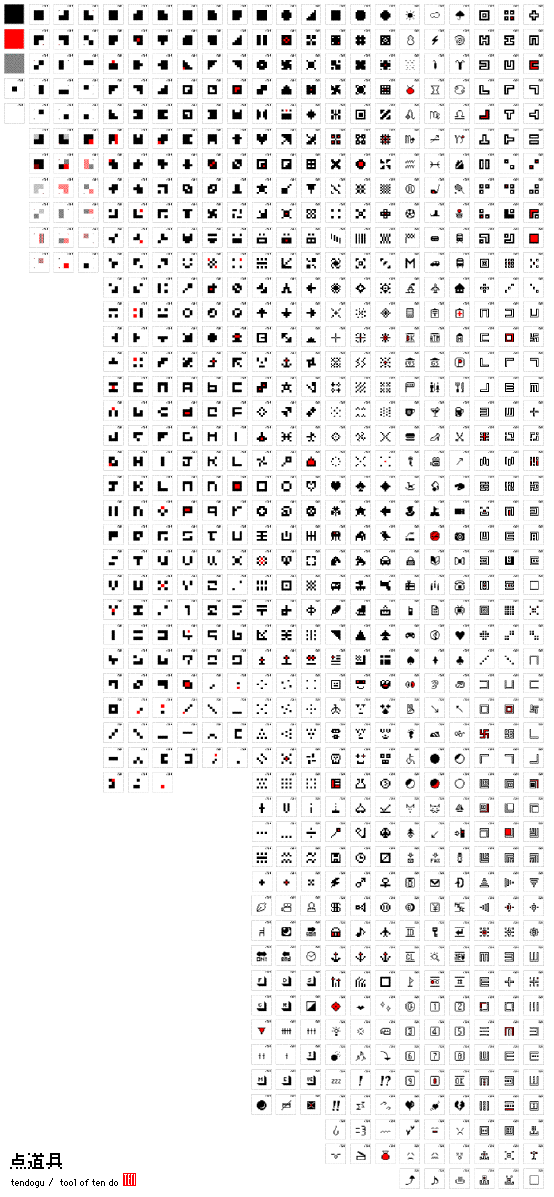 Why do you design only three colours, red, black and white?
These three colours are limited but in other words, I can do unlimited things with them. Also, don't you feel a domestic sense from them? However, I want to design these three colours universally! Sometimes I use other colours. There are no restrictions about that.
Please tell us the difficult points when you designed the official picture language for the mobile phone company Docomo. What sort of things were you careful about?
Mmm? I didn't design them for Docomo, actually…. If I could design for them, it would be very cool. Please let me design, Docomo! J-PHONE!
Can you imagine the graphics that can be made 1×1, 2×2 and 3×3 pixels? When I was in Delaware, I presented my graphics and English fonts with 5×5 pixels as FONT-ARTOON. After that, I continued to design many things with 7×7, 8×8, 12×12, 15×15…, I produced many graphics that are like Docomo's picture language. Afterwards, I thought I want to try to produce graphics with them. They are the newest merry graphic elements that everybody loves!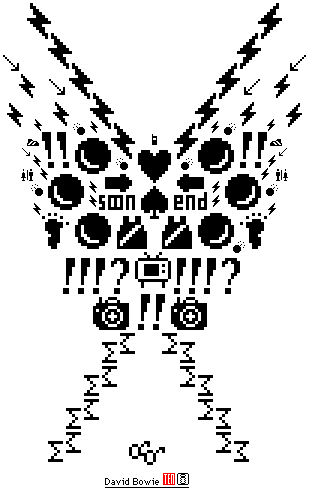 What did you imagine when you designed the cover for SHIFT?
The image that a family crests is great? The image that the Rin school is cool? The image that the cover is recycle? The image that Eri's voice is cool? I designed this cover with these images.
You are taking part in musical activity. What is the difference between this activity and designing? What is the common point of them?
Music also has got the aspect of designing (It doesn't implies the sleeves. The music of Kraftwerk has been designed, hasn't it?) and I have been influenced by Kraftwerk's way of designing the best. I design something with this influence. It is a common thing that both designing and music are considered to find philosophy. I feel the reason, which the power of current music is getting down, is lack of new philosophy. Thus I cannot get the power from the current music.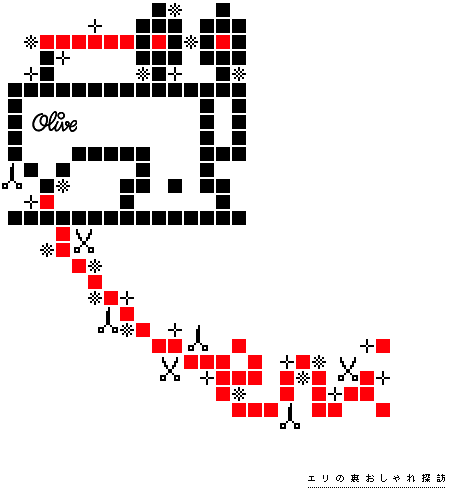 Please tell us your future projects.
I think I have done everything with the style of keeping a simple format firmly in Delaware. Simple means after all modern and modern sets consuming as a premise, doesn't it? I have doubts about this style very much! This is because there are already Kraftwerk and Lichtenstein!
Not only simple, but also I feel I am against consuming with the unlimited variations and many kinds. So I feel like devoted to producing graphics! Of course, this is within I can make my living. In order to do this, pixels, webs and mobiles are my best partners! Also, I really like folkroar and domestic things now. So I would like to keep on going Ten way with my feeling that I feel each time.
Please leave a message for the SHIFT readers.
Please keep on designing your own designs as well as keeping on going your way.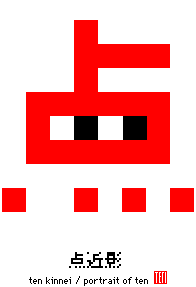 TEN
ten@tententen.net
http://www.tententen.net
Text and Translation: Sachiko Kurashina
[Help wanted]
Inviting volunteer staff / pro bono for contribution and translation. Please
e-mail
to us.