After having established its reputation as guide to the weird and wonderful world of contemporary design, the berlin-based graphic design e-zine Designershock now has brought out their first book, published by "Die Gestalten", Germany's foremost design publishing house. Not only their extravagant optics, also the numerous interviews and features with the most prominent players of the international design community have made the e-zine one of the leading reviews of experimental electronic experiences on the internet.
DSOS1 is a manual, anthology and key to an internet world in one. 80 fonts and 4 especially written programs speak for themselves.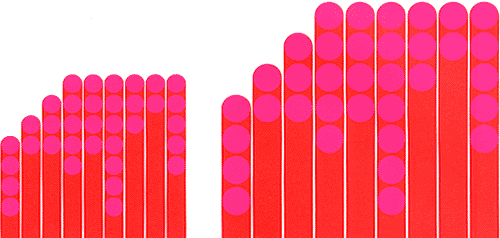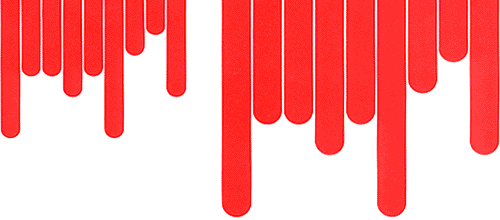 Please tell us who you are.
Designershock (DS) is the name of an open-ended design project based in various Berlin living rooms. There is a core team of three, periodically augmented by friends and enemies. The three DEEES are Stefan Gandl, Rob Meek and Birte Ludwig.
Tell us how Designershock started.
DS is a label which we three started in late 1999. It quickly developed into a brand for international web-based experiments. For the three of us it's an experimental platform which allows us to work without the limitations of any unified philosophy.
DS is like being in a band. Somehow the process of making DSOS1 was a bit like that used by the Beatles' when they made the White Album. The recording for our album started on January 3rd, 2001 and lasted till August 28th, 2001. During this period the three of us worked separately on ideas and "tracks" at different locations. The studio was the only meeting point where everything was collected and discussed. Sometimes one persons' basic track was left to be finished by the others; sometimes the final track was worked out together. A lot of work didn't survive this process.
Apart from rare public performances (eg: Centre Pompidou/Paris in April 2001) "DS" only actually existed as a unit during the irregular and short recording sessions. At the end of the 8 months we ended up with four unique DS software tools, 80 DS fonts, and another 178 original DS decoration facilities to be downloaded onto the user's workstation. Many of the DS fonts are integrated into games which need to be won in order to download the font files. DSOS1 is a good example for how we work together, combining our strengths without giving up our own individual identities.
The DSOS1 project gave us the opportunity to show the diversity which exists within the collective in both print and digital media.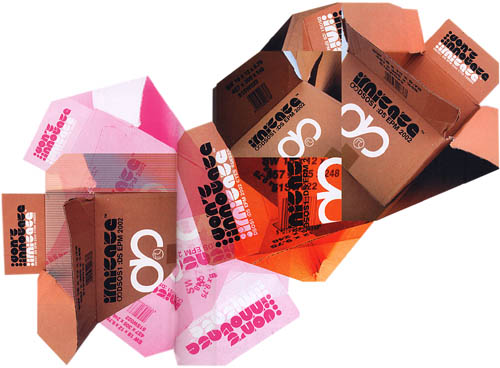 Built systematically using simple geometrical forms. As simple as the motto "Don't innovate: imitate!" What more can you say?
You are a young magazine, but your style and the contacts you have look very proficient. How did you get your contacts in the first place?
Stefan: DS is very very young. DS1 came out in April 2000. There will be a total of four issues, three of which are already complete. The handbook called DSOS1 was developed parallel to that. In the online issues we try to introduce interesting, sometimes contradictory, contributions in the form of interviews and new work. The contacts happen because of mutual interest and usually take place virtually – just like the contact between Shift and DS.
Tell us more about the manual, please.
Rob: The manual is a guide to an imaginary operating system. The website is an emulation of this OS. In the manual the user will find incoherent elements of system and narrative, as well as some pragmatic advice.
Stefan: The book also functions as a snapshot of what we've been working on and what we've completed in the last few months. In some cases it's the final stage in something which won't be pursued any further, in others it could be the start of something new. DSOS1 is currently the only legitimate and material supplement to what's suggested by DS online and the only authorised answer to possible questions about DS. The basic layout is based on the european version of the Letraset catalogue from 1990/91. The cover is made of PVC and can be used as a mousepad.
What exactly are these four programs called DS-tools?
Rob: The DS Electronic Workmates (EWM) are emulations of analogue design synthesizers. They are all based on the look and functionality of the 'Modulated Esoteric Etype Kreator' (MEEK), an infamous typographical synth. By manipulating arrays of dials and switches the user can use the EWM to create typefaces, cd covers, wallpapers and flyers.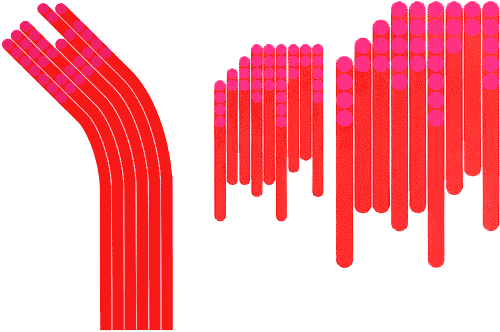 Left: Machines should not always be designed to meet human needs. Sometimes its more fun to fabricate a modular desire, rather than simply satisfying it. Software is exciting when ti reveals possibilitites which were unforessen by its programmers, and when users transform themselves as well as their work through its use.
Right: To ensure a 100% DSOS1 feeling, a range of enviromental assistants in the form of wallpapers and screensavers were developed. Some of the products presented on the following catalouge pages are to be found on the CD-Rom, the others can be downloaded at your leisure from the DSOS1 online library.
How did you get the idea of doing a media connecting thing?
Stefan: The basic idea is not a new one. As the title suggests, the theme is an operating system. In comparison to the many well-known and boring Book-CD crossovers and Browser-Print compilations, the OS-manual model provided us with a template for a genuinely useful supplement to a digital product. In DSOS1 the creative possibilities of the print and online media compliment and extend each other. The relationship is analogous to that between a piece of application software and its instruction handbook.
While the reader uses the DSOS1 online emulation, they are transforming the printed manual. Every DSOS1 mousepad cover experiences a unique process of change – the reader writes a little history in scratches and trails of dirt.
The development from DS to DSOS1 is simple and homogenous. It's a logical step from web to print and back again.
Are you content with the outcome or did you expect other things?
Rob: I am content. I expect the spasms of embarassment will kick-in later.
Stefan: To be honest, I can't stand anything once I've finished it. With DSOS1 it's no different. Given the chance, I would do everything completly different. I guess this is normal. During the process of a project one always develops fresh ideas, which, in turn, make completely new solutions possible. This is probably the reason why I'm always starting new projects.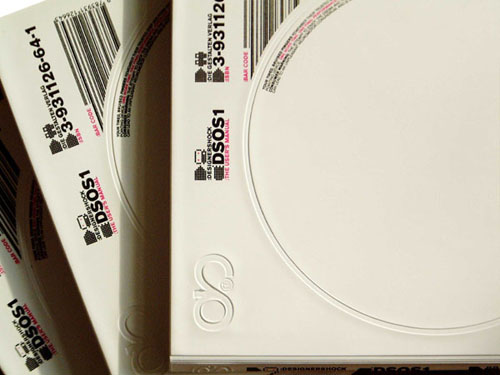 Does the world need a book that acts as an entrance to a website?
Stefan: ABSOLUTELY – When it comes with a mouspad-cover!
Rob: It is common practice to deliver documents with electronic products. It's a predictable marriage of the material and immaterial. The manual should be the warm, tactile and predictably stable counterpart to the cold and fragile online creation. On a practical level we can extend and amend the book at will using the website. The delivery of the DS Booter access tool with the book is also a convenient way to guarantee exclusive access to our readers.
How many of you made the book and who are they?
Rob: The original idea for the project, and the overall design for print and web is from Stefan. Concept and text is from all three of us. There was a rough division of responsibility for the three main chapters in the book: I was responsible for the EWMs (Electronic Workmates), Stefan for the EPMs (Electronic Playmates) and Birte for the EDMs (Electronic Decomates), But there was also a lot of cross-fertilisation. Apart from the three of us in the core team, we had help from three programmers in making the website. These were Michael Kuphal who programmed many of the EPM font games as well as the start page; Christoph Schuster who did the cgi programming, server administration and most of the DS Booter programming; and Mike Kelly who programmed an EPM.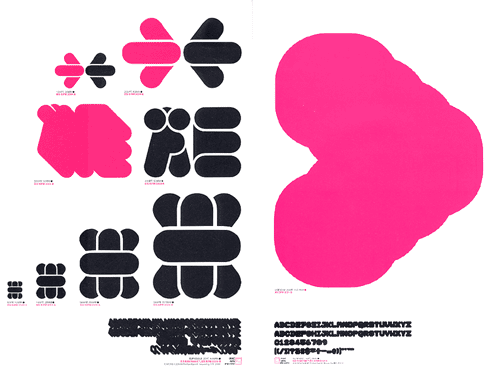 Left: Despite its apparent formal reference to the 70s, DS Bees possesses its own autonomous and contemporary character. More than anything, it is the well-balanced curves which lend it its selfassured demeanour. The complimentary 3D-typeface DS BSWax excites with its diverse, little recesses and corners, and is reminiscent of sticky bees-wax
Right: DS Ticket was originally developed for the DD Boarding Pass. These passes can be filled out quickly using a laser printer. The peculiar shapes of this font are intended to produce an effect similar to that of "needle" printing. DS Ticket works particularly well at small point sizes. Its available at DSOS1.com for the first time as a free download.
Who is developing the fonts (80!)?
Actually the book offers a selection of our own favourite 80 DS fonts. We started the DSOS project with 30 fonts and ended up with 100. It is a big pleasure to share them with the rest of the world now.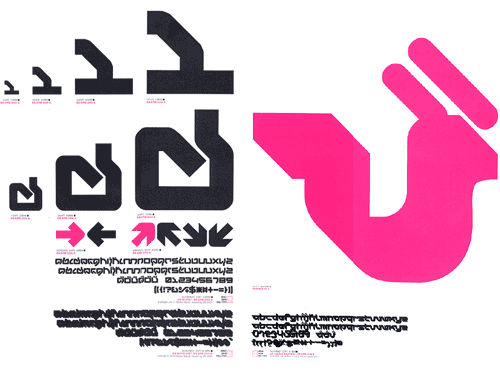 Left: The obscure charme of this typeface is espacially obvious when its used for copytext. In headlines it makes a hand-drawn, brush-like impression, despite its very geometrical character. DS Mufdi3D on the other hand seems almost technoid, stretching the font's outlandish forms into abstraction.
Right: Relaxational exercise. DS Yogasan gives a clear, south asian inflection to any copy text written in latin alphabets. Just like the practice of Yoga itself, the typeface channels energy through the entire body of the text . The lateral connection strokes allow this energy to flow unhindered from letter to letter.
"Die Gestalten", your publisher, is one of the publishing houses most en vogue at the moment. How did you get to work with them?
Stefan: We have known each other since I moved from Vienna to Berlin in 1996. They were kind enough to feature pieces of my work in various publications over the years. In summer last year Hendrik Hellige and Robert Klanten from die Gestalten Verlag came up with the idea of making a book and asked me if i would be interested – and I was. Very.
On your website, there are different games. In one, you have to rescue the rainforest to be able to create your own fonts. Do you think interactive playthings are able to save the planet?
Rob: Real world references seem to creep into DS work. I like this a lot. I think it saves us.
Stefan: The purpose of such work is to provoke such questions.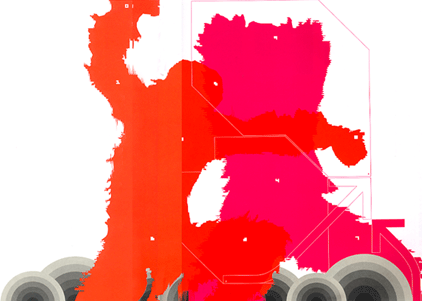 The fabulous opening sequence of Stanley Kubrik's "A Space Odyssey" inspired this illustration for the DS-remix of the font Permutation 9. Self-imposed limitation, and the systematic pursuit of arbitrary rules in the form of a simple and strict matrix, have always been wonderful stimuli, and can lead to extraordinary results.
Is the trend to have a lot of gimmicks and gadgets, that developed recently in graphic design due to the interactive possibilities of Flash and other programs a means for you to create real communication?
Rob: It's at an early stage. A lot of such work, including that from DS, is fundamentally about play and experiment. Everyone is learning. The possibility of designing the process of interaction, not just between people and machines, but also between individuals is very interesting.
Stefan: The DS Electronic Flyer Generator is a perfect example to create real communication and a perfect answer to your question.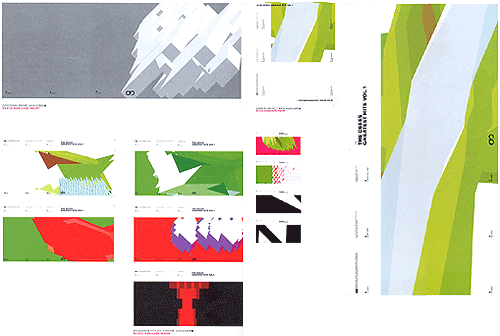 Classic, north-american, jazz-sleeve design, particularily those from Prestige in-house designers Miles and Hannan, were an important influence on the development of the DS ECG. The combination of robust, clear typography with a complexer illustration element was built into the layout of this tool.
What interests you the most in contemporary graphic design?
Rob: Antidotes to surfeits of eye candy. Whatever Stefan and Birte are going to do next.
Stefan: DON'T INNOVATE. IMITATE.
What are your current projects apart from Designershock and DSOS1?
Stefan: Doing interviews.
What are your plans for the future?
Stefan: Finding a small office to put our stuff in.
Rob: We need a modem upgrade and a proper studio.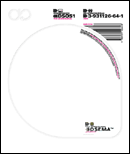 DSOS1: The User's Manual
[Booklet 240x280mm, 176P, CD-Rom including 80 fonts, 10 games, 25 screensaver, 55 wallpaper and 98 icons etc.]
Published by Die Gestalten Verlag Berlin
ISBN 3-931126-64-1
http://www.dsos1.com
idonthaveabooter@dsos1.com


Designershock
Grimmstrasse 27, 10967 Berlin, Germany
Tel: +49-30-695-9660
Fax: +49-30-696-96612
http://www.designershock.com
info@designershock.com
Text: Joerg Radehaus
[Help wanted]
Inviting volunteer staff / pro bono for contribution and translation. Please
e-mail
to us.