Have you seen the pictures on BS-i? Dave Spector dancing a strange dance, an alien from planet Magumagu and Takao Osawa in a nonsense SF drama directed by a well-known CF director Gen Sekiguchi, a group in black masks with a high-tension techno sound composed by Suguru Takeuchi….. A TV program entitled 'Burst the Earth' broadcast at the end of last year has been talked about everywhere. It's said that the information of the program is available on 'Bakuha.com'… To reveal the truth, we interviewed the planning/general producer Wataru Furuta.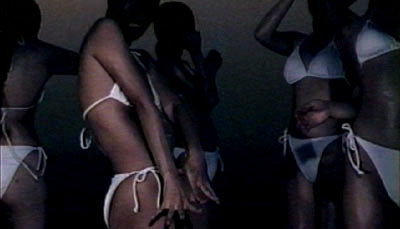 First of all, please introduce yourself.
Wataru Furuta, born in 1971. I'm working as a producer. I graduated from a university in Canada. After I came back to Japan, I started working with CSK Inc., at the sales, sales promotion and publicity departments. When I found that 'seems it's much more interesting to work at the real scene rather then client!', I left the company and joined Futurepirates Inc.
Please tell us about Futurepirates Inc. What kind of projects/works are you doing there?
Well, "We Futurepirates produced many things including a virtual network communication 'Franky Online', a TV program 'Creators Elements', web site of Sanwa Bank and TV commercials of Adachi Educational Foundation Group. In early 2000, we produced a precooked Chinese cup noodles entitled 'Indo-men (indie noodle)' in cooperation with Toyo Suisan and Mitsui&Co., ltd. The noodle itself was selected by vote on the Internet and the package was designed by Ichiro Tanida and Hiro Sugiyama. It was a kind of unprecedented project and though it was sold only at convenience stores without any TV commercials, it had a great success to sell out one million pieces.
In the latter half of 2000, we did planning/producing a special TV program, 'Burst the Earth', in commemoration of the opening of BS Digital TV station 'BS-i'.
Futurepirates is a group of producers and each staff is doing different work. Now I'm in charge of TV and film. There are some staff doing a job for Ministry of Economy, Trade and Industry.
Please introduce each of the 5 stories of Burst the Earth.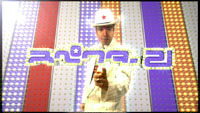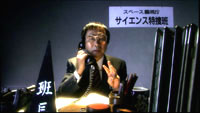 'Spector 21' directed by Hideyuki Tanaka (starring: Dave Spector, Pierre Taki, Senri Yamazaki, Prof. Otsuki, Kiyoshi Beat, Shie Kohinata and others)
The future TV shopping program entitled 'Spector 21' has the lowest audience rating because it deals in worthless items like Space kitchen knife, Space crab and Space scourer. The MC Dave Spector's jokes are really boring and both the producer and director are worried about how to raise the audience rating. At last, the director came up with the idea of removing Dave from his position as MC. One day, the MC Dave looks strange and suddenly he starts dancing a strange dance while being on the air! Dave keeps dancing and dancing, and makes everyone confused. But the program achieved a sudden rise in both audience rating and sales since that day!
There is an alien (Pierre Taki) seeing Dave's strange dance on TV and analyzing his motion. Dave is being controlled by an alien! And what's the purpose of the alien? It's a deep drama that mixes Science Fiction, love story and gag.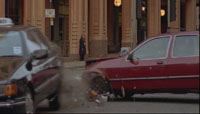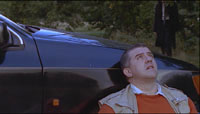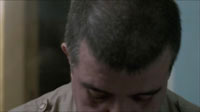 'Passenger on Board' directed by Simon Taylor from Tomato. (Starring : John Linsley, Anton Saunders and others)
London in the evening. In a park filled with silence despite being located in the middle of downtown, a taxi driver is listening attentively to fairy tales through a radio-cassette recorder placed on the passenger seat while opening the door of the taxi. The 55-year-old driver is short-haired and swarthy developing a middle-aged spread. He is a typical yellow cab driver from the lower class. Listening to fairy tales and taking a look at sundown in a park is the one and only pleasure for the driver. One day a man in a black coat is standing next to the driver while he is listening attentively to fairly tales! The driver is surprised to see the man who suddenly appeared in front of him, but seeing tears are standing in his eyes, he feels a kind of peace of mind. Since the day, the man appears everyday when the driver is playing the cassette. No one knows who he is nor where he's from, but he sheds tears to listen to the fairly tales.
On another day the driver forgot to bring his cassette, the man doesn't appear. The driver cannot help looking for him in a forest and he finally finds him and sees a number of men wandering around him and the familiar voice of the cassette tape are heard from the man's mouth… In cloudy London, it's a heartwarming drama of the human and an alien, presented by the team who worked on the film 'Trainspotting'.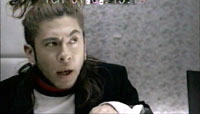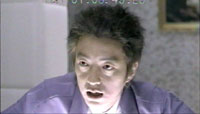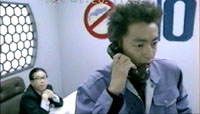 'Worst Contact' directed by Gen Sekiguchi (Starring : Takao Osawa, Jay West and others)
In a space colony in the near future. It's already been a long time since the existence of extraterrestrial life was confirmed, and now earthmen and aliens from the planet 'Magumagu' exchange the results of their research with each other. As an experiment to realize coexistence with aliens from the planet Magumagu, representatives from each planet live together in a colony. The leading character, Takemoto (Takao Osawa) was unfortunately chosen as one of the representatives and he has to live together with an alien from the planet Magumagu for one week. As he enters into the colony with his baggage, he sees Kerara, the alien from the planet Magumagu, already relaxing in the room.
Kerara : "Hello, my name is Kerara from the planet Magumagu. Nice to
meet you."
Takemoto : "Well….. Hi….. Nice to meet you too….."
Kerara looks just the same as the human. The only difference is the red eyes. Takemoto is bewildered to see Kerara casually talks to him just as a human. Then, suddenly Kerara hits Takemoto hard with a heavy stick!
It's a mix of each different common sense between an earthman and an alien. It's an unreasonable world directed by Gen Sekiguchi based on the original novel by Yasutaka Tsutsui.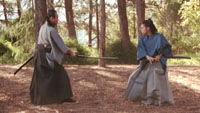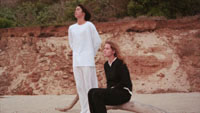 'Eternal Life' directed by Frank Sacrament (Starring : Yoshuke Kubozuka
and others)
In Los Angeles, America. On the shore. Sarah, greatly shocked by the death of her mother, is wandering about the seashore. There's no energy to live in her eyes. This seashore is where she and her mother used to have a good time together. Sarah is wearing a vacant look with a bottle of hypnotics in her hand.
She consumes lots of pills. Then a gentle voice of a young man reaches to her head. 'Do you want to die?' Before she is aware of it, a mysterious young man Aria (Yoshuke Kubozuka) is standing beside Sarah. Aria leads Sarah by the hand into the mysterious light. When she got used to the bright glaring light, she sees a samurai (Japanese warrior) and a Japanese woman. They are running away desperately along a mountain path. Aria is a reincarnation of the samurai. And is Sarah a reincarnation of the Japanese woman? Suddenly the samurai is attacked by someone and the lady tries to protect him.
Aria takes Sarah to another world. It's in wartime and there's a woman who encourages an injured patient. Is Sarah a reincarnation of the woman too? The injured patient is Aria.
Sarah is shown women who look like herself by Aria. What does Aria try to tell her? The moment she is aware of it, Aria has already disappeared.
It's a fantastic world created by a director of Hollywood MTV and Yosuke Kubozuka who is becoming very popular for his mysterious attraction.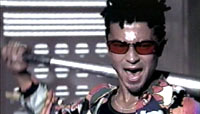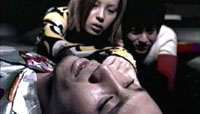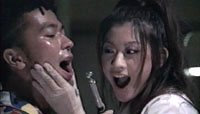 'Bakuha dotcom' directed by Suguru Takeuchi (Starring : Shinji Takeda, Ryoko Shibohara, Kee, Takashi Kashiwabara and others)
In Tokyo. Pee (Shinji Takeda) is misunderstanding that he killed one of his friends. He tries to hide the dead body, but it's somehow passed into the Mafia's hands by a series of misunderstandings. And for reasons it's finally passed into an alien's hands. The war between the Alien and the earthman breaks out?!
Characters with a great deal of personality from a mysterious and sexy mania for collecting medical appliances (Ryoko Shinohara) and a group of UFO lovers in a sexy bikini to the Mafia and aliens are jumbled together in the street of Tokyo. It's an action/speed Science Fiction movie. The original work by a cartoonist Atsushi Kaneko is flavored with a super hi-tension techno music into an unprecedented drama. It cannot be called a drama, it's just a visual. I hope you to see this visual on a large screen dancing with a loud sound.
How did you start this project?
Sanae Suzuki, the producer of BS-i, approached us to do this project by getting the information that 'there's one strange guy who dares to do a drama with a unique concept'. My initial idea was to do a serial drama every week, but she said me to do it as a two-hour special program. It sounded perfect for me and I started to do it.
What's the concept of this project?
To create something I myself want to see. Personally, it should be that something knocks me down. Sometimes we can encounter something knocks us down like Denki Groove's music video 'Polynesia', the opening sequence of Trainspotting, and commercial films of Nike. They all are really cool and I wanted to make a cool drama like them. I think a drama can be cooler than a film. It's because I came up with the idea of this project. We also have the odds in our favor against the direction, technique and business, so we went forward with the project.
What was hard for you?
The thing is that the broadcasting standard was 'Digital Highvision'. It made us worried very much. No one knew about what HD was at the beginning. To create Highvision images that have six times as much information as the TV format now in use, everything from shooting to editing and recording should have been changed. Also, the setting, make-up and lighting should have been clear since the images were clearer than in normal TV format. To make matters worse, the machine environment has not been ready yet and there wasn't enough editing rooms for us.
All the staff, including directors, went to the office of Matsushita Electric Industrial Co. Ltd, to learn how to produce images for HD. We've studied everything about HD including the concept and started producing the program through trial and error. Thanks to those hard processes, now we have absolute confidence in ourselves of 'producing images in high resolution'.
What was good and impressive for you?
Everything that was hard for us became something we can feel good about. The know-how to produce pictures on Digital Highvision can be applied to a film, so I think we can make a film while making an effective use of the budget.
All the production processes were impressive for me, so it's tough to mention what was specially impressive, but the encounters with the staff, casts and those who were involved in this piece were really impressive. Everyone was positive and I could feel their pureness, spirit and energy to try to create something good.
And I don't know if I should have to say like this, but I'm sure that 'Japanese creativity is just great!'.
At present, 'Burst the Earth' is broadcasted only on a limited medium as BS channel. Do you have any plans to show it at some film festivals or to release it as a DVD?
I really want many people to see this piece. So it'll be rebroadcasted on BS many times. I also want to release it at theaters and as a DVD.
We've already got offers from some companies and maybe it'll be realized sometime soon.
I'm also thinking to show it at some film festivals. It has unexpectedly got a great reputation overseas and we all are surprised at the reaction.
What do you think about the possibility of BS digital? Do you think it has much more possibilities rather than surface broadcasting? Also, how do you think you'll be involved in it?
BS digital broadcasting has a power just like the late-night programs of the surface broadcasting a little while ago. In a few years, lots of unique and interesting content might be created for BS digital broadcasting.
Now I'm working on a new project for BS digital.
How about other projects? Do you have any plans for the near future?
'Burst the Earth' has got a great reputation, so we're now thinking to do a second edition. It'll be presented by splendid casts and staffs. At the same time, a new project has been just started. What I can say at the moment is it's a long film and it's developed in London. There's another ongoing project too and it will be longer or a serial drama. At the moment, there are three different projects going. Further information will be available on 'Bakuha.com' soon, so please be looking forward to it!! On the web site, there's one project that you might be able to get a present, so be sure to check it out!
Burst the Earth
http://www.bakuha.com
Interview and Text: Taketo Oguchi
Translation: Mayumi Kaneko
[Help wanted]
Inviting volunteer staff / pro bono for contribution and translation. Please
e-mail
to us.