Have you seen the pictures on BS-i? Dave Spector dancing a strange dance, an alien from planet Magumagu and Takao Osawa in a nonsense SF drama directed by a well-known CF director Gen Sekiguchi, a group in black masks with a high-tension techno sound composed by Suguru Takeuchi… A TV program entitled 'Burst the Earth' broadcast at the end of last year has been talked about everywhere. It's said that the information of the program is available on 'Bakuha.com'… To reveal the truth, we interviewed the planning/general producer Wataru Furuta.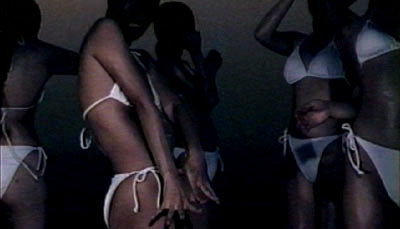 First of all, please introduce yourself.
Wataru Furuta, born in 1971. I'm working as a producer. I graduated from a university in Canada. After I came back to Japan, I started working with CSK Inc., at the sales, sales promotion and publicity departments. When I found that 'seems it's much more interesting to work at the real scene rather then client!', I left the company and joined Futurepirates Inc.
Please tell us about Futurepirates Inc. What kind of projects/works are you doing there?
Well, We Futurepirates produced many things including a virtual network communication 'Franky Online', a TV program 'Creators Elements', web site of Sanwa Bank and TV commercials of Adachi Educational Foundation Group. In early 2000, we produced a precooked Chinese cup noodles entitled 'Indo-men (indie noodle)' in cooperation with Toyo Suisan and Mitsui&Co., ltd. The noodle itself was selected by vote on the Internet and the package was designed by Ichiro Tanida and Hiro Sugiyama. It was a kind of unprecedented project and though it was sold only at convenience stores without any TV commercials, it had a great success to sell out one million pieces. In the latter half of 2000, we did planning/producing a special TV program, 'Burst the Earth', in commemoration of the opening of BS Digital TV station BS-i.
Futurepirates is a group of producers and each staff is doing different work. Now I'm in charge of TV and film. There are some staff doing a job for Ministry of Economy, Trade and Industry.
Please introduce each of the 5 stories of Burst the Earth.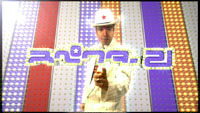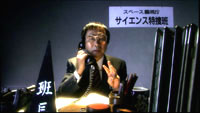 'Spector 21' Directed by Hideyuki Tanaka
Starring: Dave Spector, Pierre Taki, Senri Yamazaki, Prof. Otsuki, Kiyoshi Beat, Shie Kohinata and others
The future TV shopping program entitled 'Spector 21' has the lowest audience rating because it deals in worthless items like Space kitchen knife, Space crab and Space scourer. The MC Dave Spector's jokes are really boring and both the producer and director are worried about how to raise the audience rating.
At last, the director came up with the idea of removing Dave from his position as MC. One day, the MC Dave looks strange and suddenly he starts dancing a strange dance while being on the air! Dave keeps dancing and dancing, and makes everyone confused. But the program achieved a sudden rise in both audience rating and sales since that day!
There is an alien (Pierre Taki) seeing Dave's strange dance on TV and analyzing his motion. Dave is being controlled by an alien! And what's the purpose of the alien? It's a deep drama that mixes Science Fiction, love story and gag.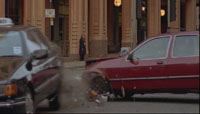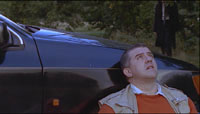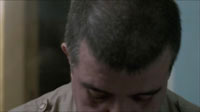 'Passenger on Board' Directed by Simon Taylor (Tomato)
Starring: John Linsley, Anton Saunders and others
London in the evening. In a park filled with silence despite being located in the middle of downtown, a taxi driver is listening attentively to fairy tales through a radio-cassette recorder placed on the passenger seat while opening the door of the taxi. The 55-year-old driver is short-haired and swarthy developing a middle-aged spread. He is a typical yellow cab driver from the lower class. Listening to fairy tales and taking a look at sundown in a park is the one and only pleasure for the driver. One day a man in a black coat is standing next to the driver while he is listening attentively to fairly tales! The driver is surprised to see the man who suddenly appeared in front of him, but seeing tears are standing in his eyes, he feels a kind of peace of mind. Since the day, the man appears everyday when the driver is playing the cassette. No one knows who he is nor where he's from, but he sheds tears to listen to the fairly tales.
On another day the driver forgot to bring his cassette, the man doesn't appear. The driver cannot help looking for him in a forest and he finally finds him and sees a number of men wandering around him and the familiar voice of the cassette tape are heard from the man's mouth… In cloudy London, it's a heartwarming drama of the human and an alien, presented by the team who worked on the film 'Trainspotting'.
Read more ...
[Help wanted]
Inviting volunteer staff / pro bono for contribution and translation. Please
e-mail
to us.