In a portion of Hamburg, where the people seem to be a little more into doing their own thing, there sitting slightly below street level, is a studio producing stuff that is distinctly german. Stuff like white cotton-ribbed t-shirts with the word KRAUT emblazoned across the front in red block letters. Stuff like black fuzzy hats where a light blue graphical hand-grenade sits in a circle of blue. It is this stuff, this mix of arty-cultural-wearables and other artifacts, and a blatant use of borderline images tied-in with words of the past, that make Maegde u. Knechte interesting.
The name has its roots in feudal germany. Maegde meaning the female serf and knechte meaning the male serf working for the kingdom. It is exactly this kind of playfulness with the german culture that sets Maegde u. Knechte apart from all the others. On an overcast saturday I sat down with Ina Kurz, poet, and C.L., product development, at the back of their studio/shop and put my broken german to the test, to find out what makes Maegde u. Knechte.
The following are excerpts from an interview with Ina Kurz.

About fashion…
The whole business with the fashion is at the moment changing. You have everything in the whole world at the same time, and nobody likes that. Nobody wants something that isn't unique anymore. That's why fashion is stressful and schrecklich.
The theme with fashion is an interesting theme, because people come-in and think we're a t-shirt shop and then there's people that come in and see that we aren't a t-shirt shop and see right-away the rest. But there's both.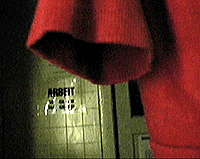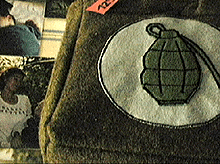 What's quite different is we have young mothers interested in the kids stuff we make and sell, because we have kids stuff that isn't anywhere else. There's always small kids stuff all over the place that is so dumb. So it's the mother that buys our stuff, but it's the grandmas that buy it too, women that are in their 50's. Then you have the people that are interested in art, and often advertising people. But not into their (advertisers) own thing, it must be light. Light, fast and tasty. I think we have something for everyone.
The advertisers are faster than the others (in picking-up new things) because they understand quicker or are closer than people from the suburbs and that's why I think we're a little bit more popular for the advertisers. But we don't have target audiences or anything. Not at all. We hardly even go out, never to parties. So I don't know what's up (in trends). We just make what's fun.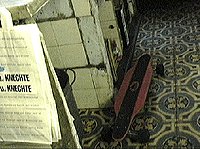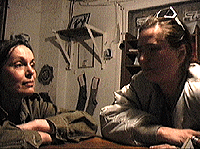 Taboo Motifs
We haven't had anyone angry about our stuff. Everything that the media presents about our stuff is positive. It's all positive. But we've had a problem with the people that actually do the stuff. They (the tank drivers) found the caps great but for the nuclear workers it just didn't work. But nuclear work is out. You just can't do it anymore and so we use the symbols, but the people don't understand it. The same goes for handgrenades. Handgrenades, tanks and nuclear reactors.
The extremists (right-wing and military fanatics)… They find our stuff dirty. They don't even see us. For them, we're in a basment (the studio), we're totally small. For them we're small, dirty and stupid. No, I think you have to look a bit to understand our stuff and they have other interests. They think about gold patches or green jackets. We're totally different, their hardware is programmed totally different. Totally. But no, we have't had any problems with them.
Studio not shop
We've been doing this for about a year. A bit more than a year in this form. We have a werkstatt behind this studio. There's new stuff everyday. New products to develop, whether it's bottled water or rubber boots, everyweek there's almost always something new. We make it in small issues. Sometimes only once or twice, and then its gone. And that's what the people like and what we like. Its original and that's why nobody can really copy our stuff. Because of this, it's not really interesting for a big firm to steal the ideas.
Idea
It's not just C.L. and I, there's Daniel, there's Niklas, and a lot of friends. The studio is just the two of us in a way, but we have an exchange and communication flow and through that what happens happens. We are two but with the rest our friends, we are a family. We all live here (on the same street). Totally tight together. It doesn't work with strangers.
Hamburg
At the moment we're packing our suitcases and are heading to New York with our stuff because there was an inquiry about our work. We would like to show our stuff and perhaps even sell some stuff. We don't have any desire to go to Berlin or any other German city to make a studio. It doesn't work that way. We didn't want to go (to New York) but we had someone interested so we're going over to see what's up. But when New York wants us then we'll go there. But it's not interesting for us to go to Berlin or Munich or any other big German city. What is there for another big city in Germany? There isn't any. Cologne?
Yeah, there we have a friend that is showing our stuff to the art scene. She took a palette of our work and is looking for a gallery for us. We think we must be in a gallery. More about culture and art. It might not look that way but in this direction, in art, we can bring something. Since we financed our studio here, we have to make stuff that we can sell. But through using art to show our stuff, like our friend in Cologne and other people that are doing stuff and/or are good at making a business, we think that's really good because they can do it easier.
It's pretty great when you can do what you want to do, I can do what I want to do, and I can make a living. It's quite a lot. For me, after the first year, it's already a lot. I think that's the main thing, that it stays this way.
Text: Jeremy Tai
Photos: Jeremy Tai

[Help wanted]
Inviting volunteer staff / pro bono for contribution and translation. Please
e-mail
to us.