Amsterdam has its unique history in which a great number of artists who became political refygees were accepted and played a important role in the cultural center of Holland.
As everyone knows, Amsteram is a soft drug-free city which has been boasting of a unique hybrid culture formed by various races and always been facing the diffucult issues of the drug and race. The substancial background of art is the driving force of a variety of cultural elements in Amsterdam such as techno club, free paper, the internet, drugs, gay culture etc.
Amsterdam Wasted! directed by Ian Kerkhof is the film that well describes the life of the youth in Amsterdam in techno sounds.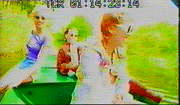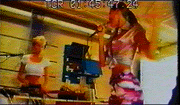 Entirely featuring digitally recorded footages, the mind blowing scenes in the film make the audiences feel as if they were on the drug that the characters intake; XTC, marijuana, LSD, cocaine, speed etc.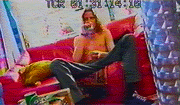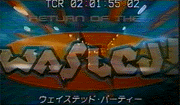 A young couple who yearningly come to live in Amsterdam encounter many town dwellers like a DJ, clubbers, gay peole, drug dealers etc. The main character indulges in making quick money and drug abuse while the girl recklessly tries to reach to the stardam as a DJ.
They gradually realise a reality in love after they indulged in unstrained sex life. Love, friendship and desire confuse them while having a hardtime with their parents, job and distress. This is almost like Amsterdam version of Trainspotting.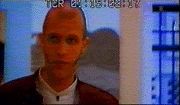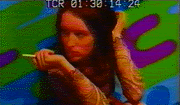 The film's another attraction is the elaborate fashion clothings worn by the actors and actresses and very attractive interior design.
The heroine, Jacky, who used to be just a psychedelic hippy girl, quickly becomes attractive with sophisticated club gears. Featuring the exquisite early 90's cyber fashion clothings of the wanna-be-a-DJ girls, the sophisticated mode style of an african drug dealer, fully psychedelically designed interior in a loft room etc, Amsterdam Wasted depicts the city mixing up all generations and cultures.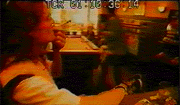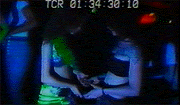 The soundtrack consists of every dance techno music. Drum'n'bass, indo-vibe, hardcore, music from an Amsterdam-based techno label, Outland/Spiritual livens up the film.
In an interview, the director says " My films are cultural criticisms in the shape of commercial films. If a youth once experiences XTC, he'll end up in speed. What I wanted to say in the film was that the first XTC is the best of all, but the last speed is the worst".
Story –
Jacky and Martin yearningly come to Amsterdam from the countryside in Holland. Jacky starts working at a shop Gaia which deals in magic mashroom and other soft drugs as well as party tickets. Meanwhile, Martin enjoys his life net-surfing, playing football and smoking pot while planting marijuana in his room. One day, Jacky sees DD and YOYO who are trying to be DJs.
Eventually she lent a whole proceeds of the shop for their music recording. at the same time, she happens to see JP, a drug dealer, who tempts her into saling hard drugs and making easy money to put up bail for her father, for her older sister who suffers dire poverty and to make a living with Martin…
Amsterdam Wasted!
1996/Holland/101minutes/Colour
Tokyo: On late show at Shibuya Parco Space Part3,
Everyday from 6 Feb starts at 9:20pm and 11:10pm except for 19 Feb
Osaka: will be on show at Shinsai-bashi cinema deux in the spring
Distributor: UPLINK
Tel 81-03-5489-0755
Amsterdam Wasted! vailable at Amazon.
Ian Kerkhof
As his films in his early days based on abnormal subjects such as murder, genitals, abnormal sex, noise etc, there are some films which are banned to show outside Holland.
Last December at Tokyo International Film festival, he presented Techno which is a documentary film about the techno music artists all over the world. Just like Amsterdam Wasted, he adopted the theme he's now into such as techno, rave and club culture and fashion.
Text: Atsuko Kobayashi (spin!)
Translation: Satoru Tanno
[Help wanted]
Inviting volunteer staff / pro bono for contribution and translation. Please
e-mail
to us.