As a creators' collective, Pied Piper (Paranoia Factory) shows their versatility in architecture, art, interior design, visuals and clothing design. Armed with a strong will, they are now pearmeating into the times…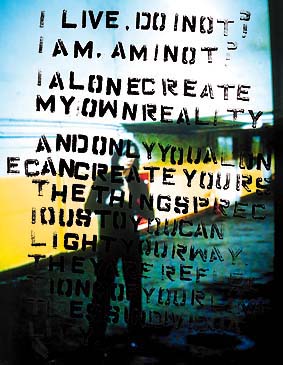 At present, Pied Piper is condidered to be a versatile team in various categories of creative design. Do you think clothing shares only part of your activity? or do you think it plays a pivotal role in it?
Kenichiro Kameishi(K.K): Our motto is "having fun". That's what's the most important thing for us. It happened to be clothing for us to start off just by chance. It could have been something else, really. Fashion gear, interior design, club party, these are all something to do with having fun for us.
Eventually, you ended up in designing things in every category?
K.K: Right. I think we can get along with it. We'll make it beause we want to wear it.
Is the reason you chose clothing at first that simply because you had done it before?
K.K: I was into clothes very much in those days. I used to redesign the clothes I'd bought from DC brands(Designers character brands such as Yohji Yamamoto, comme des garcon etc… enjoyed a big boom in the late 80's in Japan) since I had little money. Other than clothing, I love various pleasures.(laugh) But, I have no specific career or experience in clothing business because I didn't go into any schools which specialises in clothing design. Though my younger brother used to work as a stylist.
Shouya Kameishi(S.K): At that time he was into DC brands, I was just about be hooked to the following trend of fashion, that was jeans. I belonged to the jeans generation after the late 80's in Japan. Then I would hung out in Shibuya very often and eventually started working as a stylist, and then learned a lot about clothing. That was good because I could have good oppotunities to develop my ideas and understand what the clothing was.
K.K: When I was a highschool student, I engaged in motorcycle race as well. I loved the clothing, racing, playing around with my friends and all that. Afterwards, I had a problem with my sponsor and quit the race when I was a university student. I got really overwhelmed with that and entirely confused as my dream of being a world grand prix rider was completely spoiled. But, soon, I found that I should do anything what I could do and organised a group whose goal was the same old motto "having fun". The group gradually developed into a students' enterprise.
Originally started from the motto "have fun", it reached to the field of business at the end. The 80's was when we invented the idea of students' enterprise. We held a number of events for university students and got to know various people in various fields.
I was still into clothes then. It's fairly natural for boys to think that they want to be popular with girls by putting on favourite fashion gears. I enjoyed myself a lot then. And, while organising the pseudo enterprise, gradually, an idea begun growing in my mind that the whole thing we did looked like a mere fake. And, I started avoiding my company and eventually left the group to the other main members and quit it.
But, until the bubble economy collapsed later, any products and services were easily consumed as long as they were hyped up. That was the time everything was fake and could be sold well in those days. However after the bubble's collapse, we lost our way out
S.K: Stylists would pick up some products for photo sessions and editors' perspective and the way they selected suitable models was what we call "bubbly"(The more the model are famous, the better it sells). Publishers didn't care about the budget because they had loads. You would have to do what you were told to do in those days.
If you are sponsored by Bobson, you must use a pair of Bobson's jeans and so on and on. Of course, it's still common for commercial visuals to have to use a particular item of a sponsor. It was too much and not tolerable at that time. Which made us really frustrated and start doing what we wanted to do.
K.K: We were able to clearly see what was happening when people got perplexed with the terrible aftermath of the bubble economy's collapse. We thought the time was right for us understanding who we were and what was happening. It was time for us to start out creating something real. When the economy was deadly sluggish, I had a year to live with Shouya and talked a lot about starting to create something real, not fake any more. We agreed with each other by discussing a lot of things during the year.
Read more ...
[Help wanted]
Inviting volunteer staff / pro bono for contribution and translation. Please
e-mail
to us.