As a creators' collective, Pied Piper (Paranoia Factory) shows their versatility in architecture, art, interior design, visuals and clothing design. Armed with a strong will, they are now pearmeating into the times…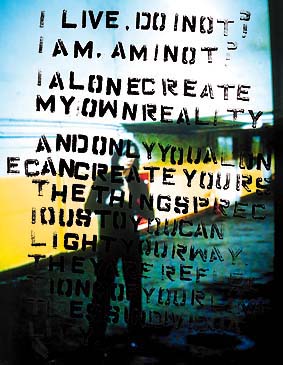 At present, Pied Piper is condidered to be a versatile team in various categories of creative design. Do you think clothing shares only part of your activity? or do you think it plays a pivotal role in it?

Kenichiro Kameishi(K.K): Our motto is "having fun". That's what's the most important thing for us. It happened to be clothing for us to start off just by chance. It could have been something else, really. Fashion gear, interior design, club party, these are all something to do with having fun for us.
Eventually, you ended up in designing things in every category?
K.K: Right. I think we can get along with it. We'll make it beause we want to wear it.
Is the reason you chose clothing at first that simply because you had done it before?
K.K: I was into clothes very much in those days. I used to redesign the clothes I'd bought from DC brands(Designers character brands such as Yohji Yamamoto, comme des garcon etc… enjoyed a big boom in the late 80's in Japan) since I had little money. Other than clothing, I love various pleasures.(laugh) But, I have no specific career or experience in clothing business because I didn't go into any schools which specialises in clothing design. Though my younger brother used to work as a stylist.
Shouya Kameishi(S.K): At that time he was into DC brands, I was just about be hooked to the following trend of fashion, that was jeans. I belonged to the jeans generation after the late 80's in Japan. Then I would hung out in Shibuya very often and eventually started working as a stylist, and then learned a lot about clothing. That was good because I could have good oppotunities to develop my ideas and understand what the clothing was.
K.K: When I was a highschool student, I engaged in motorcycle race as well. I loved the clothing, racing, playing around with my friends and all that. Afterwards, I had a problem with my sponsor and quit the race when I was a university student. I got really overwhelmed with that and entirely confused as my dream of being a world grand prix rider was completely spoiled. But, soon, I found that I should do anything what I could do and organised a group whose goal was the same old motto "having fun". The group gradually developed into a students' enterprise.
Originally started from the motto "have fun", it reached to the field of business at the end. The 80's was when we invented the idea of students' enterprise. We held a number of events for university students and got to know various people in various fields.
I was still into clothes then. It's fairly natural for boys to think that they want to be popular with girls by putting on favourite fashion gears. I enjoyed myself a lot then. And, while organising the pseudo enterprise, gradually, an idea begun growing in my mind that the whole thing we did looked like a mere fake. And, I started avoiding my company and eventually left the group to the other main members and quit it.
But, until the bubble economy collapsed later, any products and services were easily consumed as long as they were hyped up. That was the time everything was fake and could be sold well in those days. However after the bubble's collapse, we lost our way out
S.K: Stylists would pick up some products for photo sessions and editors' perspective and the way they selected suitable models was what we call "bubbly"(The more the model are famous, the better it sells). Publishers didn't care about the budget because they had loads. You would have to do what you were told to do in those days.
If you are sponsored by Bobson, you must use a pair of Bobson's jeans and so on and on. Of course, it's still common for commercial visuals to have to use a particular item of a sponsor. It was too much and not tolerable at that time. Which made us really frustrated and start doing what we wanted to do.
K.K: We were able to clearly see what was happening when people got perplexed with the terrible aftermath of the bubble economy's collapse. We thought the time was right for us understanding who we were and what was happening. It was time for us to start out creating something real. When the economy was deadly sluggish, I had a year to live with Shouya and talked a lot about starting to create something real, not fake any more. We agreed with each other by discussing a lot of things during the year.
That was when you two first got toghther and geared up towards the common goal you are still trying to achieve?
S.K: I had many friends who longed to do almost the same as us and soon joined toghether. The rest is the history. Those ones like interior design did interior design with Kenichiro. I travelled around the world to buy clothes and stuff.
S.K: Starting with our several fashion designers and interior designers, we managed the shop well. Everyone left the shop to do what they had been planning to do later. Meanwhile I began making clothes. Sooner or later, you have to realise the importance of the relationship between clothing and art. And I learned from POPEYE how I should tackle it. Then, I happened to be covered by a mag, Ten. There were some great photo works introduced in the mag. Those were by Yoshihara who later joined us.
We expanded to the field of visuals such as a series of adverts for Dazed & Confused, art, installation work etc..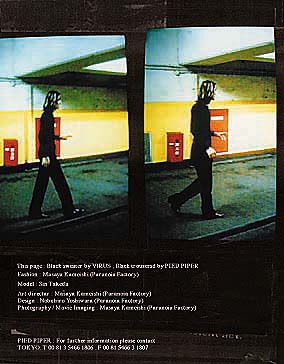 You have your own shops introduced on the web site. I feel that you consider the shops to be your works themselves.
K.K: Ever since we launched PIED PIPER, we've been trying to show all our creation including the interior, even atomosphere at the shops, people who work there as well as clothes as part of a constant work each.
We are always putting our all in that.
It's almost like a DJ whose art is to select tunes.
K.K: Yeah, after having seen thousands of fashion articles around the world, we had a bit of problem that we couldn't find out better ones than we'd had then. Like, once we bought a really stunning leather jacket by Kohji Tatsuno which had been shown at Paris Collection. We paid four hundred thousand yen for it. But, it was far too expensive. Who would buy it even for four hundred and ten thousand yen, you know. It's no good that you deal only in expensive articles and sell them away. If you can't put them on, it doesn't make sense.
On the other hand, you can have to pay a fortune for good stuff.
So, we decided to make it by ourself and sell at reasonable price. That was also how Pied Piper started.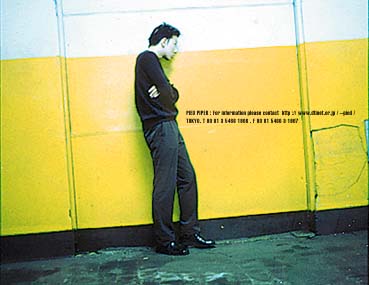 Now you have three shops, and each shop seems to have a different character.
K.K: That's right. It imples sort of a story of the PIED PIPER indicating kidnapping, which means gathering all kids in town at Pied Piper. It's actually a very underground intention hidden in our idea. Frankly speaking, as for the shop of Pied Piper, we don't really consider society to be important as it's closed against society. But, we welcome today's youth who might change the world in the future.
And A NEW SHOP is targetted at higher generation than Pied Piper that are totally unaware of society. Even if they've ignored how people have to be committed to doing what they don't always want to do in order to make a living, they'll have to see what society is all about through our activity…In a word, A New Shop reflects a role of a church. We never believe that society which is generally believed to be right is right. So, A New Shop aims to go ahead with something new to change the world.
K.K: It's a church-like place. Pied Piper is where worshippers gather around. Then, they receive teachings at A New Shop. Their various opinions and creativity bear fruit at SYNERGIE.(Synchroised Energy) That's the whole story.
But, the story will go on, won't it? (laugh)
K.K: Exactly.(laugh)
The church-like A New Shop is, in essence, supposed to be a place for the worshipper to be purified?
K.K: Yes. Not like Pied Piper shop, A New Shop is widely opened to society. Though it can fully correspond to society, we create things regardless of the social superficiality.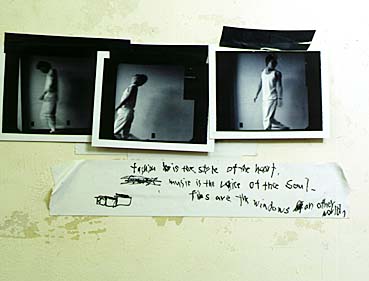 Why do you have Synargie in Osaka, not in Tokyo?
K.K: We've always been venturing into the next challenge since we started out Pied Piper. As we haven't got much money and want to take great pleasure in what we do, we've been keeping on working constantly as pedaling a bycycle. So, it's a challenge by our instinct to branch out to Osaka that we like.
We've always been venturing into the next challenge since we started out Pied Piper. As we haven't got much money and want to take great pleasure in what we do, we've been keeping on working constantly as pedaling a bycycle. So, it's a challenge by our instinct to branch out to Osaka that we like.
What's your idea about the internet?
K.K: As we are based in Japan that we love a lot, we have a will to change the country better. There's our own term "Tokyo's core", and we hope there'll be people who can send a persuasive message from Tokyo's core to the world. Other than ours, there should be various cores generated by people out there.
Through the message, we want to show what's happening in Tokyo to the people in the rest of the world.
While we were decorating the interior of Synergie in Osaka, I met a couple of German guys, keith and Marc, who had designed the lay-out of the interior. They are very much interested in Japan, like they believe that Japan is really creative and cybercultural and say Tokyo is terrific. But, Japanese people are generally unaware of what's happening here in Japan and always pay attention to the west. Perhaps, a lot of people in the rest of the world are more concious of Japan than we expect. However, the Japanese have never been able to get through to them well until now. Japan has proposed no real thing in the past, which causes the Japanese to be not confident and proud of what they do.
Eveyone here tends to be still nutty about snatching the cream of nuggets from the west. That's why we go for the internet to show what we are doing.
Are you thinking of selling your gears on the net?
K.K: Basically, it's a tough call for us to do because our gears are each limited in number. If you have lots in stock, the internet is convinient for sellers to sell.
So far, we think our web site is showing our catalogue with pictures.
In Japan, it's still hard to sell stuff through the net, isn't it?
K.K: Yeah, you have to actually touch it with your bare hands before you purchase. Sellers also need to listen to customers' tastes before they sell gears. I guess it's difficult for you to get your hands on them without a touch.
Yoshihara: Initially, we thought we were going to have a gallery space on the internet for thousands of well-known/unknown artists who wanted to show their works but have no chance to do so.
I suppose you have to be very active to show visitors what you want to show. Once you start being on the web, you can realise there's a good connection with visitors growing in time, and which is fun. In that circumstance, it's advantagious for you to have real shops like Pied Piper, A New Shop and Synergie so they can actually visit the shops when they come around.
In that context, maybe, it's good to sell limited gears only on the net,isn't it?
S.K: As I am particular about materials, monitors are not good enough to deliver the details of the materials, I guess. I am kind of the person who want to be particular about even a stitch.
But, I think only T-shirts are suitable for us to deal in on the net.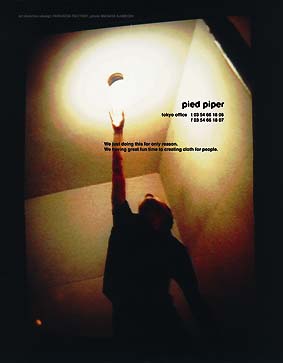 For instance, what if you show visitors all the process you make a gear out of a material on your site after giving away real collective materials?
What's your idea about your shops also functioning as cafe?
S.K: Certainly, we are sure to have a cafe space for anyone to get together and have fun.
When renovating A New Shop next time, we'll put a counter for the cafe. There'll be nice books, accessories and stuff selected by us there.
K.K: A New Shop is going to be renovated in the first week of September, and it has a small cafe space in connection with the cafe project for the future. We still have more to do before going for a complete and independent cafe. It's going to be open in the second week of September. Why don't you visit there then?
Are you planning to have an another shop opened in the near futute?
K.K: At this stage, we are not thinking about that. we are doing our best to manage A New Shop.
S.K: We've been sticking to clothing for seveal years, and now we feel we are just about to actually realise our goal to produce state-of-the-art combinaion of T-shirts and pants. I hope I'll always keep making ony the same gear line-up.
But, in that case, the price of the line-up will matter, though. It'll want to be a shop to display our flag-ship.
When you concern about prices of your stuff, you mean you need a line-up with a reasonable price range?
K.K: Not always so. Clothing should be of practical use as well as an art. If you don't wear it, it's a non-sense. You can enjoy photos and pictures with your eyes, or go to one of those galleries to see them. But you can never enjoy clothing at an exhibition space.
It's meant to correspond to its nature when it's worn and shown to others.
And price range has to match up to quality. So, there's always a conflict going between sellers' side and manufacturers' side; Even if we made a supreme gear out of the best materials, who would ever buy it for a fortune? I, as a seller, usually have trouble with manufactures' side and try to reach a compromise. We're always walking on a tightrope.(laugh)
PIED PIPER PR
Address: B1F 3-8-4 Sendagaya, Shibuya-ku, Tokyo
Tel: 03-3402-3029
Text: Chibashi
Translation: Satoru Tanno
[Help wanted]
Inviting volunteer staff / pro bono for contribution and translation. Please
e-mail
to us.