groovisions, the designers unit. Famous for producing films and graphics for Pizzicato Five, Suchadarapah and so on. Also their website with Shock Wave is cool and wining popularity. In last Feb, They moved their base to Tokyo from Kyoto. With celebration of new start in Tokyo, we: Chibashi who wanted to dig into "groovisions" with the Art point of view, and me as a friend of Chappy* : have interviewed members of "groovisions".
*A doll character which is the masterpiece of "groovisions".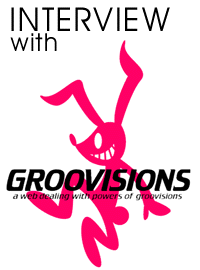 At first, as I know you just had an exhibition which might be the first action in Tokyo. How was it?
Hara (groovisions): It was fun and interesting.
Ako: How was the place gallery "Rocket"?
Ito (groovisions): It was fine.
Hara: Yeah, it was fine. Well since it was almost the acting without rehearsal, there were various troubles though.
Ito: But comparing to other galleries, the place was better, I guess.
Hara: It's true. The environments such as people, location and so were pretty good.
Ito: People came around so-so, too.
Chibashi: I heard you sold some goods, as well.
Ito: Yes, we did.
Chibashi: In future, will groovisions' goods or products be for sale?
Ako: I guess it's getting harder to get them. And not so many events will be held either.
Ito: I guess so.
Chibashi: Events? What's about it?
Ako: "groovisions" used to hold events at a club called Metro in Kyoto about once in two months. With inviting various DJs and projecting groovisions' image/film works on a huge screen. It was a lot of fun and many people from different place got together.
Chibashi: In that case, have you done the sale at Metro?
Ako: As I remember there were postcards, badges and so, as small products and some light-boxes as big ones. The light box was 100,000Yen, wasn't it?
Hara: Actually, it was 150,000 Yen. (ha ha)
Ako: Have anybody bought it so far?
Ito: Well, yes, so far we sold Two of them.(ha ha)
Hara: No. Three.
Ako: Oh! Great!
Chibashi: What are other products in between postcards and light-boxes?
Ako: T-shirts… button-down shirts, right?
Ito: That's right.
Chibashi: Do you mean that you made the shirt itself?
Ito: Right.
Ako: These shirts are very cute. There are three sizes but instead of using "S, M, L" for the size indication on tag, there is a name of the model for sizing such as "Sawada", "Yamano" and "Sumioka". (ha ha)
Ito: Yes, yes. (ha ha)
Ako: At this moment, there are six members in "groovisions", who are Ito, Saito and Hara and as younger members, Yamano, Sawada and Sumioka, right?
Ito: Yes.
Read more ...
[Help wanted]
Inviting volunteer staff / pro bono for contribution and translation. Please
e-mail
to us.