groovisions, the designers unit. Famous for producing films and graphics for Pizzicato Five, Suchadarapah and so on. Also their website with Shock Wave is cool and wining popularity. In last Feb, They moved their base to Tokyo from Kyoto. With celebration of new start in Tokyo, we: Chibashi who wanted to dig into "groovisions" with the Art point of view, and me as a friend of Chappy* : have interviewed members of "groovisions".
*A doll character which is the masterpiece of "groovisions".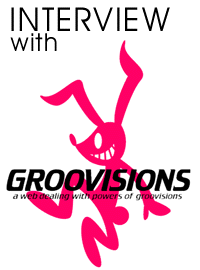 At first, as I know you just had an exhibition which might be the first action in Tokyo. How was it?
Hara (groovisions): It was fun and interesting.
Ako: How was the place gallery "Rocket"?
Ito (groovisions): It was fine.
Hara: Yeah, it was fine. Well since it was almost the acting without rehearsal, there were various troubles though.
Ito: But comparing to other galleries, the place was better, I guess.
Hara: It's true. The environments such as people, location and so were pretty good.
Ito: People came around so-so, too.
Chibashi: I heard you sold some goods, as well.
Ito: Yes, we did.
Chibashi: In future, will groovisions' goods or products be for sale?
Ako: I guess it's getting harder to get them. And not so many events will be held either.
Ito: I guess so.
Chibashi: Events? What's about it?
Ako: "groovisions" used to hold events at a club called Metro in Kyoto about once in two months. With inviting various DJs and projecting groovisions' image/film works on a huge screen. It was a lot of fun and many people from different place got together.
Chibashi: In that case, have you done the sale at Metro?
Ako: As I remember there were postcards, badges and so, as small products and some light-boxes as big ones. The light box was 100,000Yen, wasn't it?
Hara: Actually, it was 150,000 Yen. (ha ha)
Ako: Have anybody bought it so far?
Ito: Well, yes, so far we sold Two of them.(ha ha)
Hara: No. Three.
Ako: Oh! Great!
Chibashi: What are other products in between postcards and light-boxes?
Ako: T-shirts… button-down shirts, right?
Ito: That's right.
Chibashi: Do you mean that you made the shirt itself?
Ito: Right.
Ako: These shirts are very cute. There are three sizes but instead of using "S, M, L" for the size indication on tag, there is a name of the model for sizing such as "Sawada", "Yamano" and "Sumioka". (ha ha)
Ito: Yes, yes. (ha ha)
Ako: At this moment, there are six members in "groovisions", who are Ito, Saito and Hara and as younger members, Yamano, Sawada and Sumioka, right?
Ito: Yes.
Chibashi: What is the reason you moved your base to Tokyo from Kyoto?
Ito: The biggest reason is that we have had many business in Tokyo from the first, so it's getting tiring to take a trip to Tokyo and back.
Ako: As long as I know originally "groovisions" was an unit called GROOVEQUEST. Am I right?
Ito: In a way, I say "Yes" but it's a little more complicated. Well, it's started as a DJ team called GROOVEQUEST and then …
Ako: Ha? Was "groovisions" a DJ team at the beginning?
Ito: That's right. However I wasn't the core member but other people.
Chibashi: Then, how about "groovisions"?
Hara: That was named by Mr.Konishi…
Ito: He started using the name "groovisions by GROOVEQUEST. Then somehow the word of GROOVEQUEST had been gone before none was aware.
Hara: At the really beginning, there were only Saito and Ito. And these two were making images/films for Pizzicato Five's concert tours. Right?
Ito: Yes.
Ako: How did Saito and Ito meet and know each other?
Ito: At some club. (ha ha)
At the event held by a person called Tanaka from Sound Impossible.
Ako: Tanaka is from Kyoto, right?
Ito: Yes. Tanaka, Matuyama and me used to hold events in clubs. And we decided to invite Saito, who was famous for his sound knowledge of movies, to our events. At that time, Tanaka introduced me to Saito.
Chibashi: Could you tell me a little more about Tanaka?
Ito: He is taking a part in some music units such as Sound Impossible, Fantastic Plastic Machine and so.
Ako: Tanaka is doing DJ and also Remix. He used to be active in Kyoto with Matsuyama who is also friend of Ito. Lately he is doing DJ for Konishi's event in Tokyo. By the way, Matsuyama is the person irreplaceable for groovisions' event in Metro. He is a terrific super Mondo DJ.
As the result of his play, everybody in the event confuses how to dance and whether it's allowed to laugh or not, so the dance floor is filled by some strange tensed atmosphere. (ha ha)
Ito: ha ha.
Chibashi: What kind of works did you create by that time?
Ito: I think it's same as now.
Chibashi: Using Macromedia Director?
Ito: Yes.
Chibashi: When did you start to use Macintosh?
Ito: I think it was around 1990. I used DynaMac and so, which was before MacPlus. I started making motion pictures about 1991, with Macintosh IIfx.
Chibashi: By that time, did Macromedia Director already exist?
Ito: Yes, it did. It was about Version 3.0.
Ako: Was it the only application could handle motion pictures, at that time?
Ito: Yes. There wasn't QuickTime yet.
Ako: Were you impressed, when you used Director first time? Let's say "Oh, it's moving!!"
Ito: Yeah, yeah! (ha ha)
Hara: It's easy, too.
Chibashi: Do you make graphics with Photoshop?
Ito: No, we use Illustrator mainly. I think Photoshop is too heavy.
Ako: groovisions' works gave me impression of you are really good at using Illustrator.
Ito: I feel comfortable with Illustrator because you can separate a work into pieces and create various pictures with combining parts and parts. But we ain't well acquainted with computer. (ha ha)
Hara: No, not at all.(ha ha)
Ito: There is a big difference between knows and unknowns about computer. Depends on needs, we study. But if we couldn't understand, we would give up, like "It's all right. Forget it."(ha ha)
Hara: Since nobody reads any manuals, everyone has one's own way.
Chibashi: We had a primary meeting before this interview and we came up with a thought which "groovisions" seemed very easy going but actually very conceptual. How do you think?
Ito: I don't think so. (ha ha)
Ako: I think there is a consistent concept or way which you make still graphics into motion pictures such as the thumb through cartoon in Pizzicato Five's new CD booklet.
Ito: Well… In the other way, I think we can say that we have nothing to appeal to public, not at all. We just wanna stick to the certain form, though.
Hara: As I said earlier, we use Illustrator because it's easier and more comfortable than Photoshop. Then as the result, graphics turned out to that kind. If we need unreasonable efforts to make pictures because of using Photoshop, I guess we settle down to Illustrator, after all.(ha ha)
Ako: Do you collaborate with other staffs, like "I make this part and you do the other part.", when you work on one peace of work?
Ito: Yes, we do. I think there is some tendency that people imagine themselves in Computer=his/her own world. However if you thought the whole work as an unit of small parts, you might feel easier to share the work with others. I think it's interesting that each one of us works on the common format and makes whatever he/she likes. I mean if there was no certain core idea (a finish image), then anyhow we would make various and different parts and combine them with hopes of creating something new. I prefer this way because I feel it's easier and rational. (ha ha)
Hara: We don't have any particular core.
Ito: But we have likes and dislikes, though.
Ako: Do all member have same taste of likes and dislikes?
Ito: No, I don't think so. I feel Hara and me have some common, though.
Hara: I guess our tastes are a little bit different from younger members'.
Ito: Yeah.
Chibashi: Do you brainstorm before starting a project?
Ito: It depends. When we decided to go into Internet, we held quite many meetings.
Ako: Ha. Is it so.
Ito: We had meeting frantically. We even made some demonstration works and reconsidered them… (ha ha)
Ako: It wasn't something like Ito said "It seemed fun. Let's do it" and started. (ha ha)
Ito: We were quite serious. We couldn't believe ourselves and asked "Were we such serious people?!". (ha ha)
Ako: I think you succeed in Internet, as the result. Could you tell us what happened after exposing your website in Internet?
Ito: Well, works related to website were increased for a time.
Ako: Dealing with website is fun if you are only playing it.
However once it became a job, I guess it's so trouble some. Moreover you may not feel achieving something so much.
Ito: I agree with you. I feel it seems halfway.
Ako: There is no end for making website. Other media such as printings may have more tendency that you can devote yourself into the job.
Ito: I thinks so, too.
Ako: I would like to ask about your business. Do you have many business related to films, too?
Ito: Yes, we have film works, too. But most of them are peculiar.
Hara: Such as preview films for movies.
Ito: Well, no matter what kind of works, including films, basically we think that everything is design.
Chibashi: So, do you think your main business are printing materials?
Ito: Definitely, printings. Well, I understand business is important but my main concern which I feel more important is how to maintain the environment and condition we have had, since we are going to work together. Especially me myself has just moved from Kyoto, and the new life in Tokyo is totally from zero. So it's very important for me how we make daily money with dragging and how we have good time together. (ha ha) I'm not thinking of being famous nor making a lot of money, at all.
Hara: Well, if we could make such a money, we might think "What shall we buy next".(ha ha)
Ito: Let's say "I'm gonna buy a tiny neat thing." .(ha ha)
Ako: Everybody in "groovisions" likes shopping. (ha ha). I like your such behaviour.
Hara: Now a day, we don't even have time to go shopping, though.
Ito: I think we ain't so positive and plus thinking people. I mean we are good at subtraction. Especially Hara and me are the type of people whose way of creating is a lot of subtraction. And I guess this kind of way appears on our attitudes toward to our lives. (ha ha)
Chibashi: Is there any relationship between your negative thinking and that you shifted your field from Modern and Contemporary Art to Design?
Ito: Well…, in fact, you can't feed yourself (with doing Arts). Those academic and romantic arts are good enough in books. Let's say, Andy Warhol painted so many pictures of famous people and also sold so many, which appears to me the sale was a part of his arts, isn't this laughable ? I would rather be in sympathy with this and him.
Hara: I think one's range of vision would be narrowed or limited, if he or she only thought of Modern/Contemporary Art and/or Fine Arts all the time. For us, Music and Fine Arts are same, for example we read a book about Modern Arts, and at the same time, we listen to the House Music which sings "Love", "Free" and so. It's harsh without these.
Ako: Lastly, I would like to ask whom you ("groovisions") have been influenced by?
Ito: Mr.Shindo is the person. I felt he was more extreme and radical than Modern & Contemporary Arts. But maybe, I have got more influences from books and things…
Hara: I think Mr.Konishi's influence has been great on us.
Ito: Yes, it's true. There are three major things I was influenced. One is Punks, and second one is New Academism. (ha ha) Then third one is Shibuya Kei(=line). I like movements, I guess. Since I'm a easy going person, if any movement came around, I would join it. (ha ha)
Hara: But, at the last moving, you threw New Academicism away, didn't you? (ha ha)
Text: Ako
Translation: Satoru Tanno

[Help wanted]
Inviting volunteer staff / pro bono for contribution and translation. Please
e-mail
to us.