I would love to hear about the collaboration with Daniel Araya and Martin Petersson in order to package this work.
The YSS AUDIO label artwork, including all design and logos is created by the Swedish Art Director Martin Petersson. The philosophy behind YSS AUDIO is to release limited hand crafted editions in different formats, but always a physical product. The first release on YSS AUDIO "Sparta" was a 4 track techno EP including remixes by Daniel Araya and RAAM. The vinyl was hand-stamped with custom laser-printed stamps. The labels crude finish off corresponded well with the sound and its ancient title "Sparta". It also made it to the Beats in Space Radio Show, Best of 2019. Selected Electroacoustic Works 2002 – 2020 comes in a limited cd box-set in Valchromat, CNC-milled and Laser Engraved. The whole process started with Martin Petersson creating the overall design.The basis of all YSS AUDIO design is the typography. The text and its symmetry will direct the design, and in this case we took inspiration from the fonts in a book by Le Corbusier called "Le Modulor" as well as the Bauhaus movement. After Martin was done with the artwork, Daniel Araya created a manufacturing process and built the boxes. First step is transferring the artwork into a 3D blueprint that is fed into a CNC-milling machine cutting the parts of the cd box-set. They are then laser engraved, sanded and assembled by hand. The boxes are also lined with wool to protect the CDs. I think we achieved the heaviness and stone like feeling we were after. The release also comes as a classic double-cd, numbered and stamped.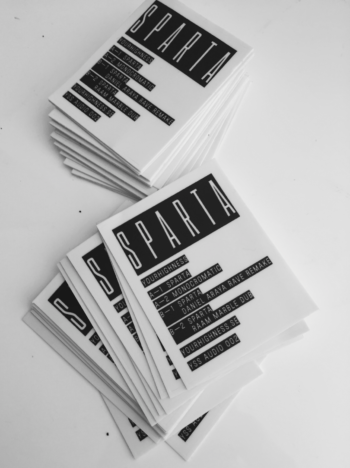 Why to release it in CD format?
I wanted to release on CD due to the sound quality. Some of the more complex cinematic tracks would not have transferred well to cassette tape or sounded equally crisp on vinyl. CD has switched place with tape, somewhat being the anachronistic underdog, and its kind of fun that it is more underground than tape [laughs]. Also a lot of music nerds still have CD players.
As matter of fact, after listening to your music compilation, the first thing that grabbed my attention is that cinematic type of approach in your compositions. Please unpack this for me.
Many songs were composed for moving image, and that play a huge role to why they are so cinematic. I also think my classical training and my love for symphonic music, both new and old has a lot to do with it. I listen a lot to Mahler, Arvo Pärt, Steve Reich, John Adams, to name a few. I also sing in the chamber choir I mentioned before, and that gives me a lot of other influences, which tunes my music in a different direction. I often blend field recordings and natural ambiances with analogue and digital synthesizers to create a huge space. In some projects, I compose not only the music but also the whole sound design. This ads even further to why the music has a cinematic quality.
I can recognize some of your work in this compilation which was used for some art films. Nevertheless, there is no information about what type of project the music was made for. Do you think adding your clients or brands names would have deviated the attention to the music work itself?
That's correct. I wanted the tracks to have a life for themselves, not being tainted by a brand context. Reducing the amount of information was also a design choice. To much text would degrade the artwork
You mentioned some pieces in this compilation have preserved the original form and some have been edited. What was the main purpose of that additional edit work?
Some of the tracks have stayed the same, but some tracks are edited in regards of length, some are shortened and some are made longer. "Monolit" was originally much longer and mixed in 5.1 surround, composed for a design trio called Nakkna, performed at "Folkoperan" an Opera house in Stockholm. It was 14 minutes, and then condensed down to 3:40 in Stereo. Also the CD format has its time limitations, which forces you to reduce and refine. Finally the order in which the songs are positioned in relation to each other, will sometimes affect the length of the songs forcing you to make edits. Creating a coherent flow that makes the whole album enjoyable to listen to from beginning to end is of great importance.
Some of these pieces are composed in multichannel surround like 8.1 or 5.1, to be performed with many speakers in a specific venue. How did you go about mixing it down to a stereo for the CD and the online formats?
When going from multichannel to stereo it becomes a different composition and you lose the opportunity of spatializing the sound. In multichannel compositions you can totally surround the audience with sound and immerse the listener inside the sound. You have the opportunity to move sounds around in the room, creating motion effects, as well as playing a lot of different sounds in each and every speaker. When you mix an 8.1 surround piece into stereo you can still include most of the sounds but you have to distribute them differently within the limitations of stereo. If you use the pan pots wisely you can still achieve a lot of sonic depth and movement in stereo, in some way catching some of the effects from the multichannel version. But going from 8.1 to stereo is basically like going from 3D to 2D.
Read more ...
[Help wanted]
Inviting volunteer staff / pro bono for contribution and translation. Please
e-mail
to us.