For most of today's emerging visual artists, drawing is where they got their creative start. You know, a Metallica logo penned on their binder, unicorns, puffy clouds, skulls and crossbones, a precious sketch of a girl or boy they had a crush on in homeroom.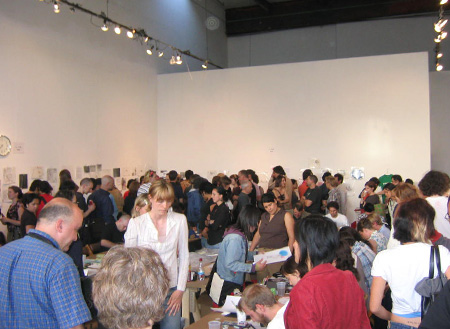 As their minds and skills grew, drawing became an integral step in their creative process, scrawled simply to get an idea down, to try something out or to lay the framework for what would become their completed vision. This was the focus of Southern Exposure's Monster Drawing Rally, a live drawing and fundraising event, featuring over 100 artists with backgrounds in various media.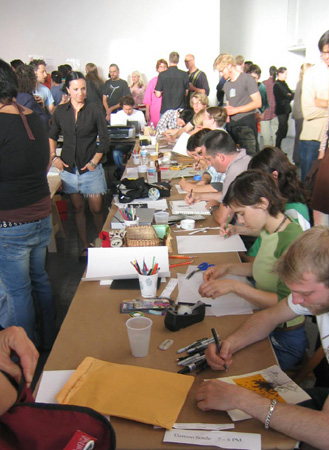 The event was a renaissance of sorts, a return to the old-school for the artists. It was also a chance for people to see a more improvisational and raw side of their work-free of elaborate rendering, self-consciousness and time to think.
Armed with basic drawing materials-pencils, charcoal, pens, markers, and paper-25 artists at a time were shuffled through four, hour-long "shifts" at a giant ring of drawing tables. Hanging ominously above were public school-like clocks that monitored time and created a sense of urgency and energy that filled the gallery space. It was like a drawing endurance race with no universal goal but to make it through the hour.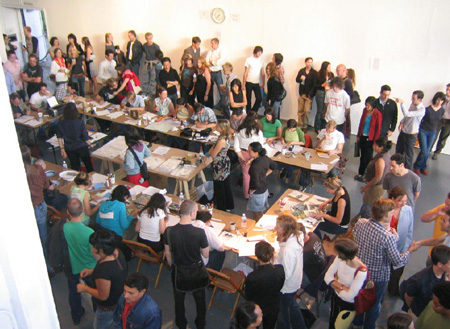 Some artists struggled under the scrutiny of a growing crowd, eagerly looking over their shoulders. Some sketched away as if they were sitting under their favorite tree and others could barely finish drawings as people waited anxiously for them to finish.
As drawings were completed, they were bagged, hung on the wall and made available for purchase at $50 each. It was a great opportunity to nab a piece or five from your favorite artists at an affordable price, all while supporting the gallery and its worth-while public programs.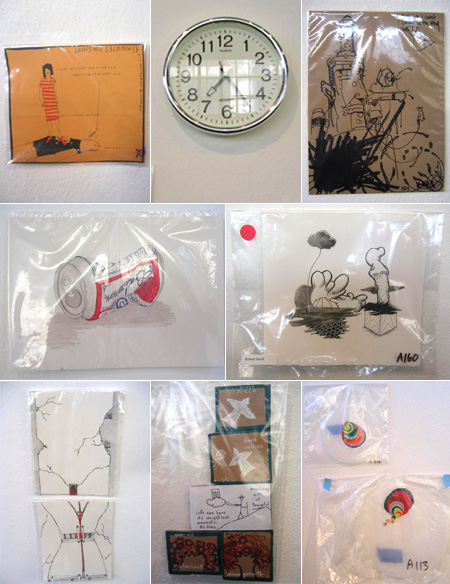 Monster Drawing Rally Artists: Scatha Allison, Ulrika Andersson, Kathy Aoki, Michael Arcega, Nora Auston, Alexis Barrera, Shawnee Barton, James Bewley, Jason Byers, Jim Christensen, Sydney Cohen, Sarolta Cump, Veronica De Jesus, Rita DiLorenzo, Caleb Duarte, Veronica Duarte, Nome Edonna, Cathy Ellis, Tia Factor, Christiana Ferroggiaro, Sarah Filley, Jeanne Foss, Anna Gonick, Robert Gutierrez, Frank Haines, Michael Hall, Dana Harel, Eleanor Harwood, Nicole Hayden, David Hevel, Heather Holt, Suzanne Husky, Jason Jagel, Marisa Jahn, Packard Jennings, Monica Johnson, Anna Kirsch, Tae Kitakata, Jason Kleidosty, Keith Knight, David Lawrence, Rebecca LeeBob Linder, Frederick Loomis, Reuben Lorch-Miller, Amber MacLean, Yuki Maruyama, Victoria May, Christian Maychack, David McDermott, Stephanie Metz, Dori Midnight, Masako Miki, Jessica Miller, Kim Miskowicz, Jarrett Mitchell, Deborah Morris, Paul Mullins, Tomoko Nakazato, Chris Natrop, Kyle Noble, Sirron Norris, Marisa Olson, James Orlando, Paul Palacios, Kamau Patton, Matt Pawlowski, Alison Pebworth, Josh Podoll, Brittany Powell, Amy Rathbone, Kelly Reiling, Lisa Ricci, Ricardo Richey, Isis Rodriguez, Josue Rojas, Jon Rubin, Alena Rudolph, Tucker Schwarz, Shane Selzer, Steve Shada, Jessica Snow, Damon Soule, Laura Splan, Sandra Starkey-Simon, Jennifer Starkweather, Robert Streff, William Swanson, Lien Truong, Tara Tucker, Kelly Tunstall, Andrew Utt, Adrian Van Allen, Aleksandr Vladimirskiy, Paul Wackers, Liz Walsh, Sandra Wong, Brian Wood and Ryan Yount.
Monster Drawing Rally
Date: June 18th, 2004
Place: Southern Exposure Gallery
Address: 401 Alabama Street, San Francisco, CA 94110
Tel: +1 415 863 2141
Sponsored by Timbuk2
http://www.soex.org
Text: Mark Buswell
Photos: Mark Buswell

[Help wanted]
Inviting volunteer staff / pro bono for contribution and translation. Please
e-mail
to us.