"Graphic expressions with a sense for time-axis, sound expressions with an understanding for images."
From Cornelius x Koichiro Tsujikawa's "DROP – Do It Again" and Towa Tei's Naohiro Ukawa produced "Audio Sex", to Ryoichi Kurokawa, Takagi Masakatsu, Omodaka, and Meikyo Shisui, experimental and stimulating works of Japan's leading artists in the electronic sound scene have been selected for release on DVD. Experience the current state of Japanese visual arts through their interviews and works.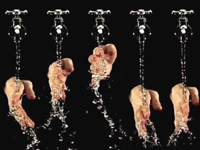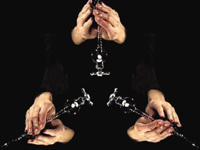 Cornelius (Keigo Oyamada)
Born 1969. Releases "The Sun Is My Enemy" in 1993. Signed to Matador Records. Releases his third album, "Fantasma" in America and Europe. His world tour around this time merged sound and visual elements completely, to high acclaim. Requests for remixes flow in, resulting in working with artists as diverse as Blur, Manic Street Preachers, High Llamas, hide, Towa Tei, Beck, etc. His fourth album, "Point", illustrated his skills in fusing sound based music with pop. The DVD "Point of View Point", which collected scenes from the production of "Point", showed how simple ideas mature into major works and brought to light new possibilities in audio and visual expression.
Koichiro Tsujikawa
Born 1972. Begins work as a designer designing record covers amongst other things in 1993; in 1997 moves onto directing visuals after dabbling in stage production for live performances. Outstanding works include promotional videos for Cornelius, Fumiya Fujii, UA, or commercials for Parco 2002 campaign. The Cornelius PV "DROP – Do It Again" directed by Tsujikawa won the Audience Choice Award for a Music Video at the global digital film festival "Resfest", which travels to over 15 countries worldwide. Defeating Traktor and Michel Gondry, he attracted attention as a Japanese award-winning artist. "DROP – Do It Again" included here.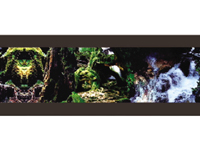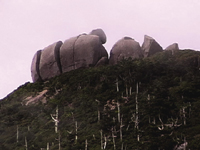 Meikyo Shisui (Hajime Matsuda)
Taking inspiration from the "street" in its most authentic form, Meikyo Shisui, the artist group lead by Hajime Matsuda, produces works originating in graphic design, programming technology, personal images and of course, music. Drawing a clear line between themselves and commercialism, they continue to create a world of their own through expressive visuals and affecting pieces.
Included here is their collaboration with didgeridoo player GORO, "Komainu".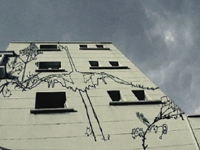 Ryoichi Kurokawa
Born 1978 in Osaka. Audio/visual artist. Begins producing visuals in 1999, moves to France in 2000 to work in earnest. Since then, he has exhibited his video installations in individual and group shows, as well as exhibiting at art and film festivals worldwide. He has also given live performances at galleries, art spaces and clubs. Lately he has been shown at the International Short Film Festival Amsterdam 2003 [NL], the LOVEBYTES International Festival of Digital Art 2003 [UK], and the VIDEOEX International Experimental Film & Video Festival 2003 [Switzerland]. In December 2002, he undertook the artwork for Takamasa Aoki's "indigo rose"; in May 2003, he released his first solo work on CD and DVD simultaneously. In June of the same year, he took part as a member of sketch show's visual team in Barcelona's SONAR 2003 and London's cybersonica '03. "A Few Walks" included here.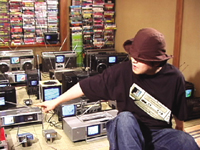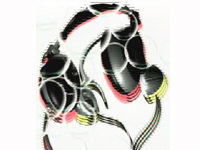 Naohiro Ukawa
Born 1968 in Kagawa. Working in all media genres as designer, DJ, VJ, or writer, possibly the busiest creator in Japan. Calls himself the "media rapist" and cannot be excluded when talking about the audio and visual scene. Currently professor at Kyoto University of Art and Design. "Audio Sex" (Towa Tei) included here.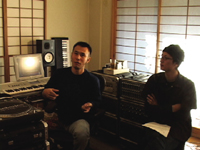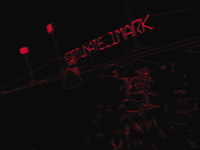 Omodaka (Soichi Terada)
Born 1965 in Tokyo. Blood type AB. First instrument was the electric organ. Began working as a session musician whilst studying computer science at the University of Electro-Communications. Since 1989, he has worked on many records as a composer, arranger and remixer, whilst at the same time releasing remix works making full use of digital samplers on his own label, "FarEast Recording". By 1996, he was writing music to visual images through producing soundtracks for dramas and game softwares, and began a trial and error period of approaching his works from a visual view. Omodaka is a collaborative project between Terada and other graphic and visual artists.
The work included here, "Fortunate 1 Mark", is a collaboration with Power Graphixx's Yoshiyuki Komatsu and Nendo's Kentaro "ANI" Fujimoto. It represents the speedboat race "delusions" Terada experienced brilliantly.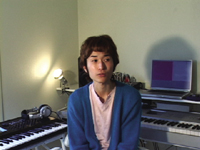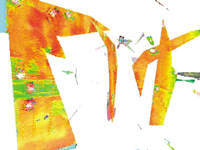 Masakatsu Takagi
Born 1979 in Kyoto. An audio/visual artist known for his visuals filmed when traveling the world, and its perfect fusion with his self-produced music. Releasing CD/DVDs on labels such as New York's Carpark, Germany's Karaoke Kalk, and Haruomi Hosono's Daisyworld, his activities reach across the genres of music, clubbing, fashion, and art, performing live across the world. He has also collaborated with Agnes b and shown his works at the Museum of Comtemporary Art, Tokyo. Recently he has been involved in the visuals for David Sylvian's European tour (Sep-Oct, 7 countries, 17 cities), was screened at "RESFEST", the global film festival that kicks off in San Francisco every September before traveling to over 15 cities across the world, held an exhibition in Los Angeles in March 2004, and is planning a live performance in Barcelona for August. His name is spreading steadily. "Rehome" included here.
AUDIO VISUAL JAPAN DVD
Release Date: 21st May 2004
Specification: DVD, Regional code: ALL
Producer: GAS
Director: Jiro Oobashi (SAL magazine)
Visual/Package Design: Hideki Inaba
Moving Image Design: Tsuyoshi Kusano
Sound, SE: Kentaro Hamasato
Running Time: 67 mins
Price: 4000 yen
Product: Gas As Interface, Co., Ltd
Distribution: Now On Media, Co., Ltd
© GAS AS INTERFACE CO., LTD. 2004 All Rights Reserved.
※DVD "AUDIO VISUAL JAPAN" is available at SHIFT FACTORY.
[Help wanted]
Inviting volunteer staff / pro bono for contribution and translation. Please
e-mail
to us.