Yuka Kasai is a Japanese artist who garnered attention for her "Meiji Monogatari" (Tale of Meiji) which was compared to the Heiji Scroll, Heiji Monogatari Emaki (Tale of the Heiji Rebellion) after it became a topic on SNS as the "Kinoko-Takenoko War" (a pun related to a Meiji Seika sweet). Kasai's artwork, which is purely enjoyable for people seeing Nihonga (Japanese painting) for the first time as it incorporates the techniques of 'Mitate' and 'Yatsushi,' questions the meaning of the use of art materials in Nihonga, and the definition of Nihonga and the various changes that are occurring nowadays.
Currently her new work was exhibited at Art Fair Sapporo 2017 which took place on 25th and 26th of November, and at the "Super Japan" exhibition that has been held at Cross Hotel Sapporo until January 2018. Next year in March there are plans for her to hold a solo exhibition at Clark Gallery + SHIFT where she will visit for a talk and it will be possible get a glimpse of her unique through her work.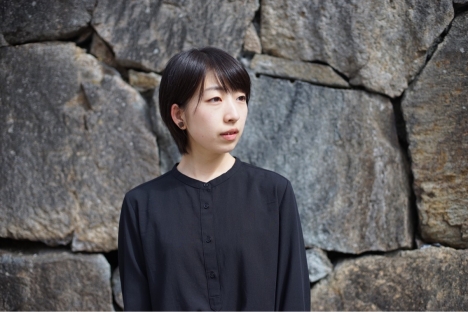 © Yuka Kasai
Please introduce yourself.
My name is Yuka Kasai. I use a Nihonga (Japanese painting) style.
Please tell us what the trigger was, or what particularly interested you, in regards to this style of painting.
At the beginning it was purely an interest in a painting material that I hadn't handled before. Nihonga incorporates the use of paints made from natural mineral stones that have been crushed into very small pieces. As they glitter it makes them very beautiful. I liked rocks from a young age, I would find them along the road and take them home, so I was a child with a desk drawer full of stones. Unique texture and subdued colors are a Nihonga characteristic which shockingly is born from rocks, this made it even more compelling for me.

"Meiji Monogatari" (Tale of Meiji), Yuka Kasai, 2016, 1,820 x 3,620 x 60 mm, Fusuma painting
Last year your work came to our attention through SNS as the "Kinoko-Takenoko War" (the image material for a Meiji Seika sweet 'kinoko no yama' vs 'takenoko no sato', can you tell us about a 'Tale of Meiji' painted on Fusuma, which has been compared to the Heiji Scroll, Heiji Monogatari Emaki (Tale of the Heiji Rebellion). Why did you choose this theme for your graduation work at university?
At the time that I was starting my graduation work I was kind of bothered by the vague definition of modern day Nihonga. Nowadays if only typical Nihonga materials are used, then regardless of what is painted we recognize it as a Nihonga. For example, even if someone paints a realistic religious painting of Christ in a western painting (oil painting), if it was painted like a comic such as anime, then that becomes a Nihonga. When I go to see an exhibition, it really stands out for me if a Nihonga has been painted basically in the same way as a Western painting, or if it has been pained like a girl character from an anime. I would venture that by using art materials of Nihonga, that there is nothing to say if it produces an effective influence on the picture, but I strongly felt that it wasn't the best skillful use of art materials, at least in those artworks. At that time I thought it was quite disappointing and it made me mull over the things that I noticed for a long time.
I thought about, "what is the meaning behind using Nihonga materials?" or "how should I make this painting so that it is accepted as a Nihonga?" and finally "for me living in modern Japan, what Nihonga do I want to paint?" and from this I could decide how I would handle it as a theme for my graduation work. As it felt like it was the culmination of four years of study at university, together with what I had learnt from researching about the history of art materials and temples in Nara and Kyoto. As a result of thinking over and digesting all of these points, I decided on a form of expression like 'Fusama-paintings' which is special to long ago.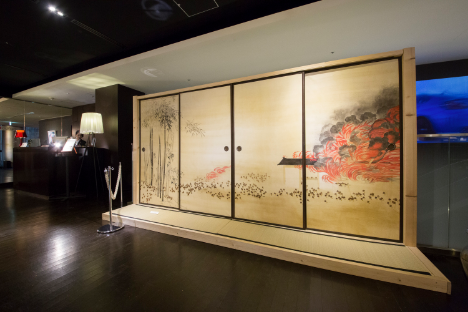 "Meiji Monogatari" (Tale of Meiji), Yuka Kasai, 2016, 1,820 x 3,620 x 60 mm, Fusuma painting, Art Fair Sapporo 2016, Cross Hotel Sapporo Photo: minaco. (footic)
After winning the Arts Excellence Award at my university's graduation work exhibition which continued on to the Sapporo Odori 500-m Underground Walkway Gallery, I have continued to exhibit my work as an Hokkaido artist at 2020 – UPCOMERS exhibition and at Art Fair Sapporo 2016. As you never dreamt that you would have the opportunity to show your work to so many people, do you think it has had a good influence on you?
That's right. It continues to have a good influence. From a long time ago I have had the habit of stopping myself from continuing when something seemed wrong, regardless of the artwork, which meant that I couldn't make pieces of art which I had thought about during university. However, it wasn't such a waste as I did what I wanted to do in all earnestness and with all my strength, and this culminated in my graduation work "Tale of Meiji." As a result, I won an award and had the opportunity to exhibit my work in many places, that such a wide range of people saw and enjoyed my work has given me a lot of confidence. Even now I still have the tendency to push on the break, but little by little I am fixing that aspect of myself. I am really grateful from the bottom of my heart for the different connections that I have made.
Read more ...

1
2
[Help wanted]
Inviting volunteer staff / pro bono for contribution and translation. Please
e-mail
to us.