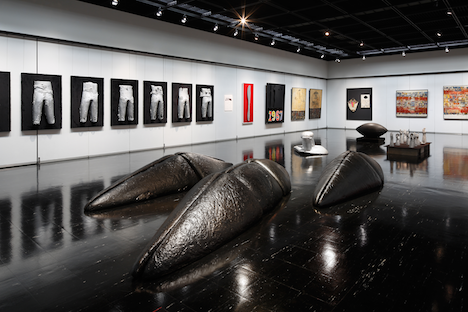 "Ten-ei Abe Retrospective" 2012, Hokkaido Museum of Modern Art
Now, Ten-ei Abe's exhibition, "A La Carte" collaborated Cross Hotel Sapporo with Clark Gallery + SHIFT, is held as Machinaka Art X_edition vol.21. I heard it is your first experience to compose art pieces based on space of the hotel. It was impressive that you said you don't really classify plane pieces and sculptures.
I do make three-dimensional pieces, painting, printmaking, and ceramics. Also, I use multiple materials such as oil paint, Liquitex, Sumi ink, natural seashells, plated scouring pad, metal, lumber, and urethane.
I always select the best way to express my mind from all skills. I think artists have to be able to do anything for various expressions. Matisse did too and Degas created sculptures.


"Spring" "Summer" "Autumn" "Winter" 2016, 1,030 x 728 mm, Wood, Japanese paper, Acrylic paint, Synthetic resin, India ink, Ten-ei Abe's exhibition "A La Carte" 2016, Cross Hotel Sapporo
On new pieces which seek the possibility of expression on plane works, there are papers torn and holed and other materials and skills are combined.
I used Sumi ink for the center of new plane works "Spring" "Summer" "Fall" "Winter" made for this exhibition. Our North Country has winter and the world becomes monochromatic under the severe environment.
Based on the idea, for "Fall" I put red leaves and images of harvest on both sides, and "Summer" has a large tree and images of energetic green leaves.
In "Spring" snow is melted, tadpoles are swimming, and lotus pads are floating. The piece is overflowing with a profusion of flowers. Compared to the main island of Japan where flowers bloom in order of Ume and Sakura, in Hokkaido, all flowers bloom at once after the snow is melted.
Were you inspired by nature around Asari-gawa hot spring, Otaru, Hokkaido where you moved the year before last?
I lived in Sapporo before and didn't feel comfortable about the city filled with streets and large buildings, although at the same time, one can feel the changes in temperature and see the color of clouds hence the origin of my art is revealed from life itself.
Nature, even just looking at a tree, has a change of colors with mountains and wild cherry trees that bear fruits and berries. At the back of my house, Asari river runs and I can catch Japanese char and lamprey. The ocean is also located near. There is a Chinese citron tree where Old World Swallowtails perch, and there are long-horned beetles, Japanese grass lizards, and snakes. This is my real life. Nature teaches me many things. It might be a teacher for a self-learner like me. Many motifs, forms, and ideas are in nature.
Read more ...
[Help wanted]
Inviting volunteer staff / pro bono for contribution and translation. Please
e-mail
to us.