On July 10th 2015, creative studio "JKD Collective" celebrated its 3rd anniversary by organizing a party titled "MULTIVERSE" in Tokyo. The collective of Tokyo's audio visual artists has been pushing the boundaries of advertisement. The environment for Japan's independent creative studios continues to improve, and there are more opportunities for them to work with major companies, however, the number of small-size studios with capacity to produce both music and visual design is still very small. Almost everyone involved with JKD Collective can communicate in English. Their representative, Bruce Ikeda, says that the next main objective of the collective is to collaborate more with foreign companies. I asked him about some of the works JKD has produced in the past three years, and his perspective on the present and the future of digital creative.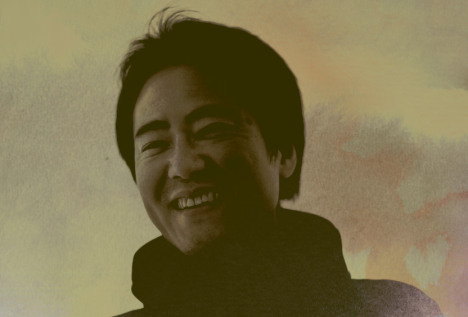 Bruce Ikeda, President and producer of JKD Collective
Please introduce yourself.
I am Bruce Ikeda from JKD Collective. I serve as a president and producer of the creative studio specializing in production of audio-visual contents for the new era. I am the bridge between our top-quality creative group of audio-visual artists and various clients and agencies. We work to produce stimulating collaborations to develop new streams of creative energy.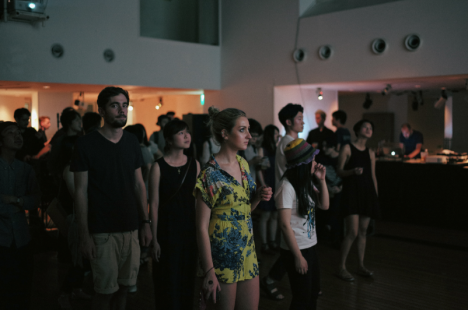 JKD Collective 3rd Anniversary Party "MULTIVERSE", THE ROOM DAIKANYAMA, Tokyo, 2015
This July is the 3rd anniversary of the foundation of JKD. Tell me about the process of the foundation.
Originally, I was working for Wieden+Kennedy, known as the creative agency for Nike, for twelve years. After 2003, I became the producer for the audio-visual label called W+K Tokyo Lab. Within Wieden+Kennedy we wanted to think of creative ways to extend our brand. We started W+K Tokyo Lab as an internal venture which soon grew in popularity externally as we experimented with new artists and cutting edge projects that pushed the barriers of creativity. Around 2011, seven to eight years after we launched the label, I decided to start my own business because I felt that W+K Tokyo Lab had accomplished quite a lot creatively and it was time to elevate my work beyond Wieden+Kennedy. 
I also started seeing the demand for producers working flexibly across a broader field of digital media to respond to various needs from clients.

JKD Collective 3rd Anniversary Party "MULTIVERSE", THE ROOM DAIKANYAMA, Tokyo, 2015
I consider JKD as a spin-off of W+K Tokyo Lab. I utilized the creative network that I had built through the years to collaborate with companies, brands and agencies who have challenging spirits. I apply each artist's creative expression and unique skill into the client work we produce.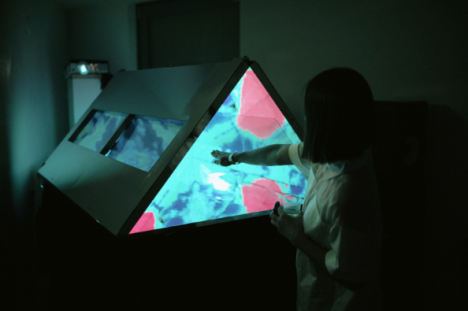 JKD Collective 3rd Anniversary Party "MULTIVERSE", THE ROOM DAIKANYAMA, Tokyo, 2015
There is a big environmental change in audio and visual between now in comparison to 2012 when your studio was founded. How do you feel about that?
There is an intensive paradigm shift in music and film that continues to drive this dramatic change. Although the reasons for this are vast, one clear fact is that the quantity of information continues to expand.
We live in a pool filled with endless information that our feet will never be able to touch the bottom. Unless you know how to swim through this information, you will drown.
In such situations, the contents of a message must be authentic and true. The message has to be direct to evoke primitive emotions such as happiness, sorrow, curiosity and even surprise with the unexpected. Delivering a message with the latest technology is not enough to create lasting memories. The viewer needs something that appeals to their five senses and the classic big budget advertisement alone falls flat. In order to help brand messages realize their full potentials, we collaborate closely with innovative artists who have diverse visions of the future. We see an industry shift as forward-thinking brands move to invest in high quality visual contents with refined creative textures and sophisticated sensibilities. Our end goal is to leave consumers inspired. At JKD we are working hard to accelerate this shift.
Tell me some major works.

NHK Enterprise, "Tsurugajo Projection Mapping: Haruka", 2013
Tsurugajo Projection Mapping "Haruka"
This 3-day projection mapping project was produced by NHK Enterprise and the City of Aizu Wakamatsu to support earthquake recovery in the Tohoku area. Set to a beautiful musical piece composed by Ryuichi Sakamoto, JKD created a 5-minute animation that reflected the change of the season and the beauty of the cherry blossoms that were in bloom in the Tohoku area. The contents of the animation were projected onto Tsuruga-jo, an old castle in Fukushima with over 700 years of history. A sneak preview held for the press on the first day was picked up as top news on NHK that night, inspiring a swell in the number of visitors coming to experience this 2-day event. We received great responses of appreciation from the local people saying it was very touching. It was a moving and meaningful experience for us including director Genki Ito to have the opportunity to be involved in such a project.

Red Bull Summer Edition "Mosquito Slap", 2015
Red Bull Summer Edition "Mosquito Slap"
As a creative studio that always pushes the limits to create a perfect synchronization between music and visuals, this project shows the creative spirit of JKD at its best. In collaboration with Red Bull Summer Edition, we produced a special summary video clip tightly synced to a track made of all the sounds heard while camping out.

Google Japan/YouTube Space Tokyo "Spooky House", 2014
Google Japan "Spooky House"
On Halloween 2014, we produced a party at YouTube Space Tokyo in Roppongi and broadcasted a live collaborative performance by Daito Manabe (Rhizomatiks) and the breakbeats unit HIFANA. Mixing a great music performance with the latest technology such as motion capture and AR (Augmented Reality), a very new and unique visual expression was created and we received great reactions from global YouTube network.

Hewlett Packard Japan, "The Beat Makers", 2013
Hewlett Packard Japan "The Beat Makers"
A documentary film featuring three beat makers to promote "Slate 7", a music-focused tablet by Hewlett Packard. This film captures the essence and the inspirations of beat makers during their creative process. This was a spin-off of the documentary we made the prior year for Adidas UK, both directed by Kosai Sekine.

Wakayama Tourism Federation, "Photographic Video Magazine: Koyasan", 2015
Wakayama "Koyasan"
A promotional documentary video for Koyasan, one of the UNESCO world heritage sites in Wakayama, Japan. Capturing the breath-taking scenery of Koyasan in the fall and interviewing 2 monks who live in this mountain, this film shows glimpses of beauty and spirituality of the place.

NHK Enterprise, "Tokyo Jazz Festival", 2013
NHK Enterprise "Tokyo Jazz Festival"
JKD undertook branding and visual design for Japan's largest jazz festival, Tokyo Jazz. Our solution was an energetic mix of Japanese and roman typography, creating a kinetic jazz motif while expressing the sophistication and chaos of present day Tokyo.

Mitsubishi Estate "Yokohama Dockyard Garden", Projection Mapping, 2013
Mitsubishi Estate "Yokohama Dockyard Garden"
We produced the music and sound for a colossal projection mapping project in Yokohama Dockyard Garden. The project was available for public viewing everyday for three months during the summer of 2013. A 9+ minute video depicting the history of Yokohama from the 1800's to the year 2300 was projected onto a an impressive 10×30 meter stone wall in the shape of a ship. The sounds of various artists ranging from Takagi Masakatsu, HIFANA, and Inner Science, came together to form a scroll painting of music. Traditional Japanese instruments mixed with ambient sounds and modern strings became one fluid opera.

Toyota "Kaleidoscope with Mirror Harrier", Installation, 2015
Tell me about a project "Kaleidoscope with Mirror Harrier". What kind of project is this?
This was a kaleidoscope installation for Toyota Mirror Harrier which took place at Roppongi Hills. JKD encased an automobile in a massive triangular tunnel using lighting and reflective surfaces to form a prism. The public interacted with the installation through a tablet allowing them to mix 30 different audio and visual loops and customize hue settings to create original content that projected onto massive LED screens at the end of the prism.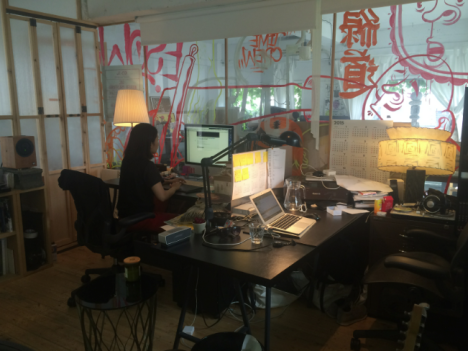 JKD Collective, Office, Tokyo
Tell me about JKD's artists and staff.
We currently have six visualists and nine musicians. We don't necessarily have exclusive contracts with them, but we are rather an organic network that flexibly come together for each project. Each of us inherits the philosophy and DNA of Wieden+Kennedy and W+K Tokyo Lab, which is to simply push ourselves to create something better. In terms of full-time staff, we have a visual artist in charge of planning and PA, plus a motion designer.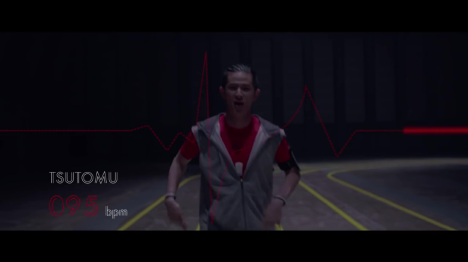 Goldwin, NTT Docomo "Heart Beat Music", Brand Movie for C3fit IN-Pulse by Goldwin, 2014
In other countries, there are many small-sized creative studios similar to JKD who work with major companies. But I don't think many studios have the capacity to produce music internally. Is this your intention to differentiate your business in order to work with companies abroad?
Because of the nature of the advertising industry in Japan, traditionally there has only been a small number of creative studios working with major clients independently. In the past few years the industry has begun to evolve as more independent studios who do not have backing from major agencies such as Dentsu, Hakuhodo or foreign agencies like the WPP group, have had the opportunity to collaborate with bigger brands.
As I mentioned earlier, the way we started to handle music production in-house is strongly related to how we evolved from W+K Tokyo Lab and this industry shift was inevitable. For JKD, the synchronization of audio and visual experiences is a unifying theme. It is very important for us to be close to the production team for both audio and visual.
Needless to say, I do consider working internationally. We want to utilize our communication ability since all of our staff and artists can communicate in English. Increasing the number of international projects is one of the objectives in this new phase for JKD.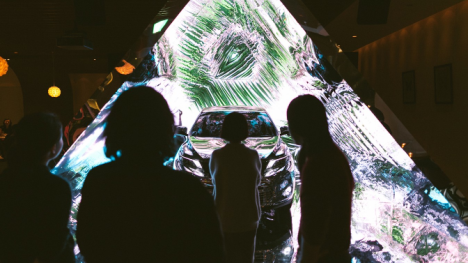 Toyota "Kaleidoscope with Mirror Harrier", Installation, 2015
What inspires you the most in your working field?
When my work captures the perfect synchronicity of music and visual communication, when each frame is tightly synched on-beat, I feel inspired. It is the moment when the music becomes powerful by being integrated with visuals to form a kinship. The visuals then become more alive. I see the potential in this field of expression. As the technology continues to advance, there will be more opportunity and capacity to create something that directly speaks to our five senses.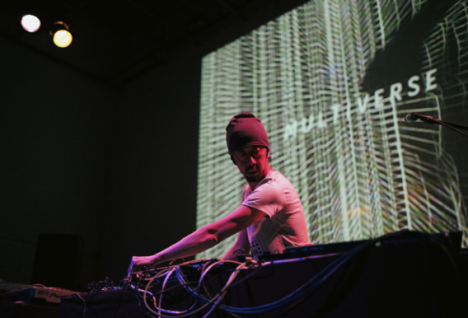 JKD Collective 3rd Anniversary Party "MULTIVERSE", THE ROOM DAIKANYAMA, Tokyo, 2015
Tell me what you are interested in now.
I'm always interested in music. No matter how our lifestyle and economy change, music is always at the core of our ever-changing culture.
I'm always interested to know what kind of music is being played today, and what kind of artists will be coming out in the near future in Japan. I want to produce high quality, live audio and visual experiences by collaborating with these artists.
I am also interested in the city of Tokyo. The city is chaotic yet elegant. To me, Tokyo is becoming more attractive. We suffer both mentally and physically from the nuclear power plant problems after the Great East Japan Earthquake and political confusions. We say, "The more severe our situation becomes, the more creative we will be." People who are living in Tokyo now have reasons to be here and it is our fate. I want to continue to pay attention to the kind of expressions that will come out of our city.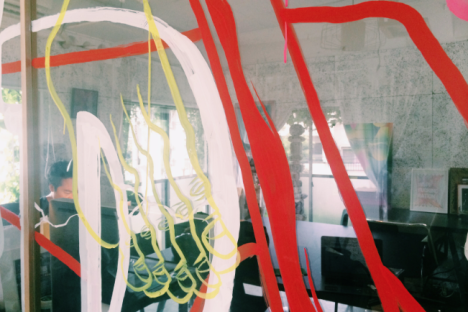 JKD Collective, Office, Tokyo
Tell me about your future plan and project.
As JKD, we are currently handling a few brand movies. At the same time, we are producing music for a film, and there are a few sound designing projects. We have received an inquiry about an installation project in Southeast Asia, and we hope it will lead to something good next year.
I plan to establish a new type of music platform "WEM" this fall as our own project. We will select quality audios from Tokyo and release them both domestically and internationally. While it is going to start slowly as a pilot project, I hope to generate a new flow of energy through our network.
Please give a message to young people who hope to participate in production of digital contents.
Let's work together to make a new movement of creativity from Japan to the rest of the world. There is definitely a stimulating collaboration in this intersection of artistic expression and branding communication. You may be starting as an intern or part-time staff, but if you are interested in our working field, please contact us. (hello@jkdcollective.jp)
Text: Aya Shomura
Translation: Hanae Kawai

[Help wanted]
Inviting volunteer staff / pro bono for contribution and translation. Please
e-mail
to us.